Everyone Has A Chance To Win $1 Million From MrBeast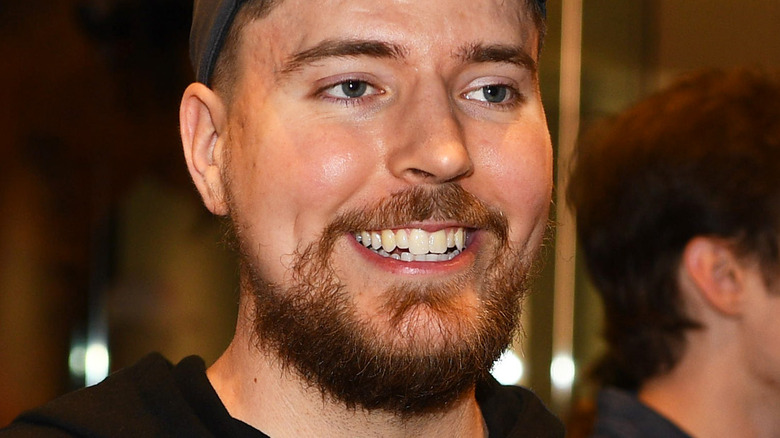 Dave Kotinsky/Getty Images
MrBeast is hosting another one of his jackpot competitions, and everyone has a chance to enter this time around. The content creator, who has amassed a whopping 118 million subscribers on YouTube, is known for creating challenges with massive monetary prizes. In the past, he's organized events like a competition to win ownership of a $2 million tropical island and a game in which contestants played hide-and-seek with the creator for $10,000 each. He even once tossed $3.5 million on creating a real-life version of Netflix's "Squid Game," the most money MrBeast ever spent on a video. 
Advertisement
While MrBeast's competitions may sound enticing, the pool of competitors for each of them is often relatively small. However, for MrBeast's upcoming challenge, anyone can compete — provided that they've got "Fortnite" installed. As part of the crossover between the mega-popular battle royale game and MrBeast during the former's "Chapter 4: Season 1" launch, a special limited-time event challenge will be held in which players have a chance to win $1 million. Raking in the dough won't be very easy, though, as only the single player with the highest score in the challenge will walk away with the jackpot.
Earn the big bucks in MrBeast's Extreme Survival Challenge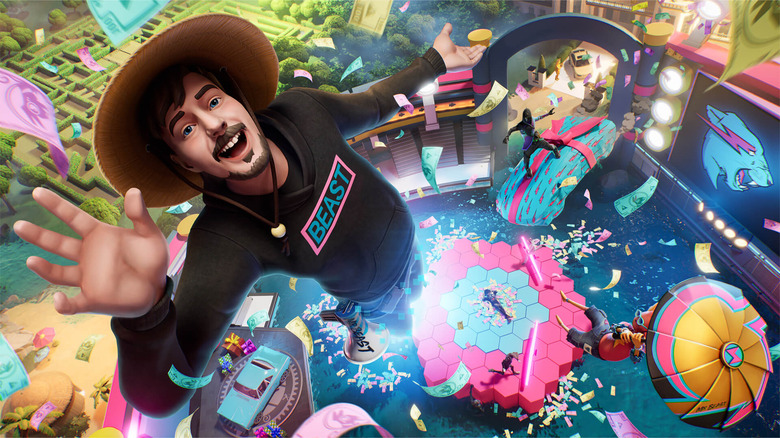 Epic Games
On December 17, MrBeast and "Fortnite" are set to host "MrBeast's Extreme Survival Challenge," a playable experience set on one of the game's custom islands. Each match of the experience will have players compete across several challenges, such as avoiding obstacles and getting coins, to earn points. At the end of the challenge, the individual who managed to earn the highest number of points — or Score, as the challenge calls it — in a single match will win $1 million.
Advertisement
Players can engage in as many individual matches as they want, but only their best match will count as their Score. Of course, considering that "Fortnite" is a game that often averages over 250 million monthly players (via ActivePlayer), the odds of being the one person to obtain the best score in the experience are astronomically low. Thankfully, there's a couple of commemorative "Fortnite" cosmetics that players can also strive to obtain. The top 100,000 players in the competition will receive a Beast Brella Umbrella, which is bound to become one of the rarest gliders in "Fortnite." Meanwhile, completing a series of special quests in the experience will grant users a MrBeast-themed spray and loading screen.
Advertisement
Some gamers felt surprised that a "Fortnite" and MrBeast collaboration didn't happen sooner, especially considering how many subscribers the creator has. After all, the game has featured skins of streamers before, offering gamers the chance to play as Ninja or Loserfruit while battling it out online. However, fan reactions weren't all positive, and some "Fortnite" players felt rather mixed on the challenge in general.
Fan reactions to the challenge are mixed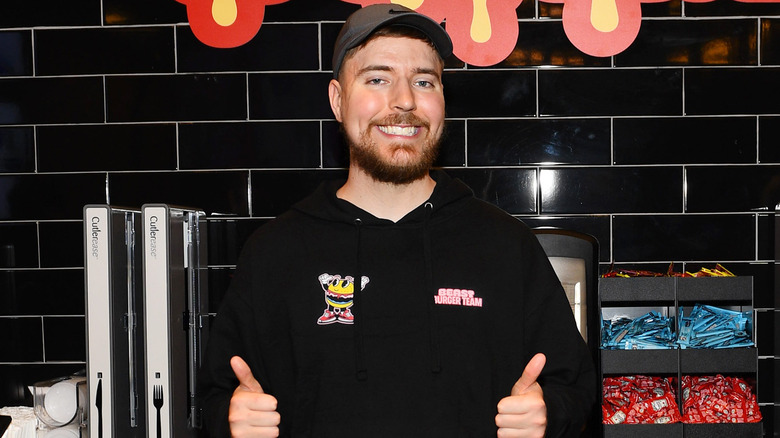 Dave Kotinsky/Getty Images
Gamers seem divided on the challenge, and fans responded to MrBeast's announcement tweet with skepticism. One fan criticized MrBeast for hosting a tournament that makes it so easy for someone to cheat to win. Instead, they suggested, he should give all participants Vbucks — the in-game currency for "Fortnite" — so everyone gets an even prize. One gamer lamented the fact that competing successfully seemed to be the only way to earn certain prizes, like the rare glider. They said that casual "Fortnite" players would have little hope of earning a prize by being in the top 100,000 players. However, another player speculated that since the challenges will involve specific tasks, it's likely that no one will have an advantage, and the game mode will be new to everyone.
Advertisement
However, one "Fortnite" Redditor brought up that the challenge overlooks fans' feedback. They commented that Epic hasn't listened to fans who don't want to pay for multiple items during each event, and suggested that both MrBeast skins advertised in the event should be free (or come as a pair). They also noted that the limited edition umbrella won't be available for most players, since it's only awarded to the top 100,000 players worldwide. While that may seem like a high number, considering the fanbase of "Fortnite," it's actually quite low. 
The competition will last for only a brief window on December 17, beginning at 12 PM ET and ending at 3 PM ET. However, players can practice their skills for the challenge early, as the island will go live on December 13 at 9 AM ET. The aforementioned quests will also be available at this time. "I hope you all compete in the $1,000,000 tournament!" MrBeast tweeted. "We built some sick maps for it."
Advertisement