The PUBG Easter Egg You Missed In The Callisto Protocol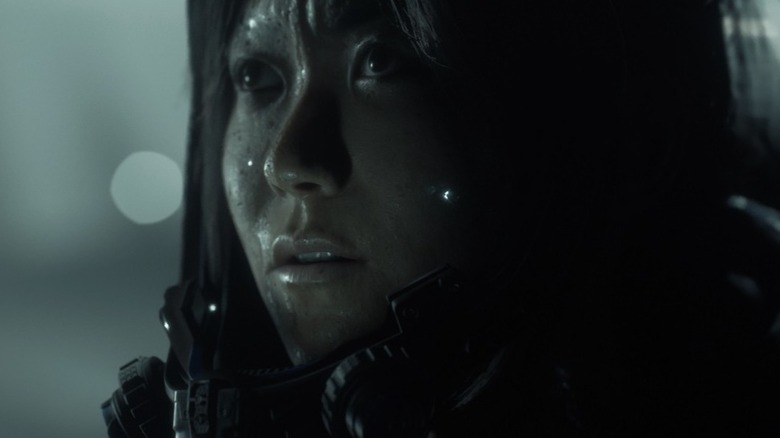 Krafton
Originally, "The Callisto Protocol" was going to share a setting with "Player Unknown's Battlegrounds." Both have the same publisher: Krafton, and Krafton happens to be the parent company of Striking Distance Studios, the developer behind "The Callisto Protocol." In fact, Krafton and PUBG Corporation created Striking Distance Studios for the purpose of putting together a narrative-based entry in the "PUBG" universe.
Despite Krafton's plans, "The Callisto Protocol" developers later ditched the "PUBG" connection. Striking Distance CEO and founder Glen A. Schofield explained the decision in a tweet in May 2022. "FYI @CallistoTheGame is its own story and world. It no longer takes place in the 'PUBG' Universe. It was originally part of the 'PUBG' timeline, but grew into its own world," Schofield wrote.
Although the titles no longer exist together in a single setting, it appears that at least one small connection to "PUBG" remains in the final version of "The Callisto Protocol." Eagle-eyed players have discovered a "PUBG" Easter egg within the space horror adventure.
The PUBG Easter egg hidden in plain sight
Players can spot the "PUBG" reference in "The Callisto Protocol" on one of its many work benches. Content creator Suzi Hunter shared a picture of the Easter egg on Twitter. As shown in her tweet, the Easter egg is a helmet with the same design often worn by the character featured in the classic "PUBG" promotional art. Players have spotted at least one other "PUBG" helmet sitting on a table covered with cards and poker chips in a cafeteria-like setting, implying that it could turn up in several locations.
Are these little Easter eggs the final remnants of a since severed connection to "PUBG," or were they merely fun inserts without any intention behind them? It's unclear, but either way, keep your eye out as you play "The Callisto Protocol." There could be more "PUBG" references scattered throughout the game.