Does Retro Fighters Make The Best Third Party Nintendo 64 Controllers?
Yvonne Hemsey/Getty Images
Many gaming veterans fondly look back on the Nintendo 64, even with the unusual N64 controller design that was supposedly built for "Super Mario 64." That's why it was such a big deal that Nintendo confirmed N64 games for its premium subscription, the Nintendo Switch Online + Expansion Pack. However, as per iMore, the official Nintendo 64 controller for the Nintendo Switch leaves much to be desired because it carries over the flaws from the original design.
Retro gaming purists insist on using it to play the games "as intended," while others want to experience them in a more modern fashion. After all, it's 2022 and not the 1990s. Thankfully, third-party Nintendo 64 controllers like the ones from Retro Fighters allow players to do just that. Its controllers aren't the only third-party Nintendo 64 ones on the market, but they have enough perks to stand out from the competition like the Hyperkin Admiral Wireless Controller and the Retro-Bit Tribute 64.
Today we're checking out a new N64 Bluetooth controller for Switch

Watch here: https://t.co/naqBcuQifA#Nintendo #N64 #NintendoSwitch pic.twitter.com/MxyEdITxNS

— Spawn Wave (@SpawnWaveMedia) December 18, 2022
Here's what makes the Retro Fighters Nintendo 64 controllers so great. 
An ergonomic take on the OG design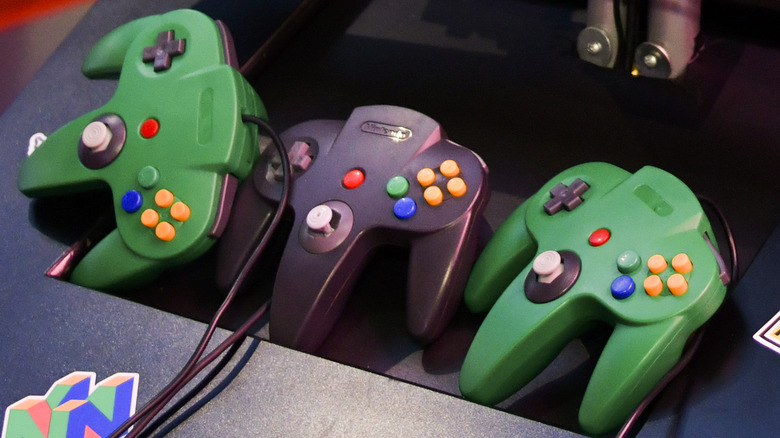 Rodin Eckenroth/Getty Images
Retro Fighters actually has multiple iterations of its popular Nintendo 64 controller that could work depending on your preference. The original Retro Fighters Brawler64 controller mimics the button layout of the original Nintendo 64 controller with a more comfortable shape, something that carries over to other models like the Brawler64 Color Edition v2 and the Brawler64 Bluetooth NSO Edition.
The Retro Fighters Brawler64 Bluetooth NSO Edition's have arrived at the Castle!https://t.co/sLhIZC7ye3 pic.twitter.com/ssjkpLqPCQ

— CastleMania Games (@CastleManiaRyan) December 23, 2022
Retro Fighters N64 controllers significantly modify the original N64 controller design down to the feel of its buttons. Users can plug in a Bluetooth adapter directly to a Nintendo 64 console (where the controller plug would go) to play wirelessly. It also has a wired version for those who prefer a corded version, though. All Retro Fighters controllers also work with the PC and Nintendo Switch, so they have multiple uses other than retro gaming. 
Whether or not a brand makes the "best" product of anything is a subjective opinion. Many players still prefer the original N64 controller over the Brawler64, even if others report enjoying the more ergonomic designs of Retro FIghters' controllers. Comparing comments on social media, it sure does seem like Retro Fighters make a standup controller. In short, Retro Fighters makes one of the best third-party Nintendo 64 controllers on the market, but the consensus will always be up for debate.