Pelé Was A Soccer Legend, But How Was He At FIFA?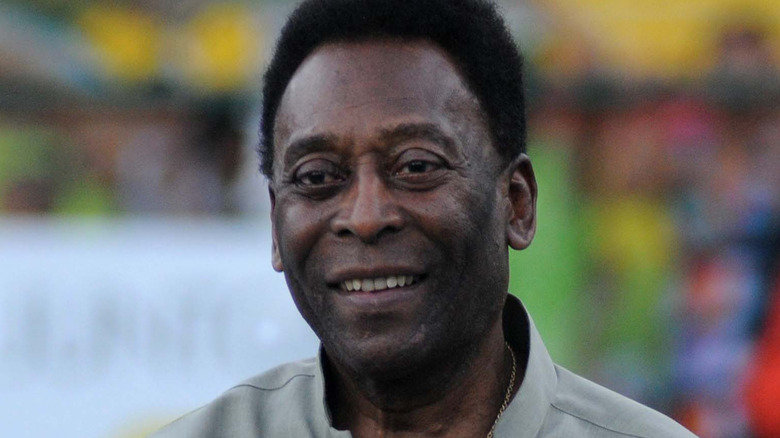 A.RICARDO/Shutterstock
No matter how great an athlete is at their sport, there are no guarantees that they'll be good at a video game that simulates the sport. After all, being a professional athlete is a full-time job and requires countless years of dedication at training in order to reach the pinnacle of one's abilities. Pelé, for instance, is one of, if not the greatest soccer players to ever play the game. But how did the Brazilian legend fare when it came to playing "FIFA," the leading soccer game in the gaming market?
Ever since the "FIFA" series introduced Icon cards based on legendary retired players for its Ultimate Team mode in "FIFA 16," Pelé has been a constant presence within the mode's ecosystem. In the series' latest iteration, "FIFA 23," Pelé has the highest-rated Icon card, which is rated 95, just above fellow Brazilian Ronaldo Nazário, who has a 94-rated card. In line with his reputation as a player, Pelé's card is legendary and is equipped with 96 pace, 93 shooting, 90 passing, and 95 dribbling, among other attributes. The Brazilian legend also has 5-star skill moves and a 4-star weak foot. By any standard, it's one of the best cards you can pack. However, did Pelé himself have enough skill at the game to accurately convey his S-tier talent?
Pelé might've been a maestro on the pitch, but he wasn't on the sticks
While doing an interview with his former club Santos in 2014 alongside fellow Santos legend Coutinho, Pelé sat down to play that year's "FIFA 15." Despite being among the most technical and skilled soccer players in history, Pelé's penchant for footballing mastery did not translate to being good at "FIFA." "Congratulations to those who know how to play this," Pelé told Santos (via the closed-captioned translation). "It's not easy to control the players. You must control [the players] using your fingers, your brain, your eyes. You must be completely balanced." Coutinho also expressed frustrations with controlling the game, seemingly having issues with correlating the real-life actions required to play soccer with the control layout of "FIFA."
Of course, at the time of the interview, Pelé was already 74 years old — well above the average age of a gamer, so it's quite possible that gaming wasn't among his hobbies. However, despite not being a phenom at the game, Pelé's legacy will be forever cemented within EA Sports' famous soccer sim.