If This Logan Paul Pet News Is True, It's Heartbreaking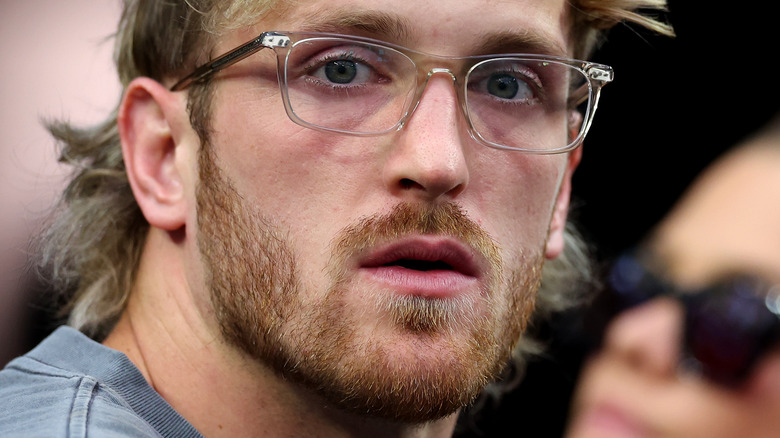 Christian Petersen/Getty Images
Logan Paul has been a controversial figure for years, and in the past couple of years he made headlines thanks to his highly publicized boxing bouts and a failed cryptocurrency-based video game. "Crypto Zoo" boasted that players could make money while breeding and managing a collection of animal NFTs. After investigative YouTuber CoffeeZilla followed the money in a three-part series, Paul faced serious allegations that he scammed the project's supporters. The controversy surrounding "Crypto Zoo" might be the least of the influencer's problems now as he faces accusations of animal abuse and abandonment. 
Back in 2018, Logan Paul bought Pearl, a miniature or teacup pig, but by 2020 Pearl had become a fully-grown hog. Paul posted about this, claiming that he was told Pearl was a mini-pig but then confidently said "she's not," possibly not realizing that so-called miniature pigs only stay small for a short time before growing to a normal size. 
Fans didn't hear much about her in the years since, until an Animal Sanctuary in California rescued a neglected, abandoned pig with a striking resemblance to Paul's pet. Though it hasn't been confirmed, if the rescued pig is indeed Pearl, Paul may have yet another controversy to respond to.
An animal sanctuary may have found Logan Paul's pig abandoned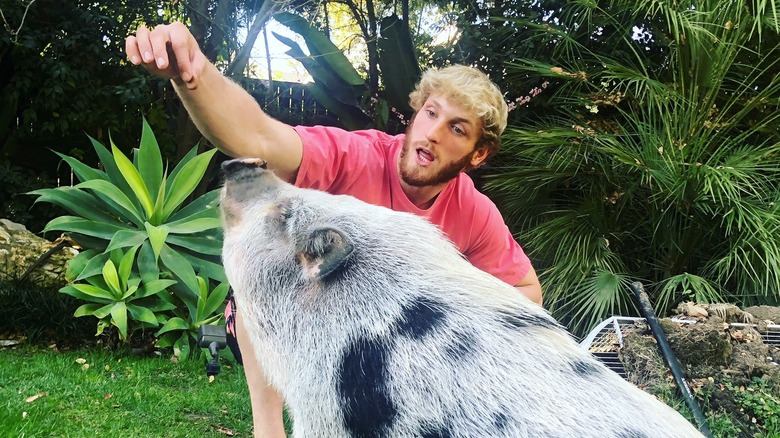 Logan Paul / Twitter
The Gentle Barn Animal Sanctuary is an organization that rescues neglected and abused animals in several cities across the U.S. On January 9, 2023, the organization posted a video of a pig that was found abandoned in a field with another, deceased pig. The organization claims it was "told she belonged to a famous YouTuber, and was irresponsibly rehomed." But The Gentle Barn didn't call out any specific names, and continued to say that "all we know for sure is she ended up abandoned and scared, with mangled ears and a broken heart."
@thegentlebarn

Pearl was found alone in a field next to another pig who had passed away. She came to us with tattered ears and a potentially life-threatening infection in her uterus that has since been healed. She's clearly been through so much trauma that we can't begin to imagine, but she's now safe with us at The Gentle Barn. From what we've been told, it's believed she was purchased originally from a breeder by an influencer. People often buy "mini pigs" or "teacup pigs" for clout online, believing they will stay small. When they inevitably grow very large and have many unexpected needs, they're sadly discarded. While we don't know everything she's been through in her past, we know her life is now filled with friends, nutritious foods, the highest quality care, and so much love. #pigrescue #animalrescuestory #abandonedanimals #pigsoftiktok #farmanimalrescue #thegentlebarn
Comments on its various social media posts were quick to point out the rescued pig's uncanny resemblance to Paul's miniature pig. There are a few notable points of comparison — for one, the sanctuary's comment confirms the rescued pig's gender is the same as Pearl's. Additionally, in comparing the influencer's post of a full-grown Pearl in 2020 to the pig in the Gentle Barn's video, the spots and pattern on the pigs' hides are an almost identical match.
It isn't known whether Paul owned the pig immediately before it was abandoned, as some comments on the organization's TikTok post say Pearl was adopted by another party. Paul has yet to respond to the accusations publicly, but according to TMZ he has learned of the situation and feels "very upset" about Pearl's condition. Whatever the case, it would be far from the first time the influencer's rash and inconsiderate actions warranted a response.