Dead Space Remake's Launch Trailer Has Fans Ready To Be Scared Again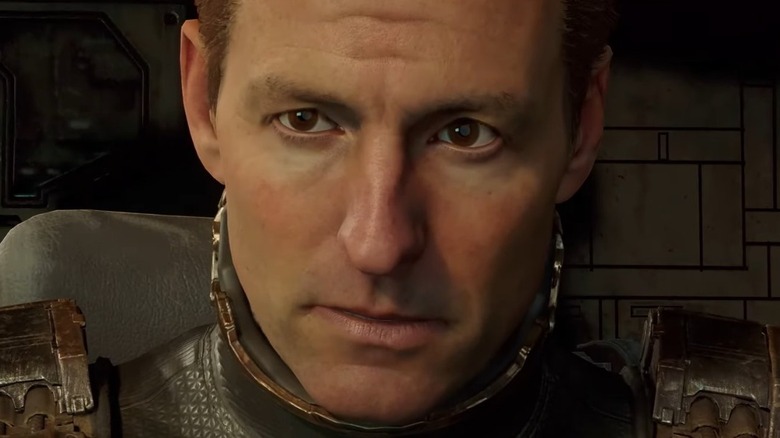 EA
The "Dead Space" remake's release is right around the corner, and game makers hyped things up with a launch trailer to get fans in the mood to be spooked. On January 12, the newest trailer for the game, "Humanity Ends Here," was released. The nearly two-minute trailer highlighted some of the improvements from the original, like the once-silent protagonist who will finally have a voice.
The launch trailer showed off impressive graphics, intense gameplay, and epic music that one fan recognized as similar to the credits music from the original "Dead Space." With nearly 300k views in the first day, it's clear that fans were excited. As many people pointed out, the game was remade completely, not just ported and updated, by a team of people who really care about the original game. This effort seemed to pay off, judging by the video and its reception.
While the trailer itself was enough to hook fans, the memories shared by others as they gear up for the "Dead Space" remake release were fascinating. YouTube comments were full of happy, excited fans who have fond recollections of 2008 when the original "Dead Space" was released. They weren't afraid to share them, creating large spaces of wholesome content.
Fans are ecstatic
The love for "Dead Space" and its upcoming remake was clear. YouTube viewer Lotus Volt said, "This series deserves all the love it can get," a sentiment that was shared by at least the 890 who liked the comment. Others shared how much "Dead Space" means to them along with their love for it.
One YouTube viewer explained that "Dead Space" was a "huge part" of their childhood, and they didn't expect EA to do anything with the title or series. Another pointed out that they "couldn't stress how important" the original game was to them, and the remake has them incredibly excited. One viewer told the story that "Dead Space" was the first game they ever preordered, and while they don't preorder games often now, they were sure to preorder the remake. Of course, gamers were also ready to be frightened, with one gamer saying the trailer gave them chills.
The remake gave hope to several fans for a "Dead Space 4," as long as it succeeds. Some fans were even hopeful for more remakes in the series. 
Fans don't have long to wait to see if the game will be as grand as they think. The "Dead Space" remake is set to release on January 27, 2023 on PC, PlayStation 5, and Xbox Series X|S.