Huge Nintendo Switches That Might Be Better Than The Original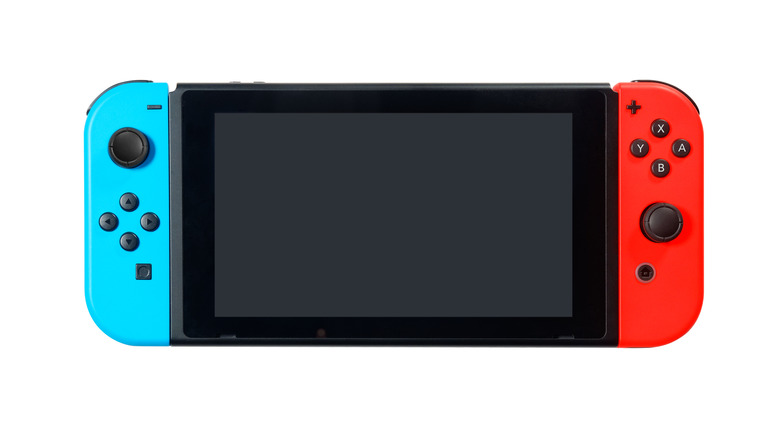 canbedone/Shutterstock
Having been on the market for nearly 6 years, the Nintendo Switch hybrid console is still a cool piece of gaming tech. The handheld/docked convertible console doesn't boast the best specs in the industry, but it does play home to many amazing first-party offerings that can't be enjoyed anywhere else. This makes the Switch an undeniable necessity if you're a hardcore gamer who wants to play everything. However, in the years since its introduction, the Switch hasn't changed much outside of the Lite and OLED versions that Nintendo has put out in recent years. This has left the gaming community to devise their own versions of the Switch that are arguably cooler than the console itself.
The question is: How does one take the Nintendo Switch concept and make it even cooler than the console itself? The answer is by taking its signature and iconic design and reimagining it in a way that is original, innovative, and fun. This means that it can be interpreted as a litany of different things, be it a place to put your belongings, or even a giant version of the console itself.
The storage container
No, it's not a real Switch. But even still, this creation by YouTuber Foureyes Furniture is so impressive that it might very well be cooler than the console it's modeled after.
Seemingly inspired by looking at his TV, carpenter Chris Salomone — better known by his YouTube handle Foureyes Furniture — decided that he would construct two big storage units that could house games and other gaming-related items. Salomone performed all of the construction himself, and designed the project from start to finish. The wooden structures are modeled after the Joy-Con controllers found on Nintendo Switch consoles and are designed to perfectly straddle the large TV in his living room. When combined with the TV screen in the middle, the storage containers resemble a full-fledged Nintendo Switch console.
As for what he stored in it, Salomone used the four levels in each storage unit to house controllers, accessories, games, and older consoles. The entire setup is also shown while the TV is on, making it look even cooler. Salomone also shared a touching monologue at the end of the video, comparing Nintendo's refusal to become a huge player in the Microsoft-Sony "console war" to his being satisfied with where he is in life and being comfortable in his own skin. It's a cool, insightful, impressive, and inspiring video. And the "Switch" that spawned from the project is pretty awesome too.
A giant and functional Nintendo Switch for a good cause
If you are a consistent reader of SVG, you are likely familiar with Michael Pick. In 2022, Pick set a Guinness World Record by constructing not just the largest functioning Xbox Series X console in history. Before that, Pick had done something similar with the Nintendo Switch.
On April 3, 2022, Pick published a video on his YouTube channel showing off his massive take on the Switch console. To say the least, the thing is huge. Pick's giant Nintendo Switch is 70 inches wide by 30 inches high, comes with a 4K monitor built in, weighs in at 65 lbs., and functions just as a real Nintendo Switch console would. In total, it is 650% bigger than a normal Switch. It can be played with either the large buttons that are on it or with an external Pro controller.
Much like he did with his giant Xbox Series X, Pick didn't design the giant Nintendo Switch for himself. Instead, he used it for charity. At the end of the video, Pick can be seen donating the giant Nintendo Switch to St. Jude's Children's Hospital in Memphis, Tennessee.
A wall mounted TV gets the Switch treatment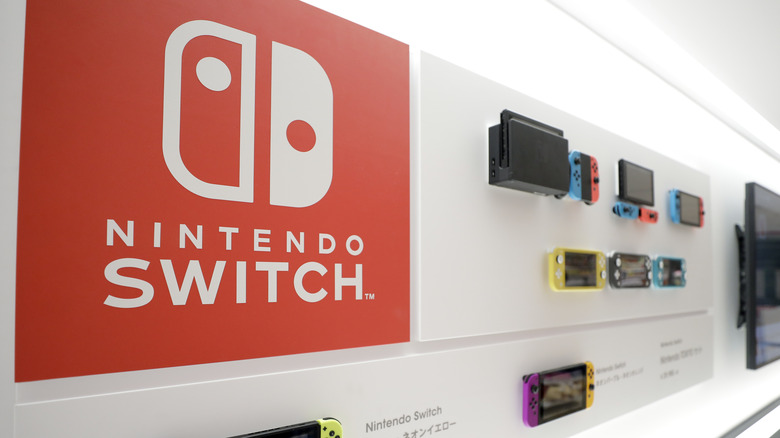 Bloomberg/Getty Images
As proven by Foureyes Furniture's previously mentioned video, the Nintendo Switch's design lends itself perfectly to contraptions that interpret its look into storage containers. However, one Nintendo fan took it a step further and made something that looks even more impressive.
Ce truc de dingue 😱 pic.twitter.com/F2PAm29rE8

— Lulu&Berlu -PC Engine & Evercade- (@VolcanoGriffon) January 16, 2023
Though it's not known where the original clip came from, Twitter user VolcanoGriffon uploaded a video that showed a wall mounted TV being straddled by two Joy-Con-like devices that extend outwards with the press of a button. Upon expanding out, the Joy-Con storage containers present some classic Nintendo consoles such as the Nintendo 64, Gamecube, and Super Nintendo. Built into the container is a revolving door-like mechanism that offers different selections of controllers for each corresponding console. The impressive setup also includes smaller compartments for games and cables.
The secret to this setup is below the TV that includes all the necessary components to plug in controllers and insert games — the consoles that "fold out" from the side appear to only be aesthetic. Overall, it's a very cool setup that plays into Nintendo's present with odes to the past.