What That Final Song In The Last Of Us Episode 1 Really Means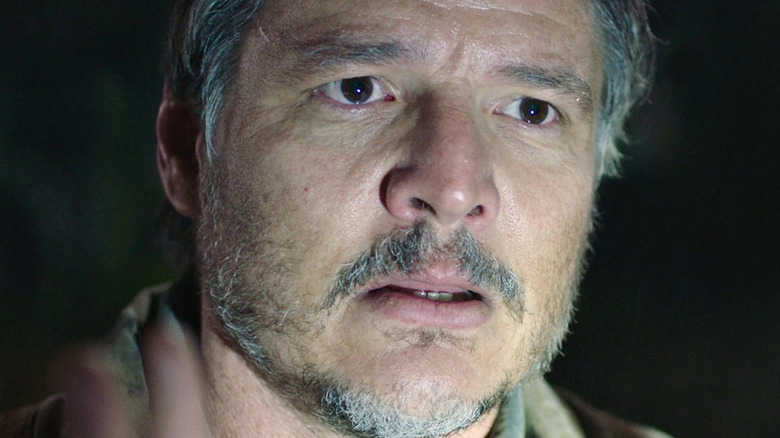 HBO
The first episode of "The Last of Us" live-action series not only wowed critics but smashed records for HBO. And fans are still busy scouring the episode for hints and easter eggs. One of these clues is only recognizable by those who played the game, and is presented at the very end of the episode.
When Ellie, Tess, and Joel escape from the quarantine zone and begin their journey toward Boston, the camera cuts back to Joel's residence as his radio plays the song "Never Let Me Down Again" by Depeche Mode. The song is more meaningful than many may have initially realized. When chatting about the song to the Hollywood Reporter, showrunner Craig Mazin explained, "I needed it to have context. I needed to be meaningful. ... to be foreboding, and ideally, without being super on the nose." But apart from infecting the audience with an ominous feeling, the song also hints at a situation that lies ahead for the trio.
Trouble for Bill and Frank
Earlier in the episode, when Ellie gets taken to Joel's apartment, she picks up a note next to Joel's radio and inside a book chronicling Billboard's number-one hits. The note is titled "B/F" and reads "60 — Nothing In, 70 — New Stock, and 80 — X." After eavesdropping on a conversation, Ellie hears that they will have to "head to Bill and Frank's." Ellie then deduces that "B/F" stands for Bill and Frank. Additionally, Ellie realizes the radio functions as a smuggling code, with each song played from a specific era relaying a message. And after tricking Joel later on, Ellie discovers that "80's means trouble." Because the song that plays on the radio at the end, "Never Let Me Down Again," was released in 1987, it could mean trouble for Bill and Frank. However, the trio was not near the radio to hear this message.
Spoilers for the game ahead:
For fans of the game, this information won't come as a surprise. Bill and Frank's story is that of tragedy, with players stumbling upon Frank's corpse after he dies by suicide after becoming infected. But because actor Murray Bartlett is slated to appear as Frank for four episodes, he will have to be more than a corpse by the time the trio shows up. This wouldn't be the first change the series made for the adaption, as fans have already seen the spectacular car crash scene that was changed in a big way for the silver screen.