How To Get Gold Tires In Mario Kart 8 Deluxe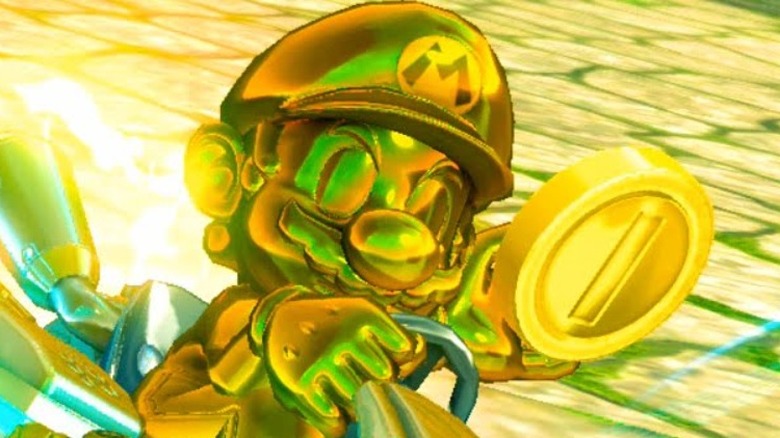 Nintendo
In "Mario Kart 8 Deluxe," progressing through the game mainly relies on collecting coins across multiple races to unlock new karts, tires, and gliders. Only unlocking characters requires players to win races. Conversely, collecting the complete gold kart set has posed one of the biggest challenges across all of the "Mario Kart" series. Whether the player busts out the fastest kart setup in the game or an old reliable, unlocking the gold tires specifically will require prioritizing speed.
The gold tires share the exact same stats as the metal wheels, both in terms of the five basic stats displayed during vehicle customization and a separate spread of stats the title hides from players. Neoseeker has broken down both sets of stats for all characters, karts, and parts in "Mario Kart 8 Deluxe." Going with the gold tires (or metal) offers a very low stat total, but with a tradeoff of maximum weight and land speed.
The tires and other gold items aside from the gold standard kart have at least one duplicate, making these rewards mostly cosmetic. Unlike most karts and parts, players cannot unlock the gold tires through the traditional method of collecting coins.
Besting Nintendo Ghosts in Time Trials
"Mario Kart 8 Deluxe" players interested in unlocking the gold tires have to clinch 1st place in the single-player Time Trial mode for all 32 courses, racing against Nintendo staff ghosts on 150cc. Unlike your typical 12-player race, the player only has to best the time of one ghost per course. As per tradition with Time Trial modes across the "Mario Kart" series, the courses feature no items except for three mushrooms granted to the player from the start of the race.
Attack of the Fanboy recommended studying the route each ghost takes so the player can keep up — easily done by selecting the "View Ghost" option. Players can also put their boost mushrooms to good use making it across offroad shortcuts or wide turns. Notably, although no item boxes present themselves on Time Trial maps, players can still collect up to 10 coins to bump up their speed.
Of course, drifting and using mushrooms becomes more difficult on the notoriously unforgiving Rainbow Road: two of them in the base game. A kart with decent-to-great traction can help, but it may mean a lower top speed. As shown by YouTuber GamerJGB, the safest bet often involves sticking to the inner side of curves while drifting.
Players who persevere to unlock the full gold kart and Gold Mario in "Mario Kart 8 Deluxe" can truly ride with speed, glamor, and satisfaction at having earned the game's ultimate achievements.