PewDiePie And Marzia Thrill Fans With Baby News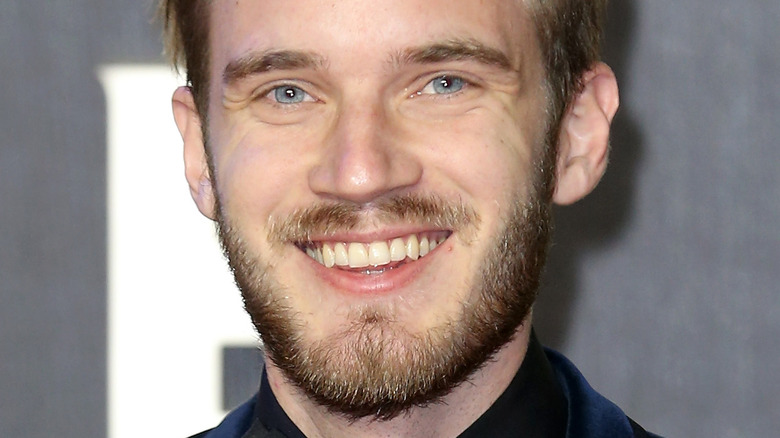 Chris Jackson/Getty Images
Known for his record-breaking feats since his emergence on YouTube, Felix "PewDiePie" Kjellberg has often delivered when it comes to providing his millions of subscribers with quality content. However, on February 5, the Swedish creator shared possibly his biggest milestone yet from a personal standpoint — he's having a baby. 
The news arrived over the weekend, much to the delight of PewDiePie's fans. In a short video update, PewDiePie revealed that his wife, Marzia, is pregnant. "I've been keeping a secret from you guys, and that is I'm gonna be a dad," PewDiePie says at the beginning of the clip. According to the YouTuber, he and his wife found out about the pregnancy in November 2022, and everything has been going well despite Marzia experiencing bouts of "sickness" throughout the early stages. According to the YouTuber, it's nothing that the happy couple can't handle.
"I'm so excited," PewDiePie says of the enormous occasion. "It's kind of strange to me, it's entering new territory, but I feel really ready and so does Marzia." The YouTuber continues, expressing his joy at becoming a parent alongside his spouse. "I just feel so lucky to start a family with the woman I love. And I know whatever's ahead of us, together we can do it." PewDiePie and Marzia weren't the only excited parties regarding the news, as fans immediately began to rush to the internet with congratulations and well wishes.
Fans react to PewDiePie's bombshell announcement
A pregnancy announcement is a big deal. And unsurprisingly, many offered their congratulations to PewDiePie and his wife on such a momentous occasion. Popular content creator Farina Jo commented on the YouTube video, telling PewDiePie and his wife that "[they're] gonna be awesome parents." Even the official Twitter account for Opera GX — a web browser — got in on the fun. "New Pewdiepie to sponsor dropping soon I see," the account tweeted, joking that the little one on the way would obviously follow in their parents' footsteps. One Twitter user responded by calling PewDiePie "a legend," accompanied by a picture of a crying man that reads, "I used to pray for times like this." Another modified the popular YouTuber's name, dubbing him "PewDadPie" in the wake of the news.
Some fans also took the time to acknowledge the evolution of PewDiePie and Marzia's bond by posting gifs made from clips of them during the early days of their relationship, which coincided with PewDiePie's rapid ascent through the YouTube community. In one of the funnier reactions to the bombshell, one Twitter user expressed their happiness for this wholesome development while sharing a video of actor Tyrese Gibson crying.
Being a parent is hard work that lasts a lifetime. But if PewDiePie's enthusiasm is any indicator, it seems the YouTuber is ready for all the challenges and rewards fatherhood has in store for him.
What's next for PewDiePie and Marzia?
As longtime fans of PewDiePie and Marzia know, the pair have significantly scaled back their presence in the public eye within the last few years, which should free them up to focus on parenting. Marzia hasn't uploaded a new video in a few years, despite the fact that she still maintains over seven million subscribers, and has in fact removed all of her older clips from the channel. At the time of her retirement from YouTube, Marzia told fans that she just needed a fresh start and was looking forward to doing something else with her life. Since then, she has kept busy with various projects, including fashion design, voiceover work, and setting up a home in Japan for herself and her husband. 
Although PewDiePie continues to upload new content to his channel on a semi-regular basis, he has also said on more than one occasion that he considers himself to be retired from the YouTube game. At this point, he continues to play video games and upload vlogs for fun and to continue interacting with his fanbase, but he certainly doesn't need to keep a consistent schedule to maintain his lifestyle. In other words, PewDiePie and Marzia are in a great position to expand their little family and enjoy life in Japan.  But fear not, fans. PewDiePie has expressed gratitude for his YouTube career in recent months, and it doesn't look like he's any closer to quitting the platform entirely. Fans can probably look forward to plenty of content featuring PewDiePie and his family in the years to come.
In the meantime, PewDiePie is focusing on taking care of Marzia and planning for their future together. At the end of his announcement video, PewDiePie reiterated how excited he is to meet his child, saying, "Marzia's the most loving and caring person I know, so I have absolutely no doubt she'll be an amazing mother."