The Untold Truth Of PewDiePie's Wife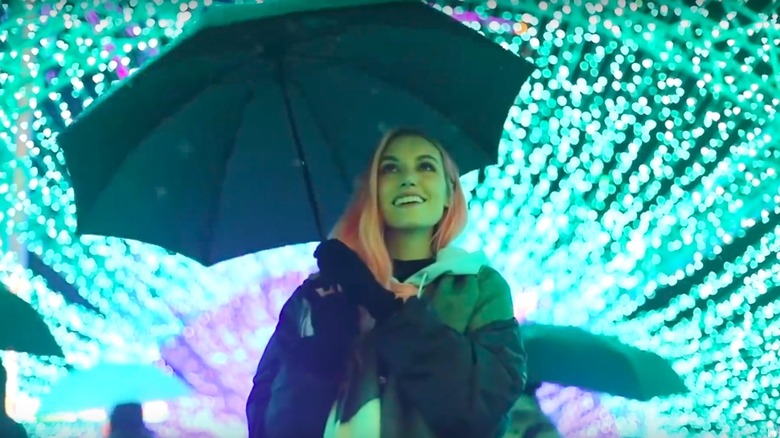 After eight years of dating his long-time girlfriend Marzia Bisognin, famous YouTuber Felix Kjellberg, aka PewDiePie, has finally tied the knot. In a private ceremony on Aug. 19, 2019, the two exchanged vows in London's Kew Gardens, sharing some gorgeous photos from the ceremony on social media. And while the world is familiar with the YouTuber's Swedish accent and quirky videos, less is known about PewDiePie's wife, Marzia, who is a celebrity in her own right. 
Advertisement
PewDiePie is synonymous with YouTube, but Marzia Bisognin also got her start on the platform. And though her YouTube days seem to be over for the time being, Marzia has kept herself busy with her love of fashion design, voiceover work, beauty blogging, and a host of other talents she's constantly honing. With beginnings that sound more like a fangirl fantasy than a real life relationship, PewDiePie and Marzia have kept their fun relationship vibrant and engaging on social media. Now that Marzia is officially Mrs. PewDiePie, here are some interesting facts you may not have known about her.
Marzia and PewDiePie just tied the knot in London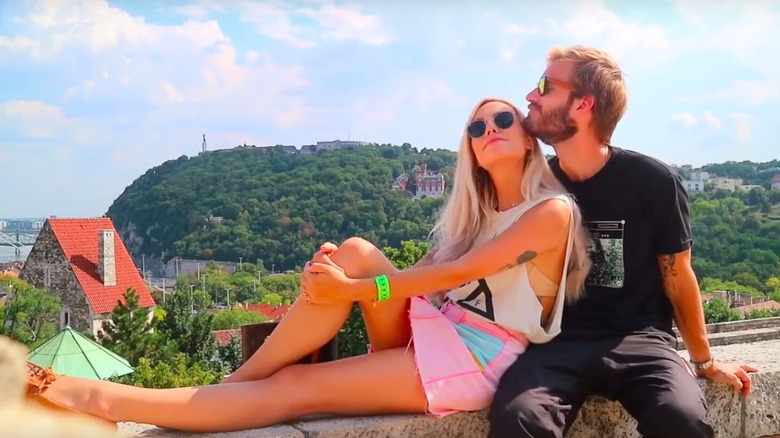 Though PewDiePie is originally from Sweden and Marzia is from Italy, the two have since relocated to England. The couple stated in a Q&A video that it was a more central location where they would both be without a language barrier. Because of this, it only makes sense that the two were married in London. And on Aug. 19, 2019, they took the plunge.
Advertisement
With gorgeous pictures taken in the Orangery at Kew Gardens, the entire event looked like something straight out of a fairy tale. Felix wore an all black tux complete with a black shirt, tie, and vest, while Marzia showed off her flare for fashion with a long white lace gown with gorgeous detailing at the hips. The two decided to keep the event relatively private, inviting only close friends, family, and a few YouTubers. And while the event itself was an intimate one, YouTubers and fans alike have shared their congratulations via social media, letting the couple know just how excited they are for this next step in their lives.
Marzia and Felix met when her friend told her she should watch "this idiot playing video games"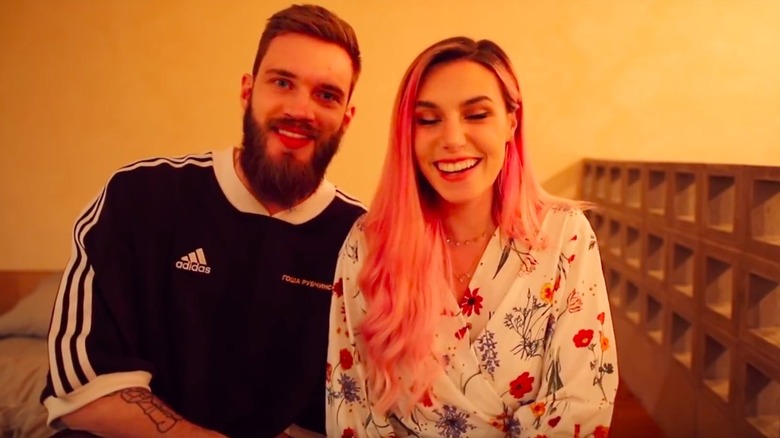 Even in the earlier days of his YouTube channel, PewDiePie was an entertaining gamer who drew in large audiences with his loud and funny let's play videos. His charisma wasn't only beneficial in his professional life, but in his personal life as well, since it led Marzia to him. Back in 2011, Marzia's friend told her that she needed to watch "this idiot playing games" on YouTube, referring to PewDiePie and his gaming channel. After watching several of his videos, Marzia knew he was someone she was interested in getting to know better.
Advertisement
Marzia lived in Italy at the time and has always described herself as a shy introvert. Being able to connect with the world around her via her videos and social media has been one of the things that drew her to online platforms in the first place, and YouTube was no different. Seeing the goofy Felix Kjellberg screaming at his computer screen and trying to make his way through various video games endeared her to the Swedish gamer, and led to their first meeting.
Marzia emailed PewDiePie to tell him his videos were funny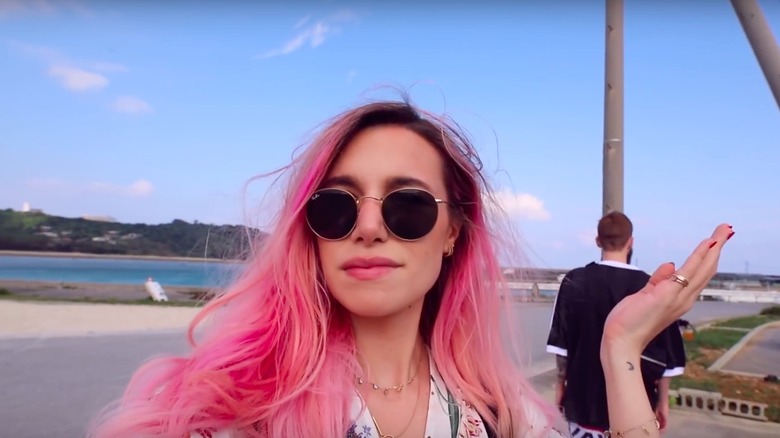 After Marzia watched several of PewDiePie's gaming videos on YouTube, she realized he was someone she wanted to meet. In an email, Marzia let him know that she thought his videos were funny, which was apparently all Felix needed to continue the conversation with the Italian fashion designer. 
Advertisement
PewDiePie and Marzia continued to get to know each other via the internet before Felix decided enough was enough: he wanted to meet Marzia in real life. And so, just like the end of a good rom com, Felix left a note for his parents, informing them that he wouldn't be able to walk the dog for a while, hopped on a plane, and flew to Italy to meet Marzia. He said that she was even more beautiful in person the day he met her in the airport, and the couple instantly hit it off. Their immediate chemistry made the decision to start dating an easy one despite the fact that their relationship would be long distance in the beginning.
She did voice acting for "Oscar's Hotel for Fantastical Creatures"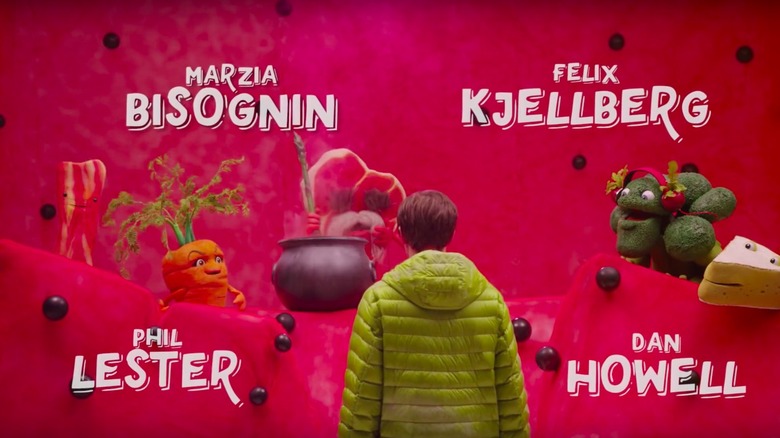 Marzia is no stranger to being in the spotlight. Between her YouTube channel, social media outlets, and fashion design, the Italy native has dabbled in many different platforms. It's only fitting that the star would decide to continue expanding her repertoire by adding voice acting to her resume as well. In 2015 at Summer in the City, PJ Ligouri and Chris Kendall announced that they'd be creating a new Vimeo webseries called Oscar's Hotel for Fantastical Creatures. The new series was slated to include the acting talents of several YouTube stars. Among them were PewDiePie and Marzia. 
Advertisement
Voicing the character Carrie the Carrot, Marzia was able to try her hand at voice acting in the zany show with a cast of offbeat characters. With her unique high-pitched voice, it only made sense that she'd excel at an often difficult-to-master art. The creators of the show even stated that they knew they wanted their friends to voice the characters, which meant they were able to write the characters with the specific voices in mind.
Marzia is a fashion designer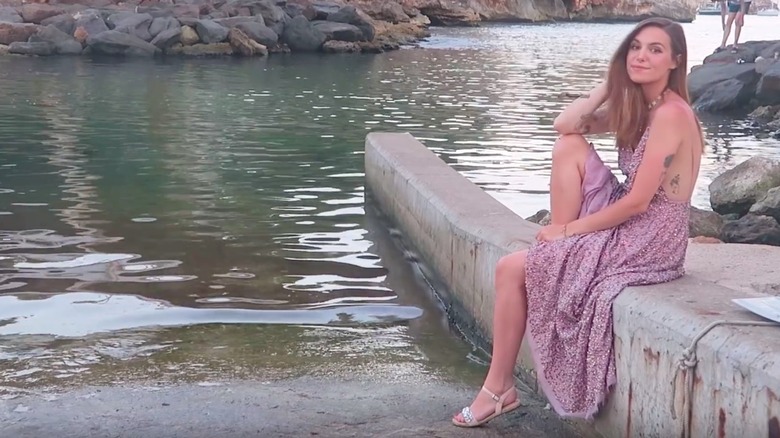 Marzia has stated that her dream job when she was young was to be a fashion designer. Even when she shifted her focus to YouTube for a time, she still kept fashion and beauty in the forefront of her career goals. Creating a beauty and lifestyle vlog on YouTube was only one small step in her larger vision of one day opening her own boutique and launching her own fashion line.
Advertisement
Even at her young age, Marzia has already managed to reach a big part of her dream. Marzia has launched several fashion lines of her own, including everything from clothing to perfume and nail polish. The entrepreneur currently has a collection called Tsuki Market, which she designed with PewDiePie, as well as her Acqua jewelry collection and Linee collection which she created on her own. All of the clothing she's created showcase her unique style and ethereal look, combining fantastical colors with juxtaposed geometric lines. With so many different projects going on, it's almost impossible to keep up with everything the Italian fashion designer is doing.
She's the author of young adult novel Dream House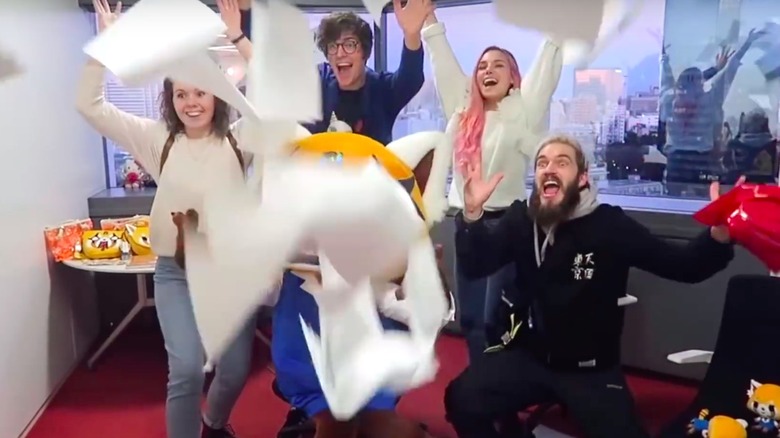 Marzia's successful clothing line, her YouTube channel, and her cartoon series about her pugs are only some of the things Marzia has been able to create with her determination and imagination. But in addition to these endeavors, Marzia has also had a young adult fiction novel published by Simon and Schuster. Landing a book deal with one of the biggest publishers in the world is a goal most can only dream of, and it's something Marzia managed to accomplish with her debut novel.
Advertisement
The YA horror thriller novel Dream House was published in 2015. The story follows a young female protagonist named Amethyst as she tries to unravel the mysteries of a home she's been invited to stay in. After the residents of the home disappear, Amethyst must try to understand her strange connection to the house and determine who to trust. The jump from being a successful YouTuber to a fashion designer to an author just shows the versatility Marzia possesses, and it leaves the future open to many possibilities.
PewDiePie and Marzia decided to keep the details of their proposal private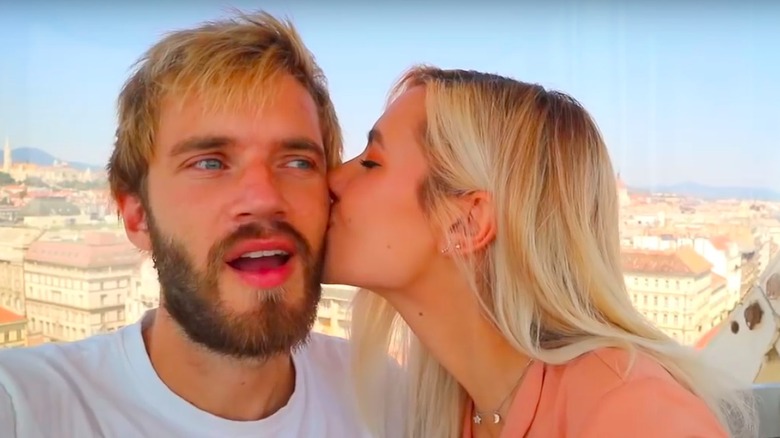 When two people in the public eye are in a relationship, it can seem like there's no such thing as privacy. With everything Marzia and Felix do constantly being published on social media, it's no wonder the couple decided to keep some of the more intimate moments of their relationship to themselves.
Advertisement
In 2018, Marzia and Felix took a trip to Japan. While most of their trip was heavily documented on social media and their vlogs, they decided to take a day toward the end of their trip where they didn't record anything for their channels. It was on this day that Marzia and Felix had a romantic dinner where he then proposed to his pink-haired girlfriend. Though most of the details of the proposal were kept quiet, the couple did release a picture right after the big event, showing off the ring. Within the following days, the couple also posted that they wouldn't be releasing any footage of their proposal as they'd like to keep some aspects of their relationship private and special.
Marzia discontinued her YouTube channel in 2018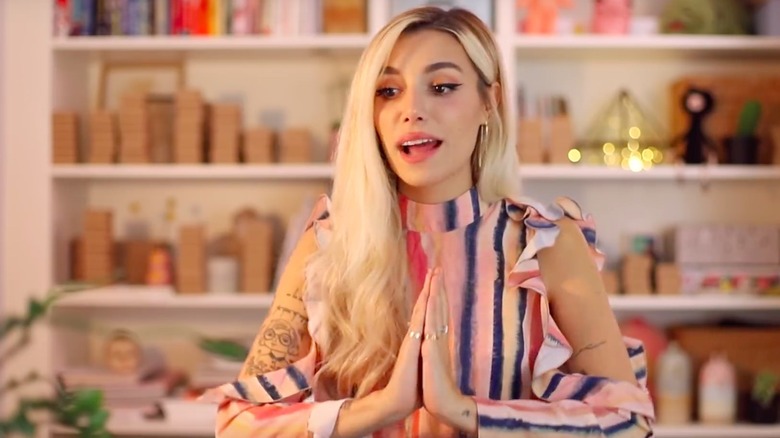 After Marzia and PewDiePie started dating, Marzia decided to start her own YouTube channel in 2012. Playing off of the title of Felix's PewDiePie channel, Marzia created her own CutiepieMarzia channel. The main focus was fashion, lifestyle, and beauty, with some gaming thrown into the mix. But as Marzia continued to expand her professional life even further into fashion design, a decision had to be made about how much time she was willing to dedicate to YouTube. In a video where she described some of the mental health hardships associated with having a successful YouTube channel, Marzia announced that she would be retiring from YouTube to focus on her other projects. 
Advertisement
Most of the videos Marzia had posted to her channel between 2012 and 2018 were immediately deleted after her announcement. She expressed her desire to take all of her videos down and delete her channel altogether eventually but resolved to keep a select few videos up for the time being. Fans can still currently find her channel, now simply titled Marzia, on YouTube with the handful of videos she chose to keep public.
The couple occasionally games together in videos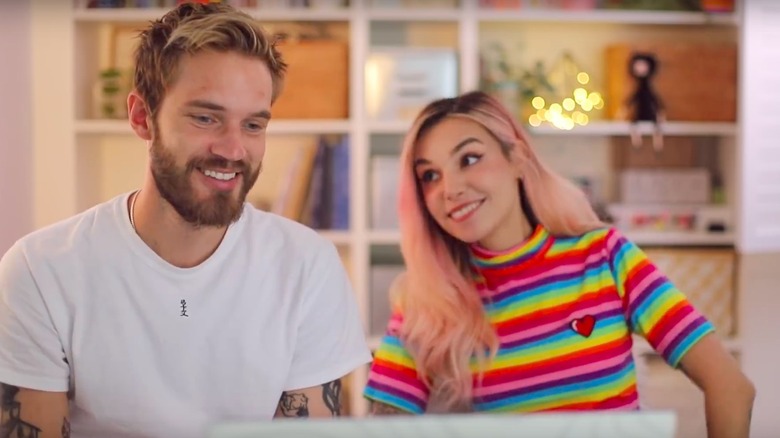 PewDiePie and his YouTube channel has always been synonymous with gaming. Even during the brief period of time where Felix went away from gaming to largely focus on pop culture news and other interests, people still considered him a YouTube gamer. With the resurgence in popularity that Minecraft has seen in recent months, PewDiePie has restarted his gameplay videos, much to the delight of his millions of fans. But even though Marzia's main professional focus has never been gaming, she and PewDiePie still game together on occasion.
Advertisement
In a series lovingly titled Melix Plays, the couple have played various games together. The contrast between PewDiePie's eccentric and loud personality and Marzia's more quiet and reserved aura is an entertaining thing to see. And while Marzia may not be the video game expert that Felix is, she holds her own against the Swedish gamer with impressive authority. The couple who games together, stays together.
She did a webseries called "Pugatory" based on her two pugs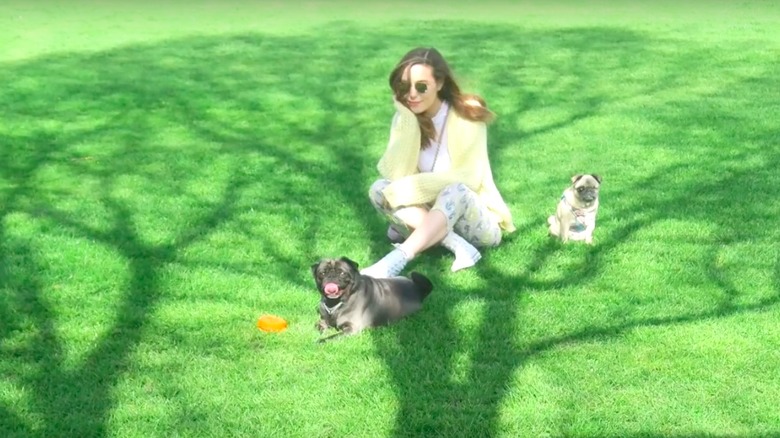 It takes a lot to be a successful entertainer and online personality in a time when online influencers are a dime a dozen. But one of the things that sets Marzia Bisognin apart from the rest of the internet A-listers is her unique voice. With Oscar's Hotel for Fantastical Creatures on her resume, Marzia and Felix decided to make a web series about their pugs.
Advertisement
The cartoon, titled Pugatory, follows the misadventures of pugs Maya and Edgar, modeled after Marzia's real-life pugs of the same names. The two pugs accidentally wish each other into a state of purgatory one day, so they have to work together to try to make it back home to their owner. The adorable and quirky cartoon is so perfectly matched to the the voice work of Marzia and Felix, and it's obvious from the stories that much of what we see in the cartoon is based on real-life situations with their own pugs.