Why GTA 5's Lamar Wasn't Playable In Story Mode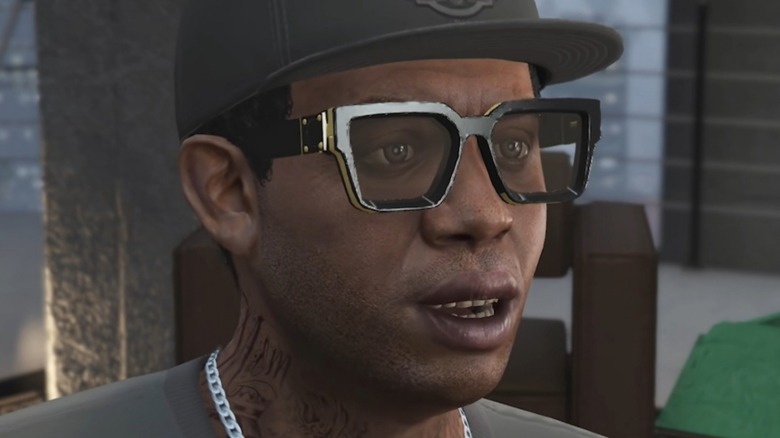 Rockstar Games
Fans of the story mode in "Grand Theft Auto 5" are likely familiar with Lamar Davis, main character Franklin Clinton's wisecracking best friend and fellow Families gang member who is an important figure in both the base game and "Grand Theft Auto Online." What many might not know is that Lamar was actually meant to have a much more prominent role in "GTA 5" towards the latter stage of the game where he'd actually be playable.
Advertisement
Throughout the story, Lamar accompanies Franklin during certain missions or appears in cutscenes, often providing humorous quips about the task at hand and some of the most legendary roasts in gaming history at Franklin's expense. There are also rumors that a lot of content involving Lamar in "Grand Theft Auto 5" was left on the cutting room floor, something Gerald "Slink" Johnson — the actor behind Lamar — alluded to in an interview with Gameology. Furthermore, there are rumors that Lamar was meant to have a bigger role in "GTA 5." This larger role included him not just having more scenes, but being a playable character as well. Johnson himself addressed these rumors in a Reddit AMA years back.
Advertisement
The following contains spoilers regarding one of the possible endings in "Grand Theft Auto 5." You've been warned.
Legal troubles prevented Lamar from having a bigger role
During a Reddit AMA back in 2014, Johnson was asked about the rumor regarding Lamar being a playable character towards the end of the story in "Grand Theft Auto 5" should players choose Option C. Johnson seemed shocked that anybody would know about any such plans, but he did give an answer. According to Johnson, Lamar was meant to have a much bigger role than he did in "GTA 5," but it was reduced as the result of him having legal troubles in real life — though this bigger role wasn't explained much.
Advertisement
Despite Johnson remaining tight-lipped, there is evidence to suggest that Lamar was meant to be a playable character in "GTA 5." In 2017, YouTube jedijosh920 posted a video in which they use Lamar as the main playable character. As noted by jedijosh920 in the video's description, the code for "GTA 5" includes NPC voice lines such as "SEE_Lamar" indicating that Rockstar had planned for players to control Lamar following Franklin's alleged death should players choose Option C. While roaming around as the character, NPCs can be heard acknowledging Lamar who also seems to have a list of responses — much like Franklin and other playable characters in the base game.
One user commented on the video, expressing the same theory that Lamar was to be playable in the original game. However, the commenter did point out that many NPCs have predetermined responses to characters in the game's Director Mode, which allows them to control other NPCs as well.
Advertisement
Lamar was eventually made playable in Grand Theft Auto Online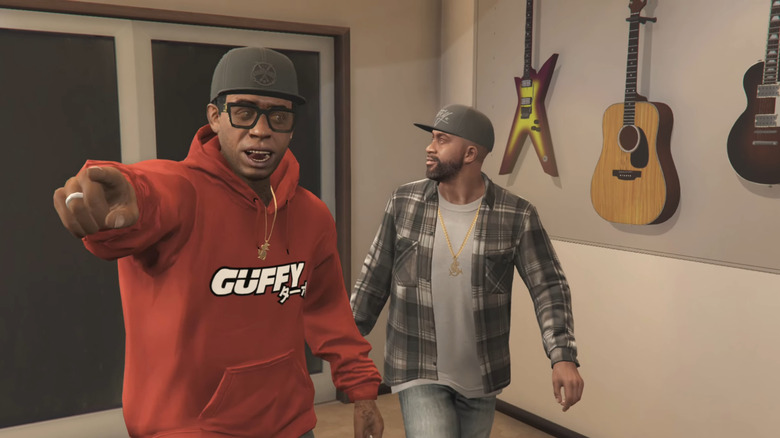 Rockstar Games
Despite not being featured as a playable character in "Grand Theft Auto 5," Lamar does have a much more prominent role in the beginning stages of the game's online counterpart, "Grand Theft Auto Online." Nearly a decade after the game's initial release, Johnson returned to reprise his role as Lamar in the free "The Contract" expansion. And this time around, Lamar is even playable.
Advertisement
As described by YouTuber Gtamen, players can unlock Lamar and Franklin as playable characters if they complete "The Contract." After finishing all of the missions involving Dr. Dre, the player will have to wait for Franklin to give them a phone call. When players finally do receive this call from Franklin, they will be able to visit the Record A Studios building. When they arrive at the building, players should step into the marker in front of it and then choose to visit the Smoking Room. Once there, players must choose the "Smoke Special Strain" option (via Sportskeeda). This will initiate the "Short Trips" co-op mission in which the characters have an out-of-body experience. While in this state, players can take full control over Lamar. However, it should be noted that this co-op mission can only be initiated with a friend — players going solo won't be able to start it.
Advertisement