Metroid Fans Just Got A Remaster They've Been Begging For (And You Can Play It Now)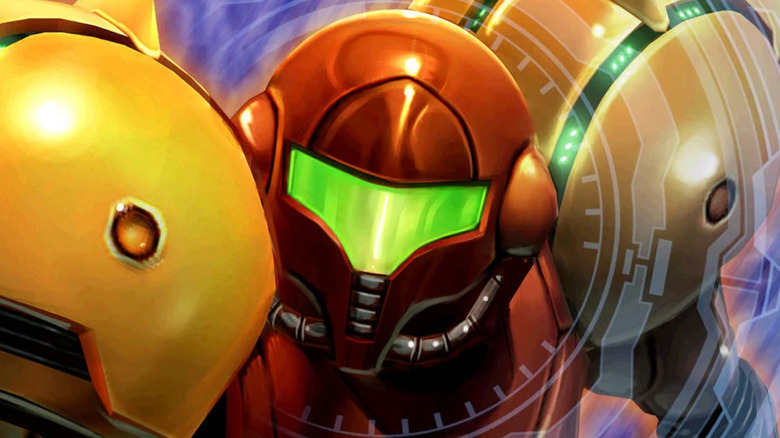 Nintendo
Nintendo Direct events tend to mean big news for fans and the one for February 2023 certainly lived up to expectations. There was plenty of news to get excited about but one reveal is sure to have Metroid fans going wild. During the show, it was revealed that the first "Metroid Prime" has been remastered. What's more, it's available in the Nintendo eShop right now and physical copies will be hitting shelves later this month.
For fans of the "Metroid" series, "Metroid Prime" stands out as the best the franchise can offer. It's garnered a near-perfect score on Metacritic, and is still considered one of the best Gamecube games of all time. A remastered version for the Switch has been on the wishlists of gamers for years and, when rumors began circulating in 2022 that it was in the works, fans were absolutely buzzing with excitement. Now that it's finally been announced and released on the same day, franchise veterans and a new generation of gamers can all enjoy the game with updated graphics and features. Further, Nintendo appears to have had both groups in mind when developing "Metroid Prime Remastered."
More to come...
Same great Metroid game, new controls
Apart from graphical improvements, "Metroid Prime Remastered" introduces an updated control scheme for the game. As revealed in the announcement trailer, fans can now guide Samus with the dual-stick setup that has become standard for console first person shooters. This should make it much more accessible to newcomers who may not be familiar with the old Gamecube controls. Older gamers craving the nostalgia of the original experience need not worry, however. "Metroid Prime Remastered" will also allow for a controller configuration that approximates the old setup, so it can be played as it was originally designed. Those who want to revisit this classic style — or just want to see if they still have their Gamecube muscle memory — will surely go with this option.
Whatever setup they intend to use, fans are already going wild for the reveal. The announcement trailer on YouTube s already full of comments celebrating the release, with an emphasis on how good it looks on the Switch. Younger gamers are also praising the decision to offer a modern control setup. So far, it seems the only disappointment to be found is from fans who were taken by surprise by the release and aren't able to pick it up and play immediately.
There aren't any reports of how "Metroid Prime" holds up yet, as it just became available, but this is one of the best games of all time we're talking about. Anyone interested in returning to Tallon IV can snag it now for $39.99!