Latest Metroid Prime Rumor Has Fans Buzzing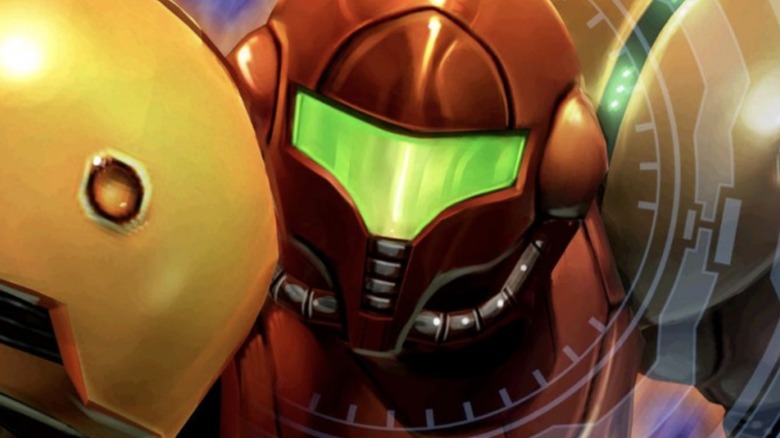 Nintendo
Five years following the E3 reveal of "Metroid Prime 4," gamers eager to join Samus Aran on her brand new adventure have received a dearth of news on how the game will play. Aside from developer Retro Studios updating its Twitter banner to a vague image of the bounty hunter walking down an ominous hallway, Nintendo has given fans only the logo of the game to speculate about. Predictably, this has resulted in a whole lot of reaching for clues. Fortunately, the wait for "Prime" news may end soon according to one Twitch streamer.
Advertisement
The follow-up to 2007's "Metroid Prime 3: Corruption" has endured an unenviable development cycle, and Nintendo has rebooted development at least once. Retro Studios' search for a lead producer three years into development only furthered the perception of a languishing game (via Twitter), and the team has continued seeking new hires through Twitter as recently as this year. Finally, some good has potentially arrived: Game Mess Mornings host and journalist Jeff Grubb reported a "Metroid Prime Remastered" version of the original game will come to Switch at the end of the year.
A return to Prime
Joined by Rachel Kaser of GamesBeat, Grubb claimed to feel near-certain a remastered version of "Prime" will release over the holidays (via Twitch). He believed a July reveal via Nintendo Direct Mini would compliment "Metroid Prime's" upcoming 20th anniversary, though he hesitated to name it as the definitive reveal month. Regarding his sources, Grubb only said he sniffs out information for his show from "bonafide" experts.
Advertisement
"[For] 'Metroid Prime,' my understanding is that's getting the big remaster treatment," Grubb said. "Then 'Metroid Prime 2' and 'Metroid Prime 3' are sort of getting — they'll probably get updated controls and things like that. But they're not getting quite the overhaul that 'Metroid Prime' is getting."
Grubb and Kaser speculated these remasters enabled Nintendo to prep fans for "Prime 4." "I think it's worth mentioning that there is a whole generation of teenage to adult gamers who would not have been old enough to play the original "Metroid Prime" trilogy," Kaser said.
Knowing how Nintendo releases remasters and remakes, Grubb concluded the company will likely spread out the releases of "Prime 2 and 3" remasters following the first. This is undoubtedly good news for fans, though the Twitch host acknowledged it could translate to an even longer wait for "Metroid Prime 4. In the best case scenario, the reveals and releases of "Metroid Prime Remastered" games will sate the appetites of fans waiting for "Metroid Prime 4," curbing future uproar from "Prime" fans.
Advertisement