The Legend Of Zelda Tears Of The Kingdom Fans Think They Know Why Ganon's Voice Is So Familiar
It's been almost six years since "Breath of the Wild" hit shelves for the WiiU and Nintendo Switch. So understandably, "The Legend of Zelda" fans have been clamoring for any information about the upcoming sequel "Tears of the Kingdom." And during the recent Nintendo Direct livestream, fans got precisely what they wanted: a second trailer for the upcoming game. The trailer featured new environments, vehicles, and enemies. But what may be even more surprising is that Ganon seems to narrate the trailer. 
Ganon, of course, is Link's main foe across almost every "The Legend of Zelda" timeline, appearing in many different forms. In "Breath of the Wild," Ganon first appears as a gigantic mute demon boar that players must plunge arrows into to defeat. But for "Tears of the Kingdom," it seems Ganon is reincarnating in his human form, giving the antagonist a voice once again. But upon hearing Ganon's voice, many found it familiar.
Fans think Matthew Mercer voices Ganon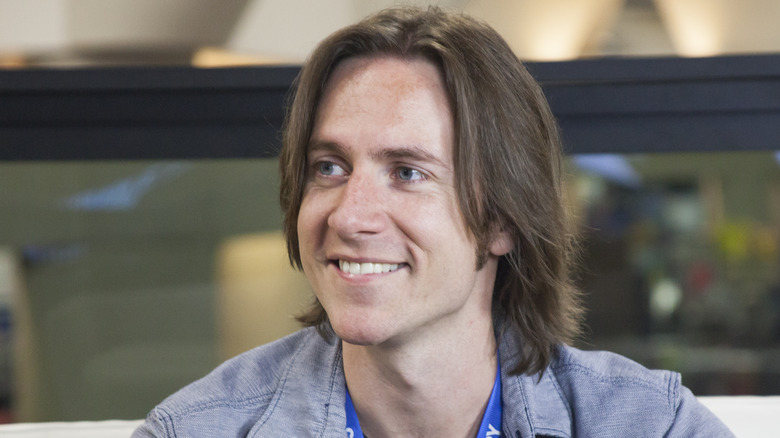 Lauren Elisabeth/Shutterstock
Immediately after the second "Tears of the Kingdom" trailer dropped, "Zelda" fans started theorizing about who was behind the mysterious Ganon voice. Many users felt the voice sounded like it belonged to famous actor Matthew Mercer. Matthew Mercer is best known for his work on "Critical Role," the incredibly popular "Dungeons & Dragons" web series that has over 1.2 million followers on Twitch, in addition to co-creating Amazon's "The Legend of Vox Machina." On top of creative work, Mercer is also a talented voice actor who has appeared in many popular movies and television shows, likes "Attack on Titan." He also isn't a stranger to gaming. 
Gamers may recognize Mercer's voice from "Overwatch" and "Overwatch 2," where he voices the sharpshooting cowboy Cole Cassidy, formerly known as McCree. Due to his extensive career in the gaming industry, it's easy to see why some would believe he is a perfect fit for Ganon in "Tears of the Kingdom." However, he may not be playing the Ganon gamers know from "Breath of the Wild."
Due to Ganon's decaying body and newly found voice, some predict that Ganondorf will be the main antagonist of "Tears of the Kingdom." This theory implies that Calamity Ganon reincarnates in human form, Ganondorf, sometime after Link's attack. Interestingly enough, Matthew Mercer has a connection to Ganondorf, as he once played the fearsome antagonist in a web series — "There Will Be Brawl" — long ago. Fans quickly made the connection on social media. While Nintendo hasn't officially announced anything yet, fans have already decided Mercer is the best fit for the famous villain.