What The Critics Are Saying About Wild Hearts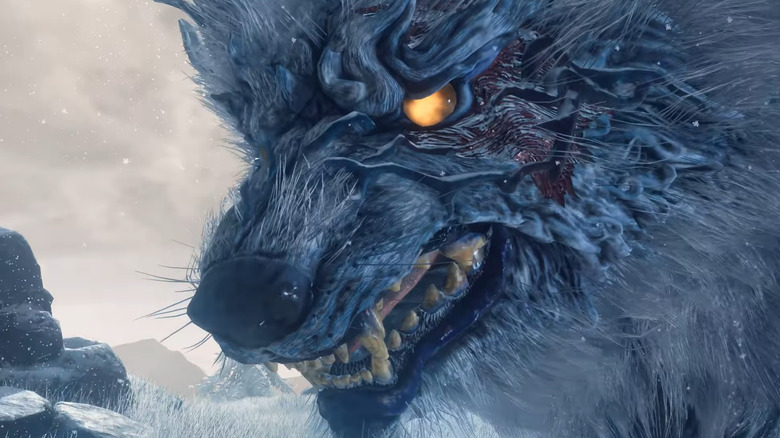 Electronic Arts
"Wild Hearts" is EA's take on the incredibly successful "Monster Hunter" series. Developed by Omega Force, the team behind the "Warriors" series, "Wild Hearts" follows the story of a nameless hunter in a Feudal Japan-inspired fantasy world jam-packed with powerful beasts to slay. Much like the series it is imitating, in "Wild Hearts," players choose between multiple weapon types and use the loot obtained from successful hunts to power up their weapons and gear. But "Wild Hearts" offers some twists on the "Monster Hunter" formula, most notably with its building system Karakuri which allows players to construct structures such as walls or springboards to aid in combat.
Thankfully, although "Wild Hearts" embraced the new standard $70 price tag, there are a few ways to try out this new title without shelling out the big bucks. "Wild Hearts" launched as part of the EA Play library. As a result, Xbox Game Pass Ultimate members also have access to the game. But is this ambitious attempt at replicating the success of "Monster Hunter" worth setting aside hard drive space for? Here's what critics are saying about "Wild Hearts."
Combing Fortnite with Monster Hunter actually works
IGN's Tom Marks gave "Wild Hearts" an 8/10, writing that although the game borrows heavily from "Monster Hunter," it shakes up enough mechanics to allow the new game to stand on its own. Specifically, Marks enjoyed that more tedious things, such as weapon sharpening and stat-boosting food, were missing in this game. But where the game truly stood out for Marks was with the Karakuri building system. Marks wrote that the Karakuri system was fun and versatile. The critic did, however, did complain that the game offered little variety in monsters and that performance was poor.
Richard Wakeling at Gamespot also awarded "Wild Hearts" with an 8/10. Wakeling praised the Karakuri building system, writing that it elevates almost every aspect of the game from combat to co-op. He also argued that the monsters were challenging enough to keep him engaged in each fight. However, Wakeling's complaints about the game included performance issues, unwelcome difficulty spikes, and weapon upgrade tree restrictions.
"Wild Hearts" scored yet another 8/10 via Louis Livingston-Garcia at Game Informer. The critic wrote that he enjoyed the variety of weapons available and felt each one was unique and fun in their own way. And like the previous reviewers, Livingston-Garcia loved the Karakuri system, especially in co-op play. Livingston-Garcia did, however, note that he struggled to grapple with the camera frequently and that the story was nothing special.
But beware: the PC Port is a mess
Both Richard Wakeling at Gamespot and IGN's Tom Marks reported major performance issues on PC, even on incredibly beefy systems. And one look at any user-submitted reviews for "Wild Hearts" on PC indicates that a day-one patch did not improve performance. However, the Omega Force team explained that it's aware of the issues and is working on getting a fix out soon.
The team wrote that they it is working on putting out a patch next week to "addresses a CPU bottleneck problem the team discovered," and that the patch should fix issues on mid-high-end CPUs. In the meantime, gamers may want to either hold out on the PC version of "Wild Hearts" or opt for the PS5 or Xbox Series X/S version, where seems more or less normal. Considering the haptic feedback and other neat features available to PS5 players, and the fact that the game offers full cross-platform play, it may be best to go with team Sony for this title anyway.