Demeo PS5 Review: Ready To Slay (On Console)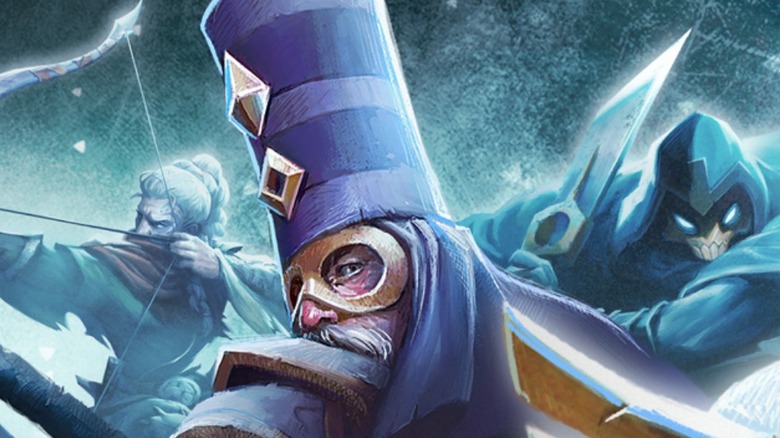 Resolution Games
A PS5 code was provided to SVG for this review. "Demeo" is available now on Meta Quest, Quest 2, PC, PS5, and PSVR 2.
Resolution Games continues to push the virtual reality landscape forward. Not only does the award-winning studio continue to push the envelope with new titles and VR experiences, but it also improves upon existing properties by bringing them to new platforms and providing players with new ways to play. The latest example of this is the release of "Demeo" — the wildly successful tabletop-style game — on PS5, as well as being a Day One launch title for PSVR 2.
"Demeo" started as a VR title, originally released on the Meta Quest. However, the studio quickly realized the potential of the game and elected to port it over to multiple non-VR platforms, including PC.
By bringing such a renowned and beloved franchise to PS5, Resolution Games has completely changed how fans can experience the game and opened up new possibilities for unique multiplayer experiences. With "Demeo" now available on so many platforms, players can take their gaming sessions to the next level with full 3D immersion that allows them to explore the world of "Demeo" in entirely new ways — regardless of whether or not they own a headset.
Making the move to console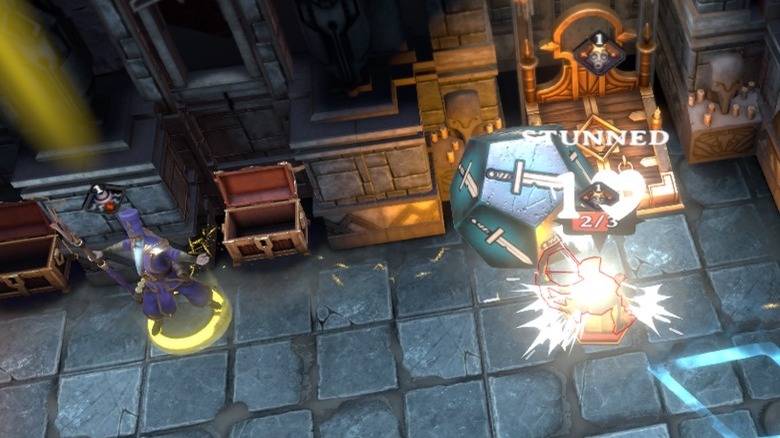 Resolution Games
Having originally released in 2021, the "Demeo" team has been busy ever since, releasing new content and updates with the intention of making the game better for both VR and non-VR users alike. This includes major updates like the expansion modules of "Realm of the Rat King," "Roots of Evil," "Curse of the Serpent Lord," "The Black Sarcophagus," and "Reign of Madness," as well as the upcoming "Demeo" Battles game mode, which will finally bring competitive PvP play to the digital tabletop game. First up, though, is the move to PS5 and, of course, PSVR 2.
The latest port of "Demeo" brings with it everything players love and expect from the game, as well as new ways to play and experience the deep strategic mechanics of the game. With PSVR 2's advanced technology and intuitive controls, players can now fully immerse themselves in the realm of "Demeo" on console while they explore its dark dungeons, lush forests, barren desserts, and mysterious towns as they battle against monsters and other humanoids.
The jump to PSVR 2 makes perfect sense. "Demeo" is a ton of fun on PC for those without a headset, but, arguably, the ideal way to play is in VR. However, the PS5 version does an admirable job of maintaining its immersive tabletop experience while using a DualSense controller, albeit not perfectly.
Dungeon diving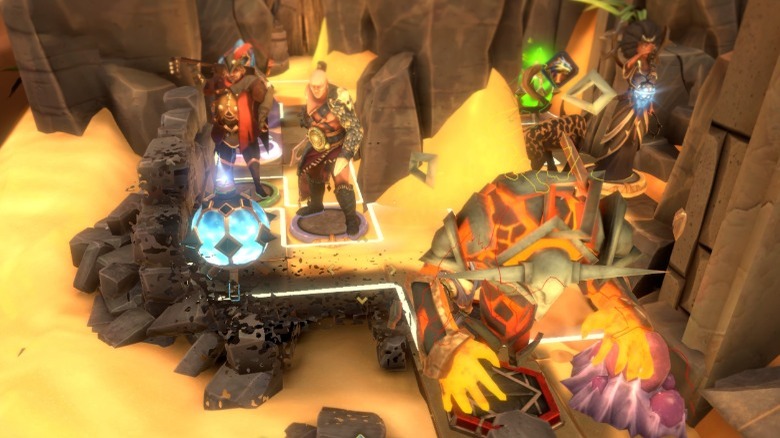 Resolution Games
Gameplay in "Demeo" is much like a typical board game. Each player takes turns moving their miniature figurine throughout the procedurally generated dungeons collecting treasure, power-ups, and battling mobs of baddies and bosses.
It's pretty easy to find yourself drawn into the virtual dungeons on PS5 just as much as in the VR version of "Demeo", which is no small feat. The team at Resolution Games has created something incredible in that regard, creating an immersive experience whether you're playing in virtual reality or not. "Demeo" on PS5 feels like a natural evolution of the VR and PC versions — from picking up and moving your character to using ability cards, everything is just as user-friendly and intuitive in the PS5 version as it is on Quest and PC.
That said, controlling your character is a bit more difficult in the PS5 version, simply due to the nature of traditional controllers compared to VR controllers or a mouse and keyboard. Movement isn't quite as precise, and you have to be careful of accidental placements of your character, lest you end up in a poorly positioned spot that ends up on the receiving end of some area of effect damage from one of your fellow player's special ability cards. Camera and zoom control is also a bit cumbersome, but it eventually becomes second nature, especially if this is your first experience with "Demeo." Just stick with it if you're frustrated by the controls when starting out — you'll be effortlessly moving through each scenario in no time.
A continued success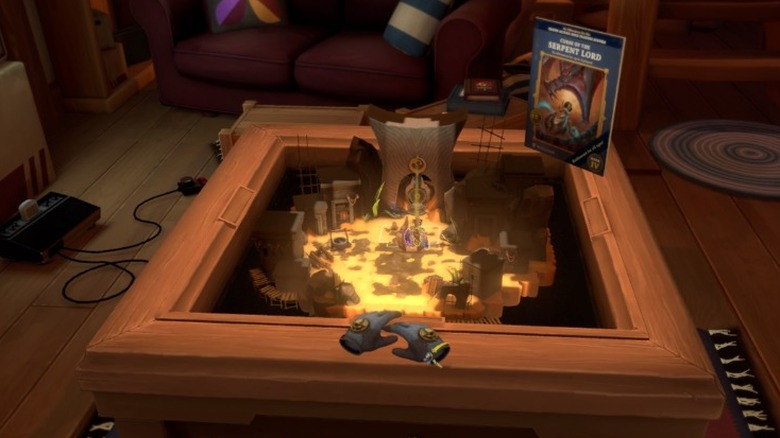 Resolution Games
If you don't happen to own a headset, but your friends do, you can still play "Demeo" with them on PS5 thanks to the cross-play compatibility. Playing with friends or other players (via matchmaking) is a blast, as it provides hours of fun and the feeling of a more traditional tabletop experience.
While the PS5 version of "Demeo" isn't the ideal way to play, it's still a great experience. It offers all the same content as the PC and VR versions, but with the convenience of console gaming. Making the move to console alongside the PSVR 2 was the right decision. "Demeo" is still one of the best virtual reality board games out there and the PS5 version is a great way to keep expanding the game's audience.
"Demeo" on PS5 is a great addition to the game's seemingly ever-evolving trajectory, offering players everywhere a chance to experience one of the greatest VR board games available without having to buy an expensive headset. The sky continues to be the limit for the massively impressive dungeon-crawling title.