HBO's The Last Of Us Finally Confirms Troy Baker's Role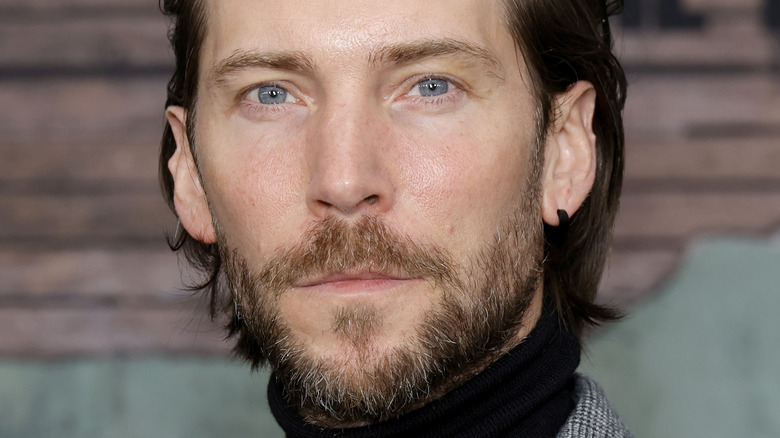 Frazer Harrison/Getty Images
This article contains spoilers for "The Last of Us Part 1" and HBO's adaptation.
Tonight's episode of HBO's "The Last of Us" brought with it a reveal that fans have been waiting for. Viewers have known for a while that Ashley Johnson and Troy Baker, the actors who originally played the roles of Ellie and Joel in "The Last of Us" video games, would be appearing in the series in some capacity. "The Last of Us" co-creator Neil Druckmann first confirmed the involvement of the original game's stars last year when he brought Baker and Johnson up on stage during the Summer Game Fest opening night livestream. While Druckmann didn't say at the time which roles the pair would be playing, he did hint that they would be much more than simple cameos. 
Advertisement
Audiences have since learned to expect Ashley Johnson in the role of Ellie's mother, Anna (a storyline that almost became DLC for the original game), but Troy Baker's part has remained a mystery — until now. Following the end of this week's episode, which adapted the heartbreaking DLC chapter "Left Behind," HBO finally tipped its hand and revealed which character Baker would be playing. And as it turns out, he's taking on the role of one of the more sinister figures from the original game.
Troy Baker breaks bad in The Last of Us Episode 8
After the credits rolled on "Left Behind," HBO provided fans with a sneak peek at the next installment of the TV series, "When We Are in Need." The first voice that fans can hear in the preview belongs to none other than Troy Baker, who is immediately revealed to be playing James, right-hand man to David, leader of a band of cannibals and a major antagonist in the video game. In the game, James was voiced by Ruben Langdon, who may be most familiar to video game fans for voicing Dante from the "Devil May Cry" series and Ken in several "Street Fighter" entries.
Advertisement
As hinted at in the preview, James is the first member of David's group to openly express his distrust of Ellie, which is only exacerbated when he learns that Ellie and Joel killed some of their cohorts at the university. At this point, it's unclear if James will be as bloodthirsty in the show as he was in the game, but fans will no doubt be interested to see Baker bring this villainous role to life.