Why GTA 6 Might Cut Part Of The Game, According To A Leaker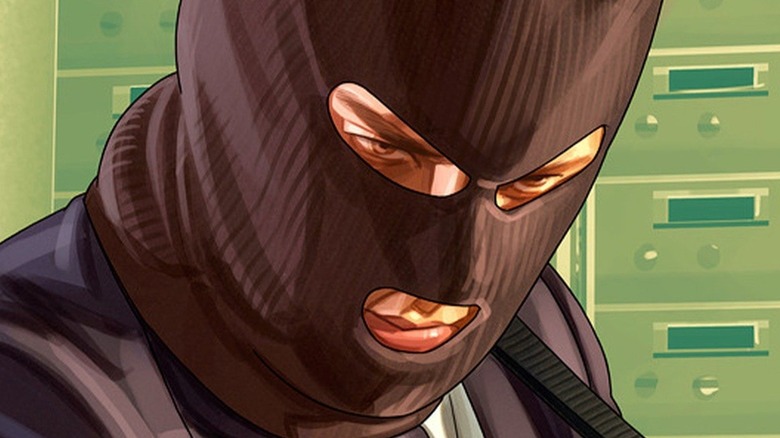 Rockstar Games
2023 will mark a huge milestone in the "Grand Theft Auto" franchise one that fans could have never predicted they'd see when "GTA 5" first dropped. Come September, it will have been a full decade since the release of "Grand Theft Auto 5" — by far the longest gap between mainline entries in the series. And now, judging by new comments made by a leaker who has demonstrated a decent track record with Rockstar Games' titles, it seems fans may not even be getting the entire "GTA 6" experience when the game finally makes its debut.
The massive leak of "GTA 6" assets, during which a hacker managed to steal and dump several hours of test footage for the upcoming game on the internet, was easily the biggest gaming news of last year. Fans finally got to see what Rockstar has been cooking up for the past several years, including a female protagonist and several in-game landmarks inspired by real-life locations. Some fans were more than a little worried by the state of the footage, with many wishing that the graphics looked more complete, especially after waiting all this time for a new game.
According to a recent post from Tez2 in the GTA Forums (which was subsequently shared on Reddit), Rockstar's latest plans may include releasing a less-complete version of "Grand Theft Auto 6." This report is already raising serious red flags for some gamers, but it should be noted there is a precedent for this within the "Grand Theft Auto" franchise.
GTA 6 is allegedly aiming for a specific release window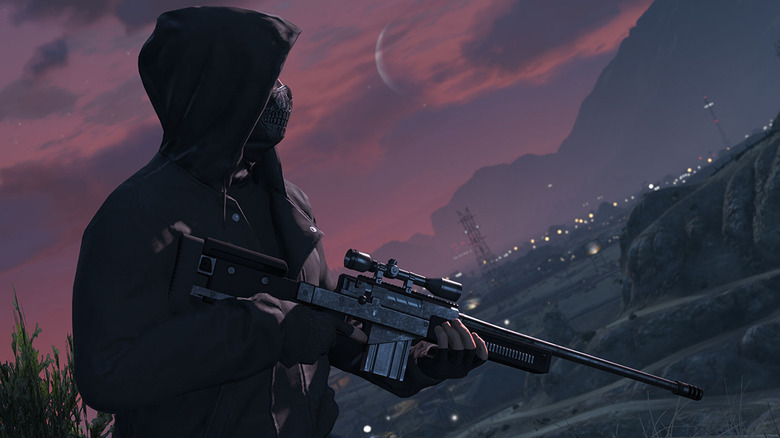 Rockstar Games
Tez2's lengthy post describes what they've heard regarding Rockstar's latest hopes for "GTA 6," including a likely release year of 2024. This would line up with previous reports from Insider Gaming's Tom Henderson, who said that Rockstar might be eyeing a release in 2024 or 2025. This report was backed up by other journalists in the know, including Bloomberg's Jason Schrier, and some of Henderson's other claims – including the presence of a woman lead – have since been proven true.
Beyond the release date (which feels so close, yet so far away!), Tez2 also revealed that Rockstar Games and Take-Two Interactive are really feeling the pressure to release the new "GTA" title. With some game development studios ending their work-from-home set-ups that began during the COVID-19 pandemic, the company is apparently dead set on trying to meet that aforementioned 2024 window, which may result in another unexpected strategy. 
"I don't think the upper management is in a position to delay further to holiday 2025/2026," Tez2 explains. "Cutting more portions of the game to package into DLCs to release later on may be [more] sustainable for management than delaying further."
In other words, "Grand Theft Auto 6" may end up being released in more of a piecemeal state, with Rockstar removing some side missions and activities and repurposing them as post-launch content. While it seems unlikely that major story beats would be removed in such a fashion, fans are a bit split on the report.
Fans are split on latest GTA 6 rumor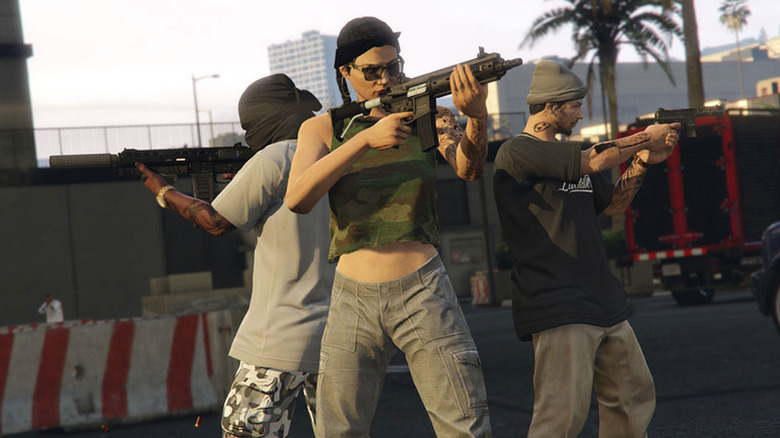 Rockstar Games
As noted by some fans on Reddit, Rockstar has previously canceled some planned single-player DLC for "GTA 5" to function as content for "GTA Online." These updates would have either expanded on the characters and plotlines introduced during the game's story campaign, or else gone into wild new directions, with one idea involving a zombie apocalypse breaking out in Los Santos.  These cancelations haven't always been a bad thing, as players have since been able to check in on characters like Franklin in major "GTA Online" updates. Even so, some fans are still feeling the burn of never getting the single-player updates they'd hoped for back in 2013.
Meanwhile, others are embracing this rumored release strategy. Some fans are already dreaming up what kind of DLC they want to see. Some are actually excited by the idea of Rockstar withholding some choice content, as it means Rockstar may already have plans for regular updates that will keep the game from becoming stale.
"Grand Theft Auto" remains a hugely important franchise to fans, even though a mainline title hasn't released in quite a long time. At the very least, the massively popular online component has kept the hope alive that next-gen "GTA" can be something truly expansive. It remains to be seen whether or not "Grand Theft Auto 6" will actually follow a similar path when it comes to DLC content, but many fans seem to be okay with Tez2's reports — just as long as they finally get to play the dang thing.