Why Rockstar Won't Release A GTA 5 Single Player DLC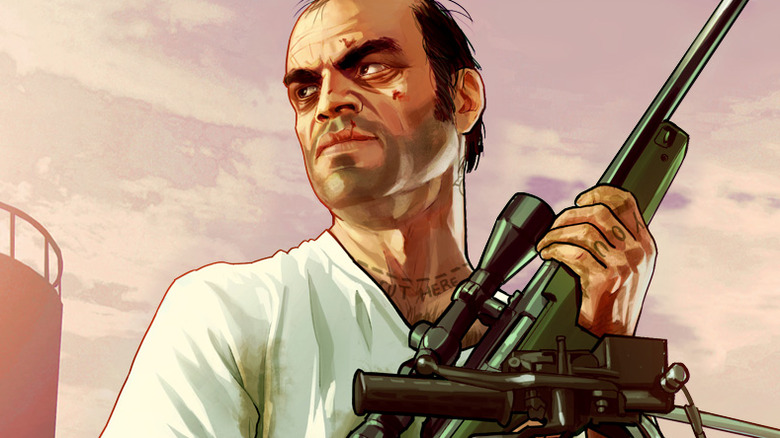 Grand Theft Auto 5 is one of the best-selling games of all time. Since its initial release in 2013, the game has gone on to sell over 120 million copies. A good reason for this longevity is the continued expansion of Grand Theft Auto Online. However, many fans still feel cheated by the fact that we never received any single-player story DLCs for the main game.
Advertisement
What many people may not realize is that we almost did get some story expansions, but they ended up being canceled. We know that plenty of material has been removed from GTA games over the years, but why were the planned DLCs for Rockstar Games' biggest game scrapped? This goes way beyond removing a character or rewriting a mission before finalizing a game's build. What's the deal here?
Well, it actually came down to a combination of factors. As explained by Rockstar design director Imran Sarwar: "With GTA 5, the single-player game was absolutely massive and very, very complete. It was three games in one. The next-gen versions took a year of everyone's time to get right, then the online component had a lot of potential but to come close to realizing that potential, also sucked up a lot of resources. And then there are other games – in particular Red Dead Redemption 2. The combination of these three factors means for this game, we did not feel single-player expansions were either possible or necessary." 
Advertisement
In other words, the time sort of passed for Rockstar to really dig into making story DLCs for GTA 5. Porting the game to Xbox One and PlayStation 4 was an extremely time-consuming task. Maintaining and building upon Grand Theft Auto Online also became a major priority for the company, with the remaining team resources being consumed by work on Red Dead Redemption 2. Rockstar is notorious for its reliance on "crunch time" to complete games, so it's definitely not a matter of the company simply sitting back and not working. All hands were on deck for these other projects, which resulted in the resources simply being unavailable to add more content to the base game. After a while, the new projects just took precedent and the single-player GTA 5 DLCs were simply dropped.
Then there's the feeling Sarwar expressed that the story campaign already felt big enough to satisfy fans. This was also the reason why Red Dead Redemption 2 didn't end up receiving any single-player expansions, which similarly disappointed fans. In addition to the developer's desire to focus on Red Dead Online, producer Tarek Hamad explained, "We've said it before, but we all love single-player games, and Red Dead Redemption 2's absolutely massive story and equally massive epilogue are hopefully evidence of that." 
Advertisement
In other words, Rockstar would like for players to be happy with the sizable campaigns they have already received. Otherwise, the company is "100% focused" on expanding the online components of these games, rather than the base experience. 
So what would the canceled material have entailed? Well, we have a few ideas, thanks to some data miners who have been rooting around in GTA 5's code. One of the juiciest tidbits involves a zombie apocalypse scenario. In a manner similar to Red Dead Redemption: Undead Nightmare, there were originally plans for our heroes to fight their way through undead hordes in a post-apocalyptic Los Santos.
As explained by data miner Tez2, this DLC would have gone above and beyond simply adding new flesh-eating NPCs. "What Rockstar was planning to do with the single-player DLC can be compared to adding a whole new map expansion," explained Tez2. "They had plans to redesign 80 or 90 percent of the map to fit a specific theme ... Rockstar would make changes to the whole map to fit the zombie apocalypse theme."
With that much work going into the DLC plans, it's not surprising that Rockstar found itself stretched too thin when other projects came about. That being said, there are other examples of planned DLC that we eventually did see, just in a different form. The "Diamond Casino & Resort" DLC was originally intended for GTA 5's story mode, but it was later tailored to work specifically with Grand Theft Auto Online.
Advertisement
In other words, there's a chance that we may still see some of these DLC concepts play out down the road. We just may see them arrive in a different form. Maybe there's a chance that the recently-confirmed Grand Theft Auto 6 will find some way of incorporating zombie shootouts.