This Unsettling P.T. Clone Takes The Found Footage Route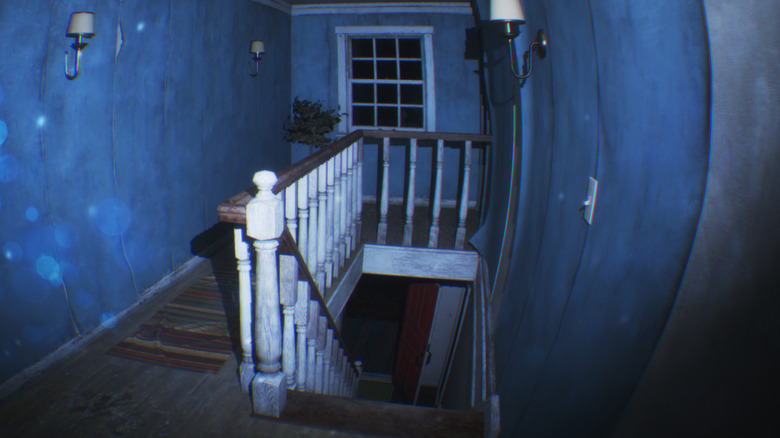 Digital Cybercherries
In the modern history of horror games, there are few titles as revered as Hideo Kojima's "P.T." for the PlayStation 4, to the point where a number of fond imitators have followed. It released on the PlayStation store all the way back in 2014 as a free download, but nobody knew the legendary game director was involved until the very end. It is revealed at the end of "P.T." — which stands for "Playable Teaser" — that the entire game was a preview of Kojima's next project, "Silent Hills." We never did end up getting "Silent Hills" — and "P.T." is no longer available for download — thanks in large part to a breakdown between Konami and Kojima. 
Advertisement
"P.T." nevertheless went on to influence the horror genre for years to come as others tried to emulate its sense of terror through repetition — some have even tried to emulate the game on the PlayStation 5, even though it isn't officially available, because it's just that good.
First-person horror game "Paranormal Tales" was revealed earlier this year, and fans of "P.T." immediately noticed similarities between the two. In fact, upon  its original reveal, the game was described as "a bodycam style horror game inspired by 'P.T.' where you're lost in a hyper realistic forest and must find your dog, Teddy." On March 9, 2023, fans were treated to a first look at "Paranormal Tales" alpha gameplay. Though we didn't get a release date in the trailer, compared to its initial reveal, this gameplay preview has significantly more of a "P.T." feel to it, thanks in part to the interior home setting.
Advertisement
Paranormal Tales boasts impressive Unreal 5 graphics and multiple stories
Though the developers say the game was inspired by "P.T.," there aren't too many direct similarities between the two. If anything it seems to have served as a foundation for the game before it made its own spin on things. However, it's worth pointing out that the official website for "Paranormal Tales," dontplaypt.com, makes it clear that the two games also share initials — another nod to this game's inspiration.
Advertisement
"Paranormal Tales" has been in the works for a little while now, but only in the last few months has UK developer and publisher Digital Cybercherries brought it to prominence with trailers and sneak peeks. Looking over the developer's catalogue, "Paranormal Tales" stands out for two reasons: It's graphically gorgeous thanks to the power of Unreal Engine 5, and it's much more of a horror game than the team's previous projects, which include vibrant, arcadey titles like "Hypercharge Unboxed" and "New Retro Arcade." It's a 180 degree turn for Digital Cybercherries, but this trailer makes it appear that the team has handled the shift well.
The found footage approach to horror games is nothing new, and it's an especially tired trope in the horror film industry. However, "Paranormal Tales" doesn't just follow one story. Players are tasked with getting through several tapes, each of which depicts the story of a different person who went missing. Though the game may have started as a simple tale of finding one's dog in the forest, that plotline may now just be one part of a grander narrative that ties several victims' stories together. "Paranormal Tales" is looking like one game that "P.T." fans should keep an eye on.
Advertisement