PewDiePie Fans Puzzled By The Return Of His Twitch Channel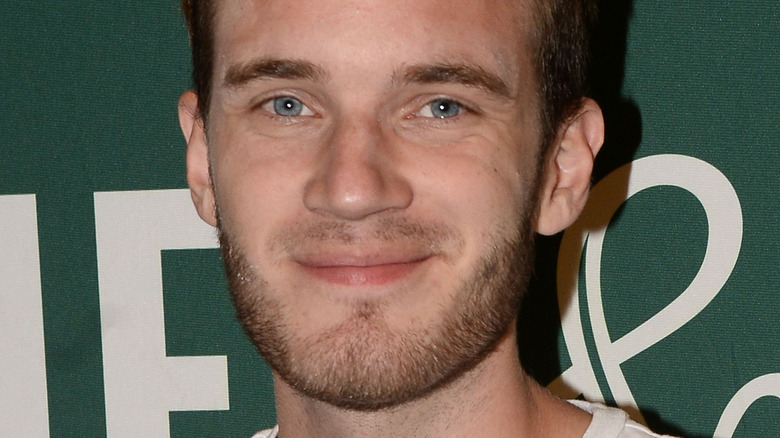 Matt Winkelmeyer/Getty Images
PewDiePie left Twitch behind in 2020 after signing an exclusive deal with YouTube, and the content creator hasn't really looked back since. His output has generally slowed down in the last few years, as he considers himself to be mostly retired from the daily YouTube grind. PewDiePie still uploads new stuff, of course, but he's mostly happy to just do reaction content and vlogs about his life in Japan with his wife Marzia. With the happy couple currently expecting their first child, the last thing any of Pewds' fans expected was to see his Twitch channel suddenly go live.
But that's what happened on March 21, when the dormant channel roared to life and began streaming an odd mix of content. Not only did the channel play some of PewDiePie's older videos, but it also ran episodes of the TV series "Trailer Park Boys." The bizarre incident quickly started trending on Twitter, with people sharing their confusion at the sudden activity.
Needless to say, fans quickly began to wonder who was behind the channel's new programming, since it didn't seem to be PewDiePie's doing.
PewDiePie's Twitch channel was not hacked
Some fans immediately jumped to the most obvious (and upsetting) conclusion: Someone must have hacked PewDiePie's Twitch channel, right? While the truth is still unclear, a few other details have surfaced that may clue us into what's really going on here.
A message pinned to the chat log during the Twitch broadcast said that the stream was part of a test run by CoPilot Media, and that PewDiePie had not been hacked after all. A screenshot of this message was later retweeted by the official CoPilot Media Twitter account, seemingly confirming the company's involvement.
Update on #pewdiepie twitch stream ended apparently pewds authorised access to his twitch account?? no official response from pewds, even pews discord mods had no clue. pic.twitter.com/TtbOhwbOqK

— MyOpinionMayOffendYou (@DatGundamXD) March 21, 2023
According to CoPilot Media's website, the group "provide[s] creators with sustainable new revenue streams" by taking over their content libraries and ensuring that they continue to run, all without requiring the original artist's input or work. In other words, PewDiePie or his team may have enlisted Copilot Media to help maximize his income by turning his old Twitch account into an infinite feed of past content. This seems to be the theory that many fans are going with at the moment, at least until an official announcement is made.
It remains to be seen if PewDiePie's Twitch feed will start back up following this test, but as of this writing, the YouTuber has not issued a statement about his old channel.