Tragic Call Of Duty Swatting Ends In $5 Million Settlement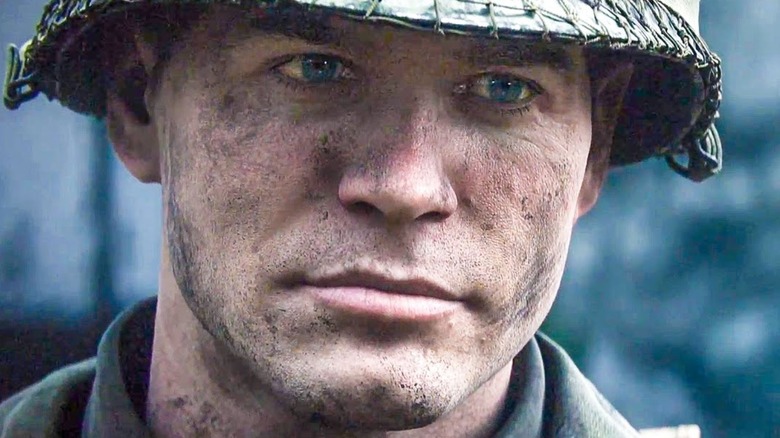 Activision Blizzard
Years ago in Wichita, Kansas, an innocent man was killed over a $1.50 "Call of Duty" bet he had nothing to do with.
In December 2017, one "Call of Duty: WWII" player gave another a false address during a heated argument. A third player made a fraudulent murder-hostage police report to get cops to swarm the location. When police arrived, Andrew Finch came outside, and according to the Wichita Eagle, fell victim to one of the first fatal swatting incidents. The three conspirators whose bet led to Finch's death by police were all sentenced to federal prison in the years that followed, but the city of Wichita had yet to reach a settlement with the family — until now. 
Since the killing of Finch, the City of Wichita has "vigorously defended the shooting in court," according to the Wichita Eagle, and has attempted to get Finch's family's lawsuit thrown out several times. After more than five years of trial and going through the courts, the City of Wichita has finally granted a $5 million settlement to the family.
"To the mayor and council who voted in favor of my children, thank you for making sure that my family can move on from this nightmare and begin to heal," Tawny Unruh, mother to Finch's two surviving children, said, as quoted by the Wichita Eagle. "We will never forget or understand why our Andy had to die but are grateful for all of the support we've received from our community."
Finch was the first victim of swatting nearly six years ago, and the problem hasn't gone away
The details of the case are as bizarre as they are tragic, and in the end Justin Rapp — the officer who killed Finch wasn't charged with anything. In fact, Rapp was promoted to Detective last year, though he also faced a civil suit on the incident. Andrew Finch's death by swatting was indeed the first of its kind, but unfortunately, in the nearly six years since, it's only become more common.
Just a few months ago, streamer Keffals was raided by police who were told she killed her mother and owned an illegal firearm. Keffals said she was targeted by anti-LGBTQ individuals. Swatting is a problem that particularly pervades the streaming community, as around the same time, Adin Ross, Ludwig, iShowSpeed, and others were victims to swatting to various degrees. 
But Finch's situation was different — he was uninvolved in the dispute, and he wasn't a public figure. In a statement released to the Wichita Eagle by the family and their representatives, the settlement was described as a historic one for the city. The statement says that while the settlement can't bring him back, it gives some closure and allows the family to move on.
"This settlement is so important, not just because it provides long overdue justice for Andrew's family but because it holds the city accountable for operating a violent and undisciplined police force," said Alexa Van Brunt, director of the MacArthur Justice Center, which represented Finch's family. "We hope Andrew's case will lead to true change, finally, in the Wichita Police Department."