Here's What You Need To Know About That PS5 Slim Listing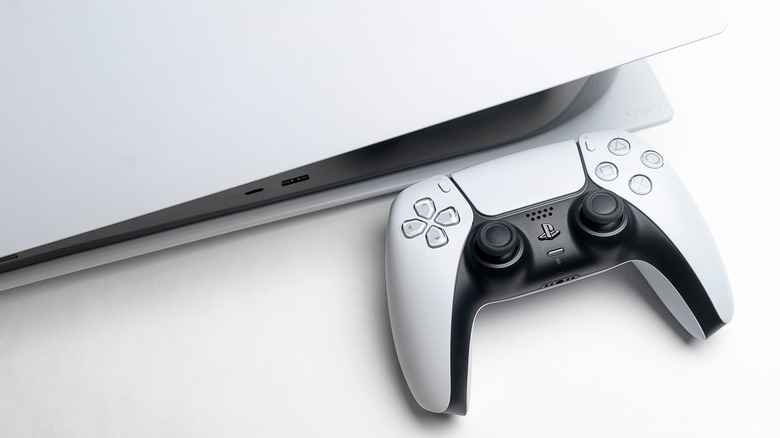 mkfilm/Shutterstock
Since the PlayStation 5 released, fans have wondered if and when there will be a Pro version. The rumors started turning again when the PS5 Pro was trending on Twitter in mid-March, thanks to a report from Insider Gaming. Still, Sony never released any official news and fans couldn't find any tangible proof of the PS5 Pro. While it's not a Pro version, fans did uncover a "Slim" edition of the PS5 listed on one Australian retailer's website. However, there might be more to the listing than fans initially expected – or, rather, less.
One observant gamer found a listing for a PS5 Slim on the website of Australian electronics retailer The Good Guys. According to their post on ResetEra, they spotted a listing for the PS5 Slim, which featured a generic listing detailing the impressive video capabilities of the new model. However, the listing did not provide any sort of release date, and it was impossible to actually order a unit. Many gamers interpreted the listing as a sign that a new version of the PS5 is on the way, with some speculating that Sony might even officially reveal the new design in some sort of upcoming live event. Unfortunately, it seems that fans might want to reserve their excitement. The listing could have simply been a mistake.
The PS5 Slim listing seems like an accident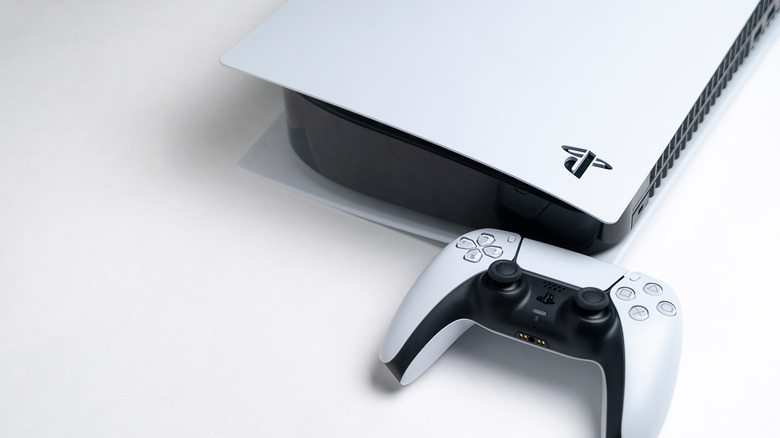 mkfilm/Shutterstock
Games journalist and editor at VGC, Chris Scullion, tweeted that the story about the PS5 Slim might not be true, and that the whole listing might be a case of mislabeling.
You might see a PS5 Slim story this morning – we won't be covering it on VGC because it's a non-story. After actually researching it, the page in question is an old, defunct PS4 Slim page that was changed to 'PS5' in early 2021 for some reason, and has been that way ever since. pic.twitter.com/jNwU632ees

— Chris Scullion (@scully1888) March 29, 2023
Scullion argued that the listing seemed to be an updated version of a PS4 Slim page that had been updated over a year ago to say "PS5" instead.
Lol I bet this was some web person who had to replace a bunch of "PS4" with "PS5" across the website and just hit this one by accident

— Squidgybuffalo 🇪🇺🏴󠁧󠁢󠁳󠁣󠁴󠁿 (@Squidgybuffalo) March 29, 2023
Another commenter guessed that a web developer had been tasked with updating labels from PS4 to PS5 and altered the wrong listing by accident.
Regardless of what happened, gamers should take rumors of a new PS5 with a heavy grain of salt. That's not to say that Sony hasn't worked on the PS5 or made improvements, though. A newer model of the PS5 changed more than fans realized in 2022, improving some of the internal components of the system while neglecting important hardware problems, like issues with the console's heat sink. While it wouldn't be unheard of for Sony to release a slimmed down version of an existing console, it unfortunately isn't the case this time around.