Quidditch Champions Gives Harry Potter Fans What Hogwarts Legacy Never Did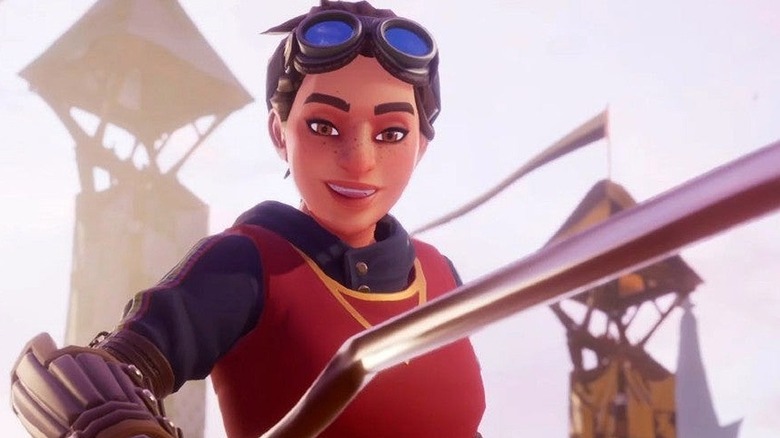 Warner Bros. Games
Warner Bros. Games has just announced that a new "Harry Potter" game featuring the Wizarding World's favorite sport, Quidditch, will soon be coming to PC and consoles from Portkey Games and Unbroken Studios. The game is called "Harry Potter: Quidditch Champions" and it appears to be a full-blown, competitive online sports game. According to the game's official FAQ page, the game's development ran parallel to that of "Hogwarts Legacy," meaning Unbroken Studios has been making this new title in secret for quite some time. 
This announcement, of course, arrives right on the heels of the immense popularity of "Hogwarts Legacy," which was released earlier this year. That game allows players the freedom of exploration across the school's grounds and offers built in broom-flying mechanics, but notably does not feature Quidditch. Prior to the release of "Hogwarts Legacy," Avalanche Software claimed that it had to leave the sport on the cutting room floor in order to focus on the game's other features, but now it appears that franchise fans will finally have the opportunity to don their uniforms, mount their brooms, and finally start chasing that Golden Snitch as their own customized charactes.
Calling all Beaters, Chasers, Keepers, and Seekers! Harry Potter: Quidditch Champions limited playtest signups are live now! Sign up at https://t.co/E9cQekLOzV. #QuidditchChampions pic.twitter.com/AQhKfg4NKD

— Warner Bros. Games (@wbgames) April 17, 2023
The game was announced via Warner Bros. Games official Twitter account, which also included a link to a page on Warner Bros. Games' website where prospective players can register for playtests before the game's official release. Although this game appears poised to let fans play out their high-flying Quidditch dreams, but the fan response to the momentous announcement has been mixed.
Fans seem conflicted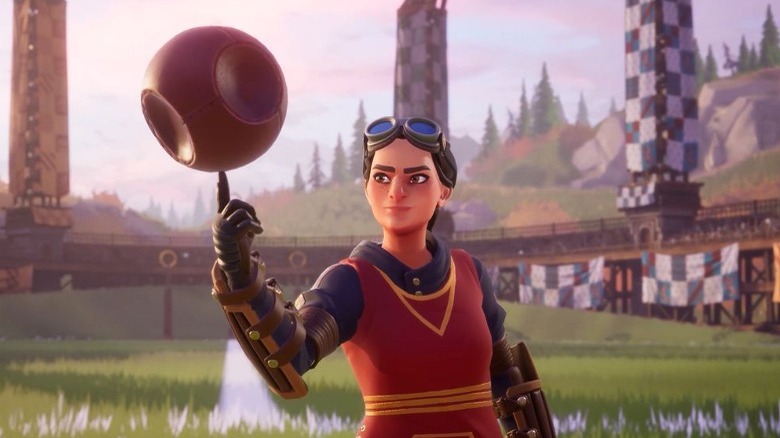 Warner Bros. Games
Many fans who responded to Warner Bros. Games' announcement tweet would apparently have preferred to have Quidditch mechanics added to "Hogwarts Legacy" as a DLC, rather than launched as its own separate game. Some other users were simply confused about this being a standalone title, while some suggested (a bit more cynically) that the mechanic was deliberately left out of "Hogwarts Legacy" so that Warner Bros. could sell another game.
Ohhh that's why it's not on HL then, just to do cash grab, got it.

— Ramon Alek 🇧🇷 (@Player32R) April 17, 2023
Not all users were upset at the news, however. Some argued that allowing it to be a separate game made it so the studio could focus its energies on developing mechanics specifically for Quidditch, rather than having to work within the confines of the engine that was developed for "Hogwarts Legacy." These folks might have hit the nail on the head — Troy Leavitt, one of the developers at Avalanche who worked on "Hogwarts Legacy" retweeted the original post with a statement reiterating the developer's original desire to include Quidditch in the game.
I was a major advocate for including Quidditch in Hogwarts Legacy and was very sad when it became clear that we weren't going to be able to. So, although not developed by Avalanche and not tied into HL (AFAIK), I still have high hopes for this online multiplayer version. https://t.co/6KjbSzcenv

— Troy Leavitt (@Troylus_true) April 17, 2023
Warner Bros. has not yet announced the game's exact release date, nor which consoles will be joining in on the high-flying fun, but that should become clear once more people join in on the limited playtests. In the meantime, we do have a few ideas about what "Harry Potter: Quidditch Champions" will entail, which should be exciting for folks who were sincerely missing Quidditch when "Hogwarts Legacy" dropped.
Quidditch Champions will be a very different game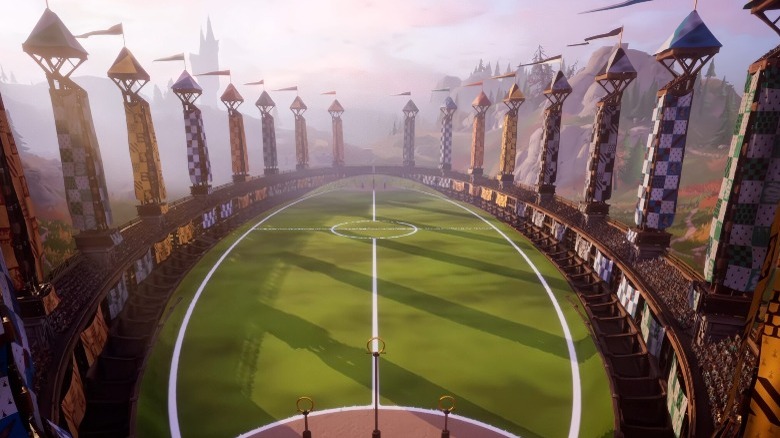 Warner Bros. Games
According to the official FAQ, "Harry Potter: Quidditch Champions" is intended to continue the work "Hogwarts Legacy" did in expanding on what fans know of the Wizarding World. The FAQ states, "Portkey game developers chart new territory by creating fresh ways for fans to immerse themselves in the Wizarding World."
Warner Bros. Games' tweet also featured a brief teaser for the upcoming playtests, which showcased a little bit of the game's design aesthetic. To start, the graphics shown in the trailer are much more cartoony and vibrantly animated than the more realistic visuals found in "Hogwarts Legacy." It also seems that the game will be set primarily on the Quidditch Pitch that resides within the school grounds. This suggests that the teams will consist of the four Hogwarts houses, rather than the international teams that have been less prominently featured in the franchise. Then again, maybe there's more to it than we've seen so far!
Then there's the matter of a multiplayer mode. There are very few true sports games made today that don't feature some kind of online gameplay, which was another feature that was notably lacking in "Hogwarts Legacy." In fact, the only way gamers could play the game together was through a fan-made mod called HogWarp. Allowing friends to play and compete in online Quidditch matches together is already a major selling point for "Quidditch Champions."
Whatever fans might have been hoping for, it seems that Warner Bros. intends for "Harry Potter: Quidditch Champions" to have its own identity, separate from the shadow of "Hogwarts Legacy."