Star Wars Jedi: Survivor Actor 'Trains' With Jedi Master Mark Hamill In New Ad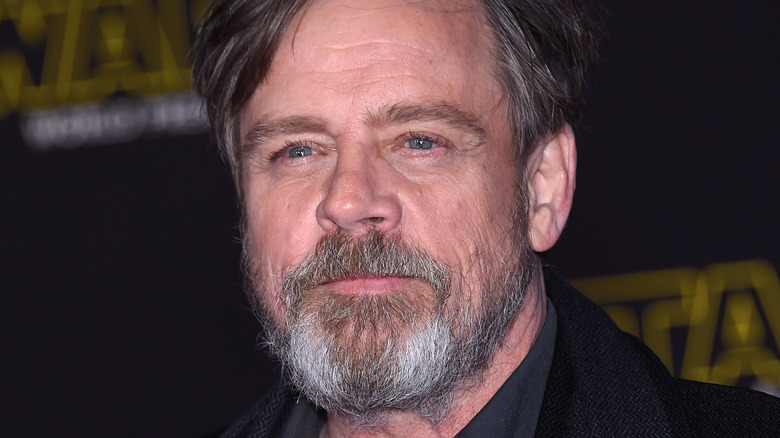 DFree/Shutterstock
The highly anticipated sequel to "Star Wars Jedi: Fallen Order," "Star Wars Jedi: Survivor," is finally here. Fans can once again inhabit the role of the young Jedi Cal Kestis as he takes on the forces of evil. And a new game means new challenges for the rookie Jedi, even if the biggest one is the game's length.
So, who better to advise this next-generation Jedi than the original Jedi himself, Luke Skywalker? In a surprising but welcome treat to fans, Mark Hamill returns to the "Star Wars" universe in a promotional video alongside Cal Kestis actor Cameron Monaghan. The video shows Monaghan performing during one of the motion capture sessions for "Star Wars Jedi: Survivor.". But throughout the process, Hamill is there right beside Monaghan, giving him some comedic advice on how to be a Jedi.
Teaching mind trick techniques, showing how to hold a lightsaber, and reminding Monaghan how to feel the Force are just a few of the techniques Hamill bestows on the Jedi rookie. And hilariously enough, the heightened version of Hamill in the video gets jealous of one of Kestis' new tricks he picked up for the sequel.
Being a Jedi isn't as easy as it looks
The promotional video celebrating the launch of "Star Wars Jedi: Survivor" opens with Mark Hamill attentively watching Cameron Monaghan sling his lightsaber around. And Hamill just couldn't help but give some friendly advice after what he saw. Hilariously, the next scene has Monaghan tied upside down, with Hamill coaching the actor on how to survive a Wampa attack. Long-time "Star Wars" fans will know that this is a reference to the opening scene of "The Empire Strikes Back" where Luke is attacked by one of the yeti-like creatures known as Wampas.
Hamill continued his Jedi mentorship by instructing Monaghan not to hold the motion-capture lightsaber like a baseball bat. After which, Hamill throws a barrage of popcorn at a blindfolded Monaghan to see if he can block them with his lightsaber. But of course, the feat is impossible to accomplish without the real Force, something that Monaghan reminds Hamill.
Later, after watching Monaghan dual-wield lightsabers, in a fit of jealousy, the fictionalized Hamill exclaims, "Hold it! you get two lightsabers?" Monaghan then clarifies that it is actually one lightsaber that can break apart. Detachable lightsabers are new to the sequel, and it's just one example of how the game focuses on expanding combat with multiple fighting styles. The video then concludes with a montage of Cal slicing up monsters and stormtroopers in "Star Wars Jedi: Survivor" to show off the new mechanics — as well as Hamill himself playing the game.