Meet The Four Gorgeous Performers Behind Resident Evil 4's Ashley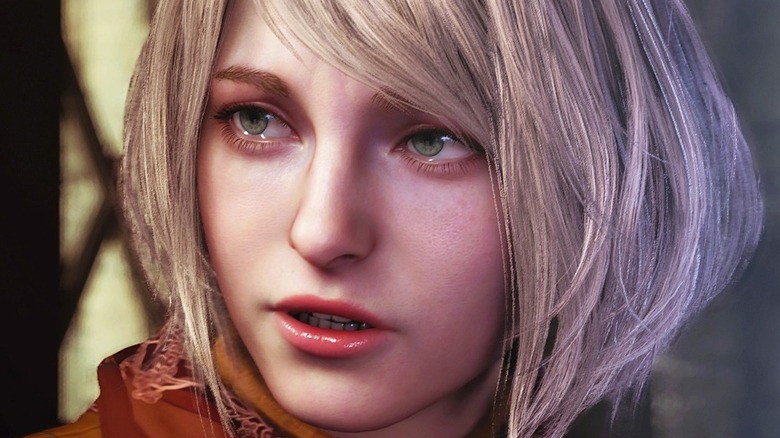 Capcom
Ashley Graham has come quite a long way since the original "Resident Evil 4." Though the character was seen as largely frustrating and helpless in her original incarnation, 2023's remake has gone out of its way to make her a much more capable companion. Not only will Ashley make more of an attempt to flee from danger when necessary, but she'll even offer occasional hints towards Leon's next move. The new version of the beloved game has also done away with some elements of the original that didn't age particularly well, meaning Leon and Luis are no longer checking her out at every turn. A great deal has changed about Ashley Graham, but much like in the original, the new incarnation has been brought to life by a combination of a few different performers.
In 2005's "Resident Evil 4," Ashley was voiced by Carolyn Lawrence and modeled after Brooke Elizabeth Mathieson, while actress Yukiko Saitani provided the motion capture performance for the character. In the remake, actress Genevieve Buechner voices the character in English and filmed mocap for the physical performance, while the character was modeled after Ella Freya and Sophia S, a.k.a. PeachMilky. Last but not least, Akari Kitō provides Ashley's voice in Capcom's native Japan. 
Here's a little rundown of each of the women who brought this memorable new vision of Ashley Graham to life.
Ella Freya is the face of Ashley Graham
Freya's fans can keep up with her on multiple social media platforms, including Instagram, Twitter, and YouTube. In fact, Freya has two YouTube channels, one in English and one in Japanese, where she occasionally uploads vlogs, "let's play" videos, cosplay clips, and other content. She even occasionally combines all of these interests in one, like the video in which she played "Persona 5 Royal" while dressed like the game's Ann Takamaki.
Ella Freya gained even more recognition following the release of "Resident Evil 4," thanks to an endearing viral video in which she scoured Japan for a copy of the game. As she explained in the video, she had not yet had a chance to see the game in stores, so she made a journey to Akihabara to pick up her own copy. Though the first shop she tried did not have the game in stock, the second store offered an unforgettable experience. Not only was she able to snag two copies of the game, but she snapped some video of herself with some of the posters and clips of the game playing in the store. Freya's excitement is palpable in the video, and it's easy to feel thrilled for her in the moment.
PeachMilky is the body model for Ashley Graham
As mentioned previously, Ashley's physical appearance was designed after two different individuals. While Ella Freya gave Ashley her face and unmistakable smile, the body model for Ashley is none other than cosplayer, streamer, and VTuber PeachMilky (a.k.a. "Sophie S.," as she's credited at the end of the game). 
The Resident Evil 4 Remake has released today! Now I can tell you that I am the BODY capture model for Ashley Graham!! 🫶

I'm so happy to be even a very small part of a game that means so much to people! I'm looking forward to enjoying it for the first time myself. #RE4 pic.twitter.com/5j5Ipbbgmn

— PeachMilky 🌸 Cosplay (@PeachMilky_) March 24, 2023
To celebrate the release of the game and the reveal of her involvement with the project, PeachMilky posted a photo of herself in a screen-accurate Ashley cosplay. The responses to this reveal were incredibly positive, with a number of her followers and fellow cosplayers expressing their excitement for her. In the time since the remake dropped, PeachMilky has continued to share photoshoots of herself dressed as Ashley, including her own takes on some of Ashley's alternate 'fits from the games. 
PeachMilky has also streamed her own playthroughs of "Resident Evil 4," all while (of course) in full Ashley cosplay. PeachMilky has admitted that she's easily spooked by horror games like the "Resident Evil" series, and has even attached a heart monitor to herself during some of these streams to prove it!
Genevieve Buechner is the actor behind Ashley Graham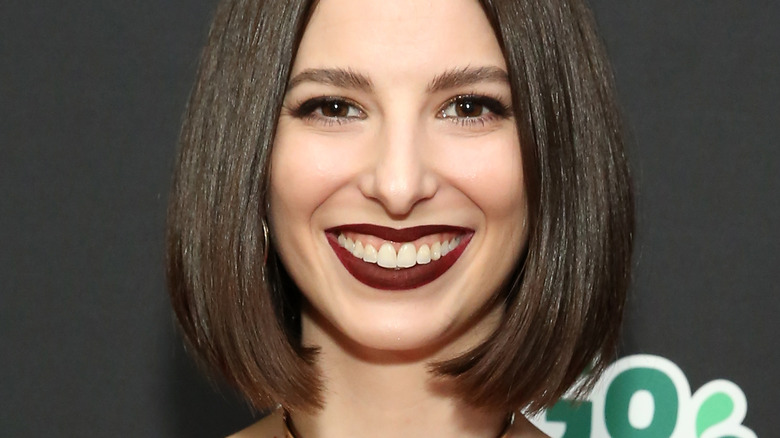 Monica Schipper/Getty Images
Breathing life into Ashley Graham is Canadian actress Genevieve Buechner, who provided both the voice and motion capture for the character. Beuchner may be most familiar to fans of science fiction television, as she's been featured in recurring roles on "The 100" and "Caprica," as well as guest parts on shows including "iZombie" and "The X-Files." She's also gotten to show off her comedic chops in the first three seasons of "UnREAL."
Beuchner appears to have greatly enjoyed the experience of working on "Resident Evil 4." On launch day, she posted to Instagram, "I'm still not quite sure I have the words to express how much this experience has meant to me. It has been an absolute honour to be added to the 'Resident Evil' Family!" Since then, she has continued to share behind the scenes pictures of the motion capture process, giving fans a peek behind the spooky curtain at how "Resident Evil 4" was made. 
Beuchner has also been highly entertained by the fan response to the game, participating in Twitch playthroughs and sharing fan art of the character. She seems particularly fond of the "Moushly" fan art trend, in which her character has been bizarrely (and hilariously) reimagined as a cute little rodent.
Akari Kitō voices Ashley in the Japanese version
Akari Kitō plays Ashley in the Japanese voice track of 2023's "Resident Evil 4," but gamers have probably heard her voice a number of other places. Perhaps most notably, Kitō plays Nezuko in "Demon Slayer," one of the most popular anime to debut in the past few years. Nezuko wasn't the actress' breakout role, though, as she's been starring in anime and video games for quite some time. Roles in "Xenoblade Chronicles 3," "Fire Emblem Engage," "NEO: The World Ends with You," and "Love Live! School Idol Festival" have endeared her to fans of anime-styled games, but an even broader group of video game fans know her as Barbara in "Genshin Impact."
Akari Kitō kind of does it all. In addition to her many voice acting roles, she has a solo pop career, releasing a few singles to solidify her status as a bonafide idol. She regularly appears on Japanese talk shows to perform and advertises her upcoming hosting gigs on social media. The competitive Japanese idol scene means that Kitō stays busy taking on every role she can, and it shows in her impressive resume.
Thankfully, Kitō got to become part of video game history by appearing in the remake of "Resident Evil 4," lending a new voice to this revamped version of Ashley.