Purah's Transformation In Zelda: Tears Of The Kingdom Has Everyone Talking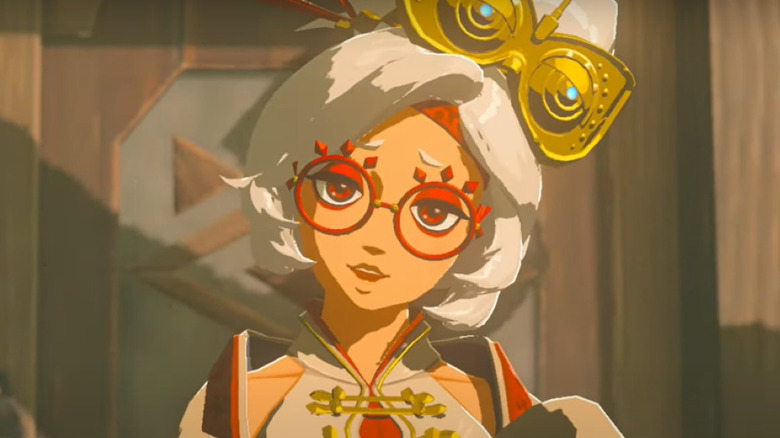 Nintendo
"Zelda: Tears of the Kingdom," unlike most games in the series, actually continues the story of the previous entry. As a direct sequel, the new title gives fans another look at the Link and Zelda of "Breath of the Wild" and critics are praising the game for its portrayal of these characters as they grow and develop. Many fans, however, seem to be more focused on the changes to a different character from "Breath of the Wild." It seems that Purah, the Sheikah researcher and director of the Hateno Ancient Tech Lab, has undergone a transformation for "Tears of the Kingdom" — and everyone is talking about it.
While over 100 years old, Purah appears as a child in "Breath of the Wild" due to reverse aging from her experimentation with a magical rune. It seems that in "Tears of the Kingdom," however, she has found a way to reverse the reversal and has managed to age herself up to appear as a young woman. This has given her a new look and gamers are falling in love with her new design.
Fans think Purah is gorgeous
Nintendo
All over the internet, gamers are talking about the change to Purah's design and praising her "glow up." The new version of the character is being called "iconic" on Reddit and fans are predicting that she'll be a new favorite for cosplayers going forward. Nintendo is also receiving praise for going above and beyond with this design, with one fan saying that "Nintendo had no reason to make Purah this fine." Meanwhile, others are expressing their appreciation for Purah's beauty in words that are best not repeated here.
They never played Age of Calamity pic.twitter.com/4CFIsEsSLA

— NoHayNadie 🛡FFXVI 60FPS HYPE!🗡 (@Soplox) May 14, 2023
Of course, as some have pointed out, this technically isn't the first time we've got to see Purah as a young adult. In the spinoff title "Hyrule Warriors: Age of Calamity," players get to meet Purah back when she actually was young — not just de-aged — and she looks similar to how she appears in "Tears of the Kingdom." Still, many are arguing her design is even better this time around and this version of the character is likely to become the most well-known version in the fandom.
"Breath of the Wild" and "Tears of the Kingdom" have plenty of attractive characters, voiced by a cast that is even gorgeous in real life, but Purah may just surpass the rest in the hearts of fans thanks to her transformation for the latest game.