GTA 6 Could Be Here In 2024, According To Take-Two Earnings Report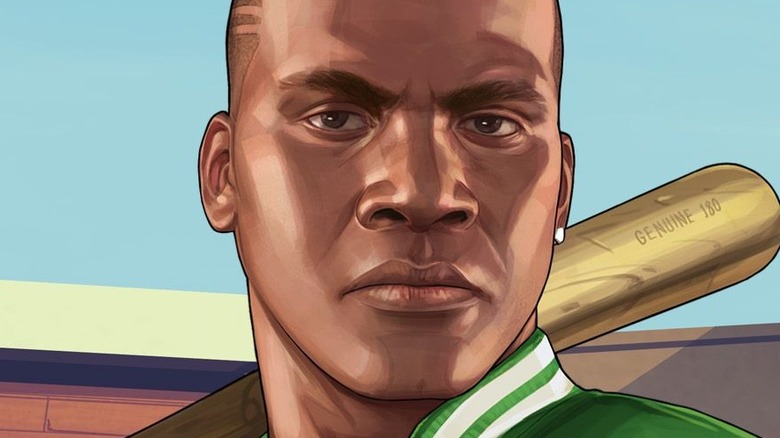 Rockstar Games
For what could be the most anticipated game of all time, Rockstar Games has been trying its best to keep a tight lid on "Grand Theft Auto 6." Aside from the company confirming that it was working on a new "GTA," nothing else was revealed for the longest time — until leaked footage of the upcoming title burst onto the internet last fall, resulting in what felt like every gamer discussing the ins and outs of "GTA 6."
However, because the leaks did not reveal at what stage the footage was taken, it was impossible to know how far into development Rockstar is on "GTA 6." Cut to this week, and Rockstar's parent company, Take-Two Interactive, has released a fiscal report that hints at the possibility of "GTA 6" releasing sometime in 2024. And although Take-Two hasn't explicitly confirmed the "GTA 6" release window, fans are already losing their minds online at the possibility of playing "GTA 6" next year, no matter how slim the odds may be. 
As to be expected, gamers everywhere have latched onto the latest indication of a release window for "Grand Theft Auto 6." This is to be expected, as "Grand Theft Auto 5" turns ten years old in 2023, and fans have been searching for any and all signs of the game's arrival for a few years at this point. it's not just the gaming community that has been disrupted by the news. Wall Street has also taken the report as proof that "GTA 6" will arrive sooner rather than later.
Big Take-Two games on the way
In a recently-uploaded Q4 Earnings Report from Take-Two, the video game company overseeing Rockstar noted that its 2025 fiscal year looks bright. "For the last several years, we have been preparing our business to release an incredibly robust pipeline of projects," said Take-Two chief executive Strauss Zelnicks. During the 2025 fiscal year, Take-Two plans on "launching several groundbreaking titles that we believe will set new standards in our industry." In addition, it stated that these projects are projected to bring in "over $8 billion in net bookings" — a robust pipeline, indeed. According to Zelnick, the company is currently planning on releasing 36 new titles within the next two years, which would seem to pave the way for a busy (and profitable) couple of years for Take-Two and its subsidiaries.
Immediately, Rockstar fans speculated that one of these "groundbreaking titles" outlined by Take-Two is "GTA 6." The reasoning is that few games could rack in that kind of revenue. "GTA 5" famously made more money than any piece of entertainment media ever, so it's safe to say that "GTA 6" could rake in the same results, if not better. It would seem to follow that Take-Two's projected boost in revenue may be derived from the release of "GTA 6." And because the 2025 fiscal year begins in October 2024, it stands to reason that "GTA 6" could even be released in time for next year's holiday season. 
Of course, this is all speculative, and it could be that Take-Two has something even more exciting up its sleeve than "Grand Theft Auto 6." Still, the reaction from the fan community has been interesting to see.
Fans react to the newest GTA 6 speculation
When responding to the Take-Two earnings report, the general vibe of the "Grand Theft Auto" fan community has been one of cautious optimism. Although there's certainly a potential for good news here — especially for fans who have waited so long to finally play "GTA 6" — gamers have also been burned before after setting their expectations way too high. Some are still waiting for an official word from Rockstar Games and Take-Two before they get too excited.
Others are cracking jokes about the lack of an official announcement. At least a few people have quipped that the game is actually coming in 3025, while others have simply asked for a more narrowed-down timeframe. Some are already getting excited, though, to the point where they're predicting that other publishers must be getting nervous about the arrival of "GTA 6."
Treyarch and Activision when they have to go up against GTA 6 and GTA 6 Online in 2024: pic.twitter.com/4QYh1xAGdw

— Hope (@TheGhostOfHope) May 17, 2023
This quarterly report has also already made waves with investors, with Take-Two's stock rising substantially. Investors are reportedly buying into the idea that big-name titles will rocket Take-Two to new heights in the 2025 fiscal year. Only time will tell if "GTA 6" is the big fish here, or if Take-Two is putting its faith in other titles. With such a wide swath of games planned, there's no telling what Take-Two's big year has in store.