Super Mario Bros. Movie: 'Floatanium' Is What Keeps Blocks Airborne In The Film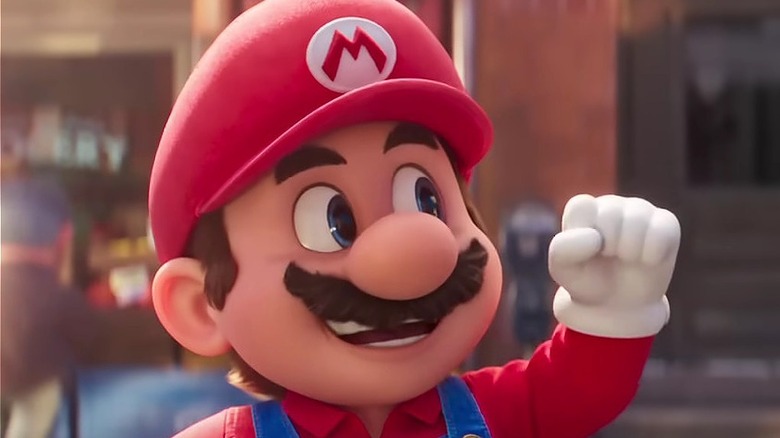 Universal Pictures
The "Super Mario Bros. Movie" — no, not the critically flopped live-action from the 80s with Dennis Hopper — followed in a notable string of video game adaptations in its commitment to capturing all of the little details. Illumination made it apparent it read the entire book on "Super Mario" in moments like the kart-building scene pulled straight from "Mario Kart 8 Deluxe," or Luigi arriving at a haunted mansion mere moments after entering the Mushroom Kingdom. These amazing small details in "The Super Mario Bros. Movie" also encompassed other games in Nintendo's history or spoke more to adult "Super Mario Bros." fans. However, Illumination took its commitment to detail a step further by paying attention to what the audience did not see, coming up with exposition existing outside of the movie.
The studio is hardly the first big-budget movie maker to justify the existence of a plot point or in-universe concept with a fictitious metal. James Cameron's "Avatar" has proven a popular example with its fleetingly-explained 'unobtanium,' the sole reason for the antagonist's presence on Pandora. And who can forget Wolverine's adamantium skeleton? At least unobtanium as a term originated from real engineering history (and don't forget that adamantium is based on Greek mythology's adamantine) — not so for the Mushroom Kingdom's take on a highly-valued metal.
A literal joke metal
Illumination CEO Chris Meledandri, "Mario Movie" Director Aaron Horvath, and Nintendo icon Shigeru Miyamoto sat down with Variety, explaining the origins of 'floatanium' as a simple vehicle for exposition. Miyamoto wanted the studio to prioritize attention to detail, an emphasis Meledandri's team took to heart despite a colleague calling him allergic to exposition.
"Our idea was that there's a mineral that's natural to the Mushroom Kingdom, which we call 'floatanium,' because it sounded funny to us," Horvath said, describing how the toads used it to create the floating blocks seen throughout the Mushroom Kingdom.
Meledandri and Miyamoto went on to describe their shared desire for a close partnership. Over the course of production, they iterated together upon the most minute designs, from the texture of Mario's clothes to the shape of Bowser's snout.
Their in-depth collaboration ultimately paid off at over $1.2 billion in worldwide box office sales, smashing records despite initial concerns. Many reviewers pored over the movie's wealth of Easter eggs (or perhaps Yoshi eggs) — albeit few films in recent memory have so thoroughly split critics and audiences. Outlets like AVClub framed Illumination's use of callbacks as a major strength whereas Polygon and others saw it as soulless or fluff.
The "Super Mario Bros. Movie" will likely not be remembered for its floatanium, but rather its commitment to the details it represented, for better and worse. Regardless, Illumination, Miyamoto, and company delivered a super smashing hit, built significantly on the movie's worldbuilding.