Microsoft May Have Spoiled Sony's New Console Announcement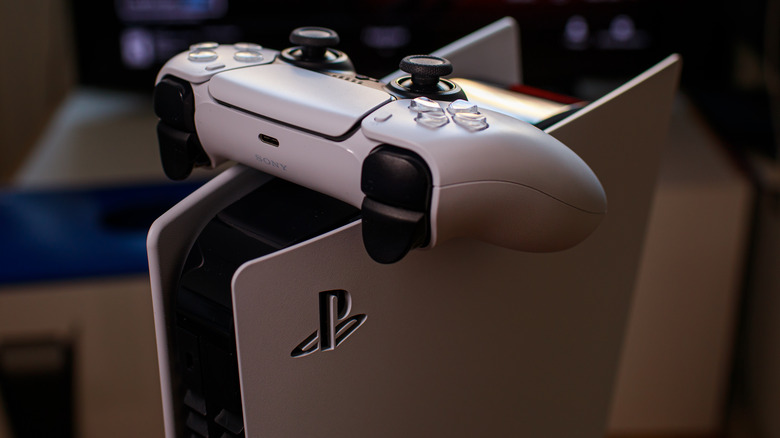 Girts Ragelis/Getty Images
The court battle between Microsoft and the FTC continues to heat up, as Microsoft defends its planned acquisition of Activision Blizzard. Over the course of these hearings, a number of other tech companies have been asked to provide testimony and evidence, giving onlookers unique insights into the inner workings of the video game industry. According to some documents provided by Microsoft (recently uploaded to the internet), the company has some ideas regarding Sony's future plans in the console space. It's unclear where this internal knowledge has come from, but the juiciest parts of these files pertain to Sony's goals for Project Q and future PS5 models. In fact, Microsoft might have outright spoiled a major announcement from the PlayStation camp.
Advertisement
As the court case has unfolded, Microsoft has taken issue with the FTC's market research and the ways in which regulators have compared Xbox and PlayStation brands, particularly when it comes to matters of price. Specifically, Microsoft is frustrated by the fact that the FTC is apparently only taking the similarly priced Xbox Series X and PlayStation 5 consoles into consideration, when both companies offer a budget-friendly digital option. At one point in the document, Microsoft's reps note, "The FTC contends that Xbox and PlayStation constitute a market of two because they are offered at a similar price. That is unpersuasive." 
Microsoft points out that its Xbox Series S costs $50 less than the OLED model Nintendo Switch, then drops the biggest bombshell of the entire document: "PlayStation likewise sells a less expensive Digital Edition for $399.99, and is expected to release a PlayStation 5 Slim later this year at the same reduced price point." Of course, this little tidbit might come as a shock, considering the fact that Sony has not officially announced any such system.
Advertisement
Microsoft is the latest to claim a PS5 Slim model is coming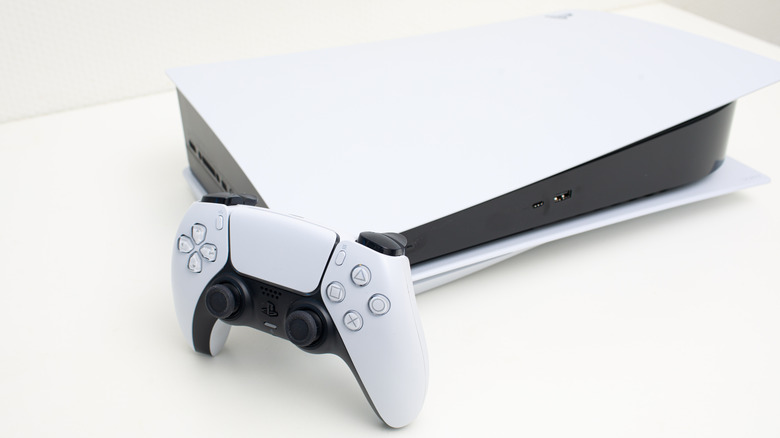 Girts Ragelis/Getty Images
Rumors regarding a PlayStation 5 Slim model have persisted for quite a while now, almost for as long as the console has been on the market. It makes sense, too, since previous PlayStation generations have seen the release of updated models during their life cycle. These redesigns have typically not only cut down on the size of their respective consoles, but also revamped the internal hardware to run more efficiently. Given the relatively huge size of the PS5, it makes sense that Sony would be working on a way to make the console look a bit more sleek. Fans have even taken matters into their own hands in the last couple of years and built their own PS5 Slim models, to varying degrees of success. 
Advertisement
For its own part, Sony has remained cagey about the possibility of releasing a PlayStation 5 Slim, despite fan demand. A few retail listings for PS5 Slims have popped up here and there, only to be quickly taken down or debunked. This mention of a Slim model in Microsoft's court documents feels like the first real acknowledgement from a major gaming company that the redesigned console may be in the works. Even though the tip doesn't come from Sony, it's worth noting that Microsoft believes this system to be an inevitable competitor in the market, and is apparently enough of a concern that it warrants a mention in court.
However, before fans get too excited, there is reason to believe that Microsoft has a few holes in its information.
Advertisement
Project Q and the future of PS5
Elsewhere in these court documents, Microsoft asserts, "Sony is also anticipated to release a handheld version of PlayStation 5 later this year for under $300." As PlayStation fans now know, this is isn't exactly the case. Following a series of leaks, the company formally announced Project Q a few months ago. Rather than a traditional portable gaming console, Project Q is instead a handheld device that will stream PS5 games via the console's Remote Play feature. Project Q also doesn't have an exact release window attached to it at this time. These slight inaccuracies in Microsoft's claims may give some fans pause regarding the rest of its predictions for Sony's console line.
Advertisement
It's also possible that Microsoft is conflating a few different reports regarding Sony's upcoming PS5 line. A rumor began circulating last year that Sony has plans to introduce a Digital Edition PS5 model with a detachable disk drive, which Insider Gaming reported could launch in September 2023. If accurate, this timeframe would line up with the claims made in Microsoft's court documents.
Until Sony directly comments on these latest leaks, fans will only be able to speculate about their accuracy. In the meantime, Microsoft will continue to plead its case against the FTC. Who knows what other bits of info might surface before the hearings conclude?