Marzia And PewDiePie Welcome Their First Child And Confirm What Fans Suspected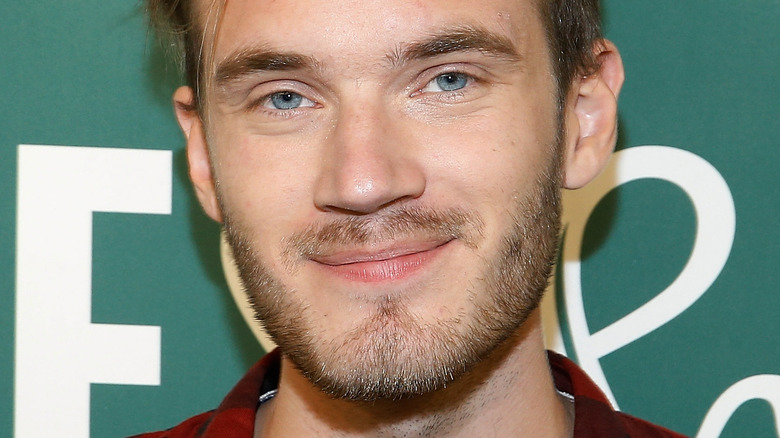 John Lamparski/Getty Images
Felix "PewDiePie" Kjellberg and his wife Marzia have had quite an eventful year. In Spring 2022, the YouTuber excitedly announced that the couple had finally achieved their dream of moving to Japan, settling in with their pets to live a nice comfy life in their favorite part of the world. Then, at the beginning of this year, PewDiePie and Marzia announced to fans that they were expecting a baby. PewDiePie didn't give too many details at the time, but told his viewers that they were extremely happy to build a family and move forward with the next phase of their lives together. Now the baby has arrived and the proud parents are clearly so thrilled. Not only that, but the couple's posts about the new addition to the family have confirmed a theory their fans have held dear for the last few months.
Advertisement
Back in May, PewDiePie and Marzia did a sneaky kind of gender reveal for their fans, which was posted to PewDiePie's YouTube channel. In the clip, PewDiePie gave viewers an update on Marzia's pregnancy, explaining that there were a few health concerns as the due date got closer, but that their doctor was very reassuring and they were feeling optimistic. The pair took a trip out to Tokyo to do the gender reveal, at which point they stood in front of Tokyo Tower and focused the camera on a number of Koinobori flowing in the background. As fans on social media quickly pointed out, these streamers are flown to celebrate the holiday Children's Day — which has also been known as Boy's Day.
At the time, PewDiePie told viewers, "If you know what these mean, then you know the gender." Thanks to the Koinobori and similar comments on Marzia's Instagram, fans all over took this to mean that PewDiePie and Marzia were expecting a boy. Now, the couple has confirmed it.
Advertisement
PewDiePie and Marzia welcome baby Björn to the world
On July 11, PewDiePie and Marzia welcomed their new bundle of joy into the world, named Björn. The couple celebrated the occasion by posting a series of pictures of the newborn on their Instagram accounts. In the main image, the two proud parents can be seen holding Björn together, with the little one relaxing on a pillow. 
Advertisement
Other photos show Björn in Marzia's arms, then PewDiePie's, his eyes already wide open and full of wonder. The last heart-melting image shows the inside of Björn's crib, complete with some adorable plushies and a monogrammed onesie. The series of photos is captioned, "Welcome to the family, little Björn."
Almost immediately, excited responses began to flood into the comments on Instagram, with fans congratulating the couple on the birth of baby Björn. In particular, fans seemed to be quite taken with Björn's name. A number of commenters on Instagram and Twitter quipped that it was a perfect name to give somebody who has just been born — get it? Because he's a "new-Björn?" — and offered sincere congratulations to make up for the puns.  
Advertisement
Others were pleased to see that the Kjellbergs gave their son a traditional Swedish name. As noted by the bear emoji in the couple's shared Instagram post, Björn means "bear," another fact that fans loved to learn. Outside of fans discussing the name and congratulating the couple, a great number of comments came from people who simply can't get over how cute the little guy is!
What's next for PewDiePie and Marzia's family?
Longtime fans of PewDiePie and Marzia are no doubt curious to learn what the couple has planned for the future. For now, it looks like their main focus is on taking care of Björn and enjoying their first days as parents. At the end of June, PewDiePie posted a vlog in which he bid YouTube a fond farewell for the foreseeable future. He explained to viewers that he's looking forward to being a dad, but he's not really sure how much time he'll be able to devote to his channel in the coming days.
Advertisement
"I don't know if I'll have time to make videos. Is it gonna be chaos? I don't know, but I imagine I will not upload in a while," PewDiePie explained in his goodbye-for-now video. "So, just wanted to say thank you for all the support in these vlogs. We're so happy that you guys enjoyed them and we can share a bit of our life here, but I think, for now, we might take a little break until we come back again."
Of course, it should be pointed out that PewDiePie quickly posted another video on his channel the very next day, just for kicks. Fans probably won't have to wait too long before getting further updates from the Kjellberg family.