Pewdiepie And Marzia's Sneaky Gender Reveal Explained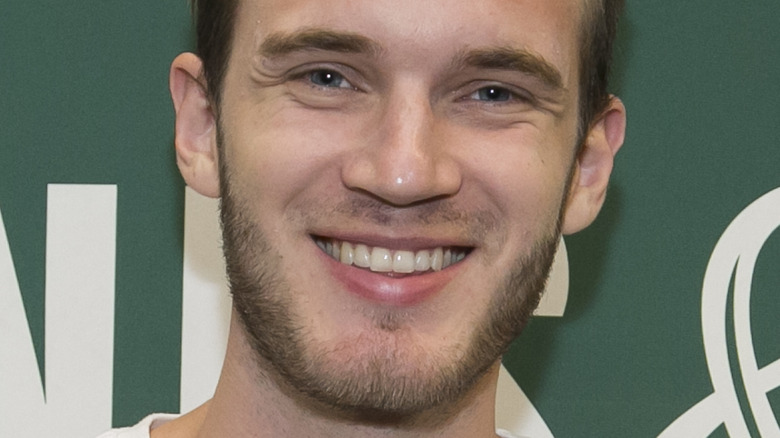 Vincent Sandoval/Getty Images
Fans of PewDiePie and Marzia Kjellberg were over the moon when the couple announced a few months ago that they're expecting a baby. In a characteristically upbeat vlog, PewDiePie reassured his fans, "I'm so excited. It's kind of strange to me, it's entering new territory, but I feel really ready and so does Marzia." Since then, the couple have been spending their time getting their home in Japan ready for their little one to arrive.
Since then, PewDiePie hasn't posted too many specific details about the bundle of joy on the way. Ever since the YouTuber semi-retired a couple of years ago, he's typically only posted videos when the mood strikes him. Because of this, fans sometimes have to wait a week or more before getting the latest scoop on Pewds' life in Japan. Though the recent revelation that he may be collaborating with MrBeast was a promising post for fans, the promise of a gender reveal for his and Marzia's baby might have outdone it in terms of excitement.
Over the weekend, PewDiePie posted a video with the straightforward title of "Think it's time we did a gender reveal." Longtime subscribers might have expected PewDiePie to go way over the top for a gender reveal video, but that's not at all the approach he chose. Surprisingly for fans, the 19-minute video actually concludes without the clear reveal promised in the description. However, eagle-eyed fans believe they've figured out the gender of Marzia and PewDiePie's baby, thanks to a few clues in their social media posts.
PewDiePie and Marzia head to Tokyo Tower for the reveal
Despite the title of the video, PewDiePie's latest vlog takes a bit of time getting to the reason for the occasion. He instead shows fans the progress on their home, including his evolving plans to set up his gaming rig in his closet. He also updates fans on his struggles to get his passport renewed on time, as well as a sneak peek into his and Marzia's daily routine, including checkups and snuggles with their pets. Eventually, though, he and Marzia set out into the city. They head to Tokyo Tower, where PewDiePie says, "Our gender reveal awaits."
Upon arrival at Tokyo Tower, PewDiePie and Marzia excitedly pose in front of several Koinobori, streamers or kites that are designed to look like fish. These flags are traditionally flown to celebrate May 5th, Children's Day in Japan. PewDiePie remarks, "If you know what these mean, then you know the gender." To drive the message home, Marzia also posted a photo of the couple in front of the Koinobori on Instagram, complete with the caption saying, "hint hint." The post also includes a shot of the baby's crib, just in case your heart hasn't quite exploded yet.
So what does it all mean, you might ask? The answer may lie further back in Japanese history. Before it was renamed as Children's Day in the 1940s, May 5 was known as Tango no Sekku, or Boy's Day. Knowing PewDiePie and having a bit of historical context in mind, it suddenly seems pretty clear what PewDiePie and Marzia are trying to hint at: They're having a boy!
What's next for PewDiePie, Marzia, and the baby?
Fans on social media have quickly sounded off with their congratulations for the happy couple. The comments below PewDiePie's reveal video are filled with well-wishers and fans reminiscing about how far PewDiePie and Marzia have come over the years, as well as a few people recommending names for the baby. All in all, the response to the somewhat cryptic video has been extremely positive.
It wasn't all happy news in the latest video, however. PewDiePie also took a moment to tell his fans that Marzia's pregnancy hasn't been completely easy. "I figured I should share, you know, good and bad," PewDiePie said. "She's fine and the baby's fine, but she's... just at the edge of the risk of premature labor." 
The YouTuber explained again that Marzia has been doing well, despite the worrisome news. Per her doctor's orders, Marzia has been trying to relax as much as possible and not out any undue pressure on the baby. "So hopefully, that has made a positive change and she has been able to catch up, sort of, [to] where she's supposed to be," PewDiePie explained. 
He added that he's been reluctant to travel in recent days, just in case Marzia needs him. Thankfully, it sounds like her most recent appointment was much more positive, and the couple are looking forward to what lies ahead.