Disney Illusion Island Review: Delightful Platforming Fun For Mickey Fans Young & Old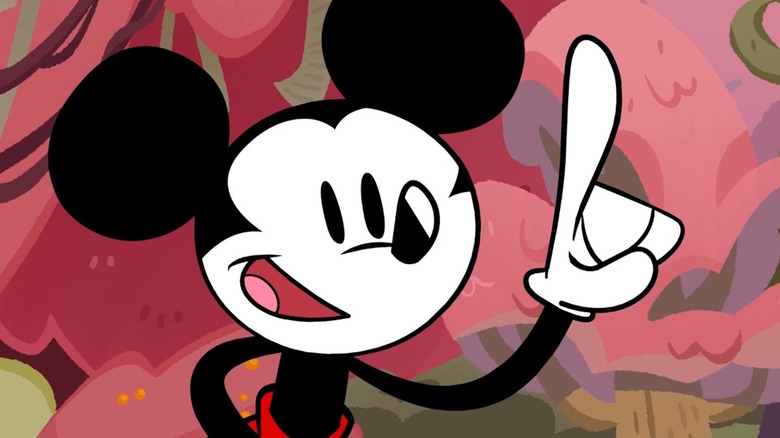 Disney Electronic Content
A Switch code was provided to SVG for this review. "Disney Illusion Island" will be released on July 28, 2023, for Nintendo Switch.
In a beautiful fusion of Disney nostalgia and modern platforming dynamics, "Disney Illusion Island" serves up a whimsical adventure packed with charm and excitement. The enchanting platformer offers a welcoming balance of exploration and challenge that ensures hours of delightful play.
Advertisement
You take on the role of Mickey Mouse, Minnie Mouse, Donald Duck, or Goofy on this magical island in search of a few priceless treasures. As you explore the vibrant, maze-like world, you'll have to use your wits to overcome puzzles and tricky (but not too tricky) platforming sections. Along the way you'll also encounter friendly characters who offer special rewards and abilities that allow you to progress along your journey and find the keys that will unlock each new level, inviting Disney fans of all ages to embark on an unforgettable animated adventure.
With the use of only the Joy-Con's face buttons, you are introduced to a world that is inclusive and welcoming. The controls are designed to be as user-friendly as possible, ensuring that the game remains accessible to everyone, from excited young Mickey enthusiasts to the most seasoned Disney aficionados. As you immerse yourself in the mystical, captivating new world of Monoth, you are, at the same time, hit with a wave of nostalgia that makes "Disney Illusion Island" feel like something truly special.
Advertisement
Meant for multiplayer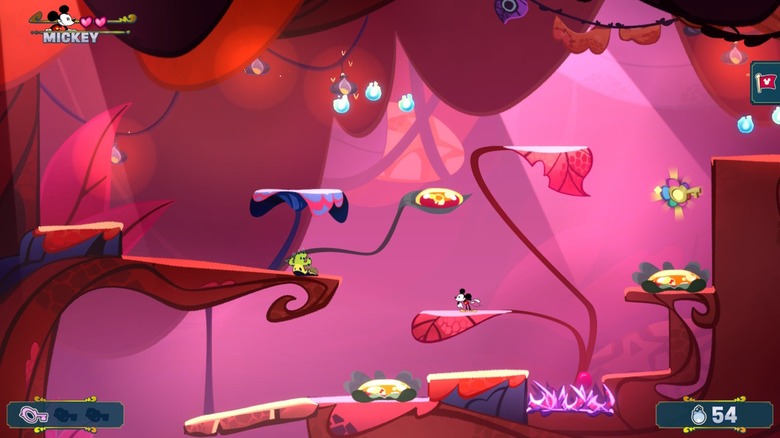 Disney Electronic Content
"Disney Illusion Island" distinguishes itself as a dedicated platformer, with a complete absence of combat elements in favor of a more intricate and captivating obstacle navigation and platforming system. The boss encounters are thrilling platforming challenges, requiring skill, timing, and agility. This emphasis on exploration, problem-solving, and character interaction over combat beautifully encapsulates the charm and magic synonymous with Disney — not to mention making this particular platformer a perfect family-friendly affair.
Advertisement
A standout feature of "Disney Illusion Island" is its innovative, and truly wholesome health system. Before you even begin your journey, you can customize your health level, effectively setting your game's difficulty level. Younger or inexperienced players can take advantage of the "infinite hearts" option — which is essentially an invincibility mode — creating an environment where fun takes center stage instead of the typical frustration of constant restarts.
"Disney Illusion Island's" multiplayer mode is also a real treat, allowing up to four friends to team up, each controlling their favorite Disney character. The game introduces a (literally) heartwarming mechanic where characters can hug each other to regain any missing health — a clever touch that not only adds strategic depth but also emphasizes the themes of friendship and teamwork so inherent in Disney's ethos. Other fun co-op abilities are also unlocked in multiplayer mode, such as jumping boosts and underwater teleportations. You can complete the game as a single player, but this is one that shines as a title that begs to be played with friends and family.
Advertisement
Cross-generational appeal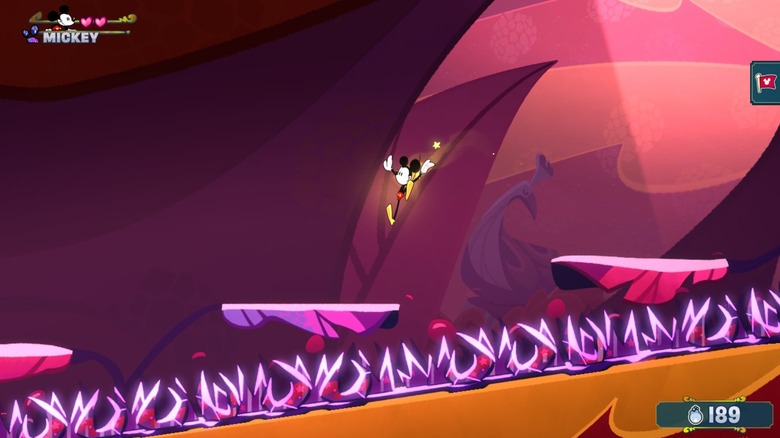 Disney Electronic Content
Visually, "Disney Illusion Island" is an artistic triumph that gracefully bridges the gap between the beloved vintage aesthetics and the vibrant modern interpretations of Disney's iconic characters. Every meticulously crafted scene and character design feels like a celebration of Disney's rich legacy, embodying the timeless charm that has defined the company for nearly a century.
Advertisement
The art design, which uses the animation stylings of a modern-day Mickey Mouse cartoon, works really well. On one hand, it acknowledges the evolution of animation, embracing the vibrant colors, bold lines, and accentuated expressions that define Mickey and crew's contemporary design. Yet, there's also a sense of tribute to the vintage aesthetic that older fans hold dear — the classic silhouettes, a musical score fitting of a full-length feature film, the expressive character features (Donald, in particular, steals the show with his cranky mannerisms and comedic timing), and the endearing, wholesome charm that made us fall in love with these characters in the first place.
These elements come together in a surprisingly harmonious blend. The result is a visual style that feels fresh and lively, yet warmly familiar, creating a sense of nostalgia for older fans who may have been hesitant, or even dismissive about the modern animated designs. It's as if the game found a magical formula, mixing the perfect amount of old-school charm with new-age vibrancy to create a visual feast that can be appreciated by Disney lovers of all ages.
Advertisement
In this (admittedly) surprising way, "Disney Illusion Island" manages to win over even the most skeptical of Disney fans. It's a testament to the game's design that no matter how staunchly one may have resisted the new animation style, the game offers an experience that is undeniably delightful and oddly nostalgic. It reminds us that while styles may evolve, the magic of Disney — the magic that captivated us as children and continues to enchant us as adults — remains as potent as ever.
An enchanting and captivating adventure awaits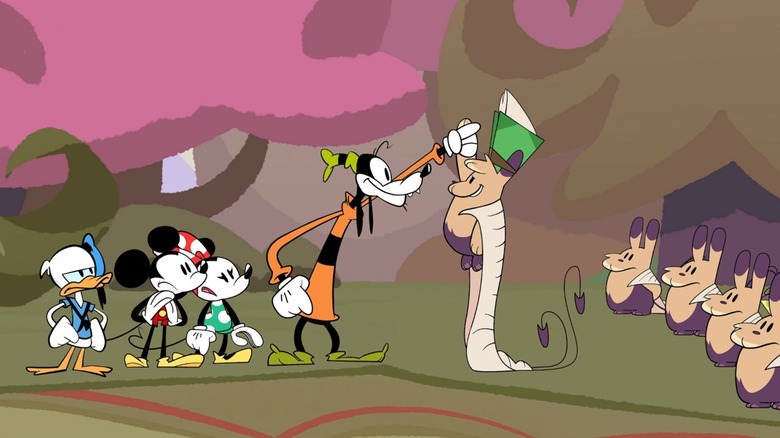 Disney Electronic Content
More than just a visually stunning game, "Disney Illusion Island" is an experience that engages both the eye and the heart. It captures the essence of what makes Disney special — its ability to tell captivating stories, its commitment to quality, and most importantly, its gift for creating characters that feel real and evoke actual emotional connections.
Advertisement
The animation in "Disney Illusion Island" deserves special mention for its authenticity and fluidity. Every leap, slide, and scramble our beloved characters make is as expressive and lively as we remember from the classic Disney shorts. It's this attention to detail that rekindles our love for these characters, making them feel as real and relatable as they were when we first met them.
"Disney Illusion Island" serves up an enchanting ride through a world brimming with Disney magic, challenging platforming sequences, and a gallery of beloved characters. Whether you're playing solo or with friends, the game guarantees a thoroughly enjoyable, family-friendly experience that caters to all.
At its core, "Disney Illusion Island" is a tribute to the rich legacy of Disney. It is a love letter to fans, old and new, and a testament to the timeless appeal of its enduring characters. So, whether you're taking your first steps into the world of Disney or a nostalgic fan yearning for that classic Disney magic, "Disney Illusion Island" invites you to embark on a magical adventure where the wonder of childhood is hidden around every corner.
Advertisement