Xbox Just Made It Easier To Fix Your Broken Controllers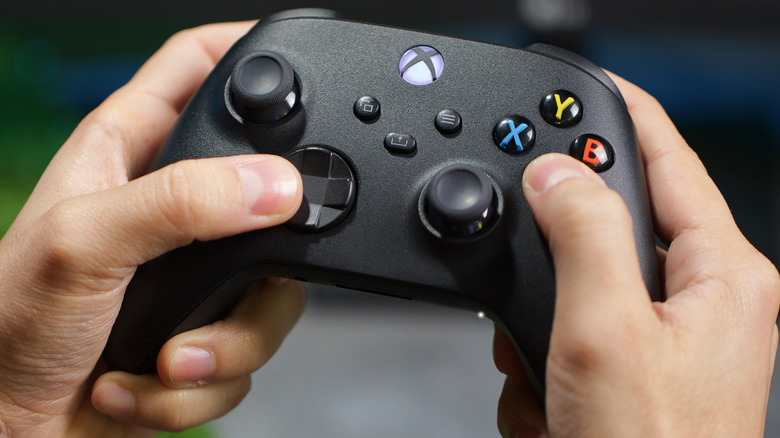 Hopix Art/Shutterstock
Xbox offers a one-year manufacturer's warranty on consoles, but many users don't end up encountering the worst problems until after that milestone is passed. Even worse, aside from a few exceptions, Xbox's quality guarantee only covers its standard wireless controllers for a 90-day period. Unless you've purchased Xbox Complete coverage, it used to be that you would have to either purchase a new controller or take it to an aftermarket repair service after your warranty expires.
Microsoft just made all of that much easier on Xbox gamers with the launch of its new "Xbox repair & replacement parts" webpage. The site name is pretty self-explanatory, offering a wide array of faceplates, buttons, and more for players who want to perform DIY fixes for their beloved controllers. The mission statement of the page is displayed right up top, too: "Extend the lifespan of out-of-warranty Xbox accessories with genuine Microsoft repair parts."
Here is what this means for gamers who want to polish up their damaged or malfunctioning Xbox controllers.
Heal your Xbox controllers through Microsoft's new page
Are your joysticks drifting? Did the face of your controller get cracked after a particularly frustrating round of "Apex Legends?" Is one of your shoulder buttons permanently stuck or unresponsive? You can replace all of those by ordering parts from the Microsoft's new page. The site even offers replacement circuit boards for certain controller models. If you get the wrong thing — like replacement buttons for the regular wireless controller when you meant to get them for the Elite Series 2 — Microsoft also offers a 60-day return window, free of charge. 
In addition to a healthy listing of controller parts, the Xbox Support YouTube channel has also posted a few videos illustrating how to install these pieces and make necessary repairs. If you're nervous about fixing your controller all on your own, you may want to check out these step-by-step instructions. 
The process might still prove to be a bit challenging if you've never popped open a controller before, but fans may be excited to see Xbox offering these cost-effective solutions. At the very least, this is a route to consider before throwing out a slightly busted controller and buying a new one altogether.