Fortnite Players Can Now Take Flight With Balloons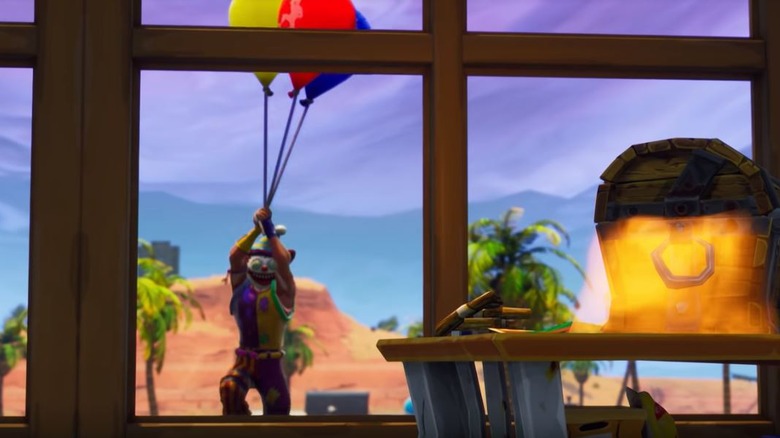 Hot on the heels of glider re-deploy, Fortnite: Battle Royale players now have a brand new way to get around the map. Balloons have been introduced in Fortnite patch v6.21, along with several other changes Epic Games detailed in a blog post published today.
Advertisement
First, the balloons.
According to Epic, these items are — fittingly enough — Epic rarity. They'll sometimes be lying around on the floor in all the typical loot spots, but you can also snag some by searching "chests, Supply Drops, Supply Llamas, and Vending machines." Finding a pack of balloons will grant you 20, and you can hold up to six at one time.
Keep in mind though — holding balloons means you can't hold a weapon. In fact, your fire buttons are your controls for balloons, with primary fire filling one up, and secondary fire letting one go. So you can't just go floating through the sky with guns blazing. You'll have to find another use for balloons, whether its moving quickly across the map or getting a stealthy drop on your opponent.
Advertisement
Along with balloons comes a bit of news about Fortnitemares, which is Fortnite's Halloween event. Unlike last year, where popular demand kept the event going for a few extra weeks, this year's edition of Fortnitemares plans to wrap up on Sunday, Nov. 4 at 1 p.m. ET. The end seems to coincide with a world event scheduled to occur inside the game, so you may want to log in at that time to catch a glimpse of whatever's about to happen.
And Fortnite: Save the World now has a brand new Hero as part of the 6.21 update. His name is Dim Mak Igor, and he's a "Plague Doctor Ninja" who packs smoke bombs and a tactic for resisting damage called Shadow Stance.
Fortnite patch v6.21 is available right now.