Runner3 Is Headed To PS4 Next Week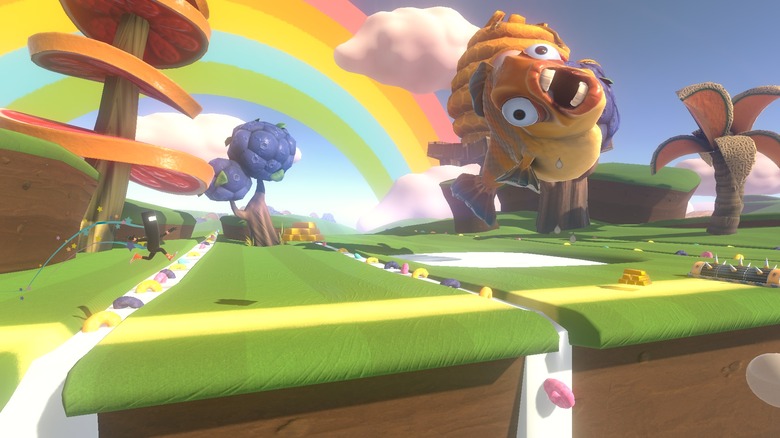 PlayerUnknown's Battlegrounds isn't entirely confirmed for PlayStation 4 just yet, but we know of one game that is. Runner3, the rhythm platformer from Choice Provisions, will hit the PlayStation Store on Tuesday, Nov. 13.
The news arrived courtesy of Sony, which announced Runner3's release on the PlayStation Blog.
Runner3 is the latest release in the Bit.Trip Runner series, which has combined auto-run mechanics with rhythm platforming since the first Runner game launched back in 2010. Fans of the previous entry will be happy to know that difficulty settings, which were absent from the game at launch, are now available in Runner3, as is the ability do what Choice Provisions calls a "self-bonk." The self-bonk is basically a way for you to end your run prematurely and start over so you can get that flawless run you're after.
And yes, Charles Martinet — the voice of Mario — returns in Runner3 to provide more voice-over work.
Runner3 is the latest game to announce a PlayStation 4 release this week. Action RPG Path of Exile also announced a port after spending some time on PC and Xbox One, and then there's PlayerUnknown's Battlegrounds, which has been exclusive to PC and Xbox One but could arrive sometime next month.
Runner3 was originally a timed console exclusive for the Nintendo Switch, launching there on May 22.
Reviewers have had pretty good things to say about Runner3 since it arrived earlier this year. IGN found it to be a "fun, challenging experience with a weird, charming aesthetic," but unfortunately took issue with what it called "out-of-date graphics." And GameSpot called Runner3 a "veritable buffet of weird and whimsical environments, and thrilling, precision-based gameplay."
It's definitely a good one if you're a fan of platformers, and an especially good fit if you enjoy trying for those 100% perfect runs.
And here's some good news. As part of Runner3's launch on PlayStation 4 next week, the game, which normally retails for $19.99, will get a discount. For the first two weeks after release, you'll be able to nab it for a mere $9.99.