Fortnite Season 7 Is Here, And It Brought Airplanes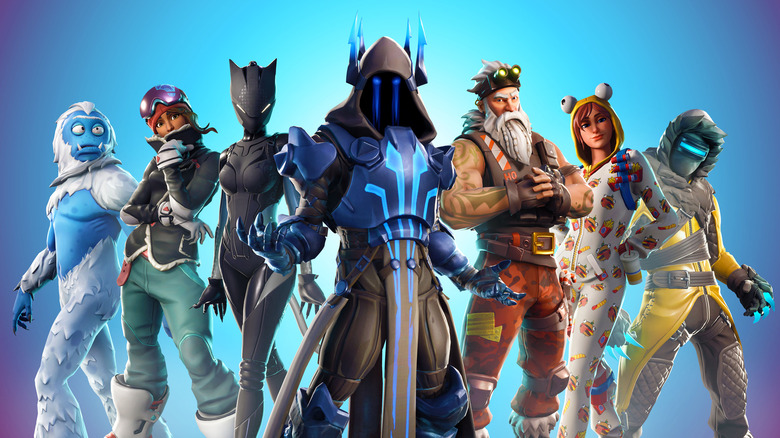 Fortnite isn't averse to taking risks, and in Season 7, the game is perhaps taking one of its biggest yet. Along with a new location, new cosmetics and a refreshed Battle Pass, Fortnite Season 7 is introducing something that players haven't ever seen before: airplanes.
As you can probably guess, that mysterious storm off in the distance did eventually bring cold weather to Fortnite. And now that winter's arrived, Fortnite: Battle Royale has new location called Frosty Flights. Ziplines have also been installed around the Battle Royale play space in order to help players quickly reach higher ground.
But the big change here has to be the airplanes. These aren't glider skins or any other kind of cosmetic. These are vehicles in the game that several players can hop into in order to go from point A to point B quickly. And they have turrets.
There will undoubtedly be dogfighting in the skies when multiple planes get off the ground at once, and that is pretty uncharted territory for Fortnite: Battle Royale.
In addition to the above changes, a newly stocked Battle Pass is now available for Season 7. There are a bunch of different rewards to unlock at various tiers in the pass, and a new type of cosmetic called a "wrap" that enables you to apply skins to weapons and vehicles in the game.
And finally, Fortnite's new Creative mode is now available early for those who purchase the Season 7 Battle Pass. Anyone who wants to jump into Creative without owning the Pass will have to wait until next Thursday, Dec. 13 in order to gain access.
Fortnite Season 7 will last a bit longer than most seasons. Epic noted on its website that "The Epic Games team will be taking its own holiday break this winter, so Season 7 will be extended by two weeks and end on February 28." That's plenty of extra time to level up that Battle Pass, and time to get a handle on flying one of those new planes.
Season 7 is available now.