GTA 6 'Moon Leak' Theory Shows How Desperate Fans Are Getting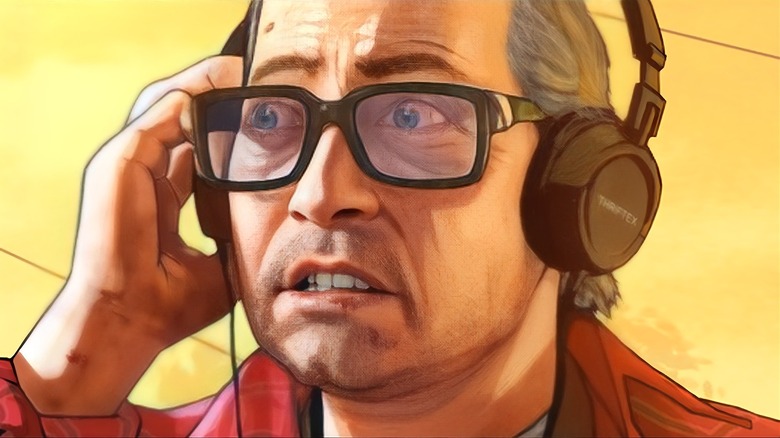 "Grand Theft Auto" fans have long since gotten desperate for any scraps of information regarding the next entry in the series. That desire has only become more powerful since massive sections of the game were leaked last year, and fans want to know when the game is going to be released. However, a new fan theory involving the phases of the moon might be the wildest one yet. 
Advertisement
@GTAVInewz on X (formerly known as Twitter) has put forth a rather complex theory about why they believe "Grand Theft Auto 6" could be announced this week. The theory springs from Rockstar's recent announcement of the Moon Festival event in "Grand Theft Auto Online," during which time players can earn the Red Happy Moon Tee in-game. @GTAVInewz believes that the image Rockstar shared to advertise the event may double as a secret hint towards upcoming "GTA 6" news.
The theory on how GTA 6 may be announced on Tuesday👀 pic.twitter.com/fjo2JVjx8E

— GTA 6 NEWS (@GTAVInewz) September 30, 2023
In the image, two characters can be seen standing in front of the Vinewood sign in the hills of Los Santos, both wearing the aforementioned Red Happy Moon Tee. As noted by @GTAVInewz, the two characters are standing in such a way that the "V" and "I" of the sign can be seen off to the side on their own — spelling out "VI" in Roman numerals. @GTAVInewz also notes that the "VI" could be a hint toward Vice City, the rumored setting for the game. These "clues" might already seem like a reach to observers, but @GTAVInewz's conspiracy theory goes even deeper than that. Here's how the moon itself is supposedly a hint towards the release of "Grand Theft Auto 6."
Advertisement
GTA 6 fans look to the moon for answers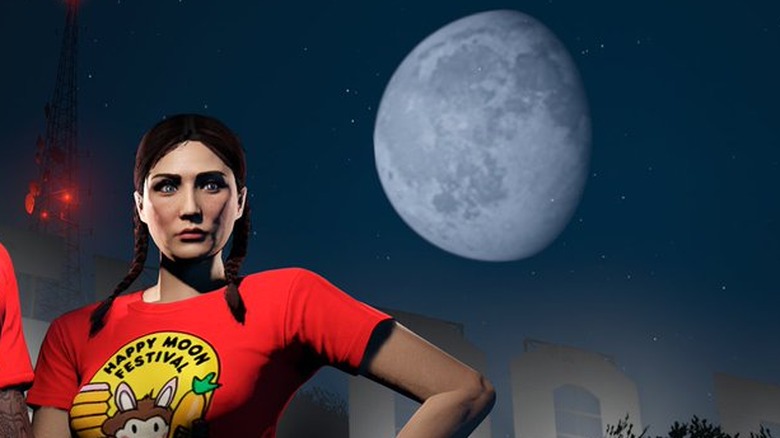 Rockstar Games
By matching up the phase of the moon in the teaser image with upcoming real-world phases, @GTAVInewz has determined that the moon will match the one seen in the teaser image on Tuesday, October 3, 2023. Therefore, @GTAVInewz believes that this is the date the game will be officially announced by Rockstar, because it supposedly lines up with previous game announcements and releases. The X user notes, "All Red Dead and GTA games have been announced on Tuesdays, especially October." To drive this point home, the image also includes a series of announcement and release dates for previous Rockstar games.
Advertisement
Unfortunately, not all of these dates line up with the theory. Although "Red Dead Redemption 2" was indeed released on Oct. 26, 2018, that date fell on a Friday, rather than a Tuesday. A number of fans have refuted this "evidence" in the replies to @GTAVInewz's post, while others have just taken to clowning on how over the top the theory seems.
One reply quips, "This is getting wild ... People are turning into Sherlock Homes." Some gamers have pointed out that Rockstar might not want to advertise "GTA 6" with a screenshot from a different game. Another fan notes that Rockstar would most likely want to clearly hype up an announcement before it happens, rather than play coy with the company's biggest IP. Basically, although this theory is a lot of fun, most fans just aren't buying it. 
Advertisement
I don't think they would just drop it before letting the fans know it's coming any day now

Eg. this tweet was posted 4 days before the first teaser trailer for read dead 2, I could see something similar for gta6 but that would be too short notice pic.twitter.com/5SjGEUwKlD

— Muzie (@Muzooki) September 30, 2023