GTA 6: What You Need To Know About The Projected 2024/2025 Grand Theft Auto Sequel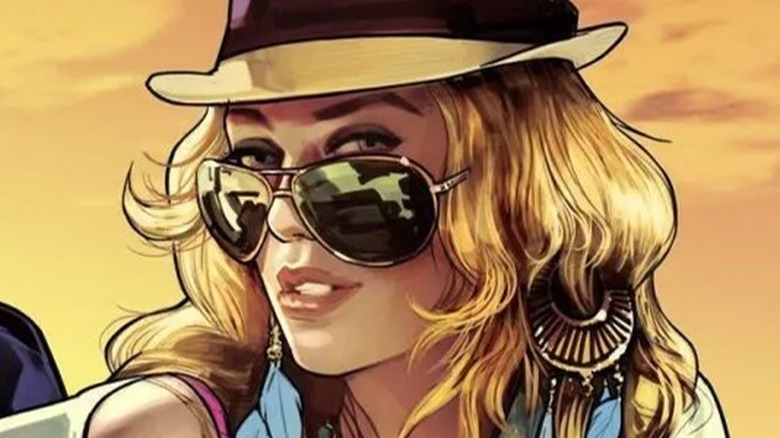 Rockstar Games
About a decade has passed since "Grand Theft Auto 5" hit the scene. Now available across three console generations, the game has demonstrated the extent of its staying power again and again. It's won numerous awards and raked in billions of dollars, with much of its longevity stemming from frequent updates to its online multiplayer component, "GTA Online."
Though "GTA 5" has proven a monumental success, fans have clamored for a sequel for years. Rumors, theories, and speculation frequently place the unnamed follow-up back in the headlines, often igniting and dashing hopes all at the same time. Despite this urgent clamor for information – even the smallest crumb – the developer and publisher behind the series have offered the community hardly any details. In fact, the bulk of what the world knows about "GTA 6" has come from outside sources. But that doesn't mean players have to wait completely in the dark.
When will GTA 6 be released?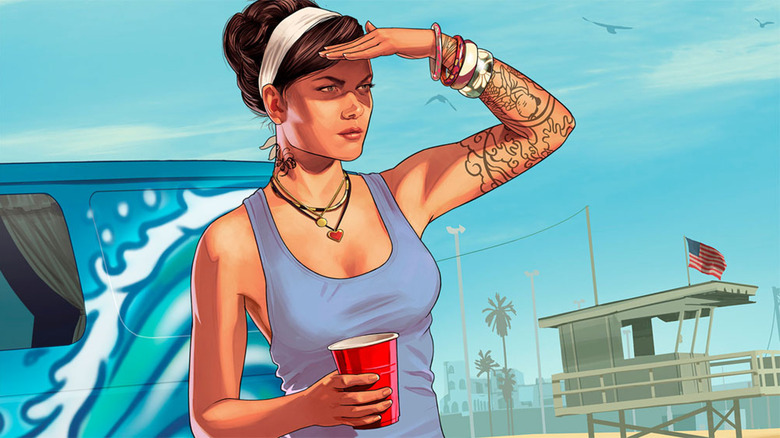 Rockstar Games
Rockstar Games and its parent company, Take-Two Interactive, have yet to confirm a release date for "GTA 6." However, it's possible to make an educated guess about the launch window based on the information that has been circulated so far.
In mid-2021, leaker Tom Henderson predicted that the "Grand Theft Auto" sequel would come out in 2024 or 2025. He suggested that a shift towards reducing the emphasis on crunch at the studio had impacted the production timeline. Plans to only drop the game for PS5, Xbox Series X|S, and PC may have pushed the target back even further, since the new consoles suffered from a lack of availability for some time after their debut. Bloomberg's Jason Schreier supported Henderson's claim on Twitter, stating that "Everything [he] has said about the game matches up with what I've heard."
A Take-Two earnings report from May 2023 could support the "GTA 6" release date rumors. The company shared that it had been gearing up for a while to release "several groundbreaking titles" in the 2025 fiscal year. This period spans October 2024 through September 2025, which would place the title's launch neatly in the anticipated time slot. Further comments from Take-Two CEO Strauss Zelnick have fans even more certain that the game is arriving sooner rather than later, as he anticipates record-breaking sales in the aforementioned fiscal year.
Who is developing GTA 6?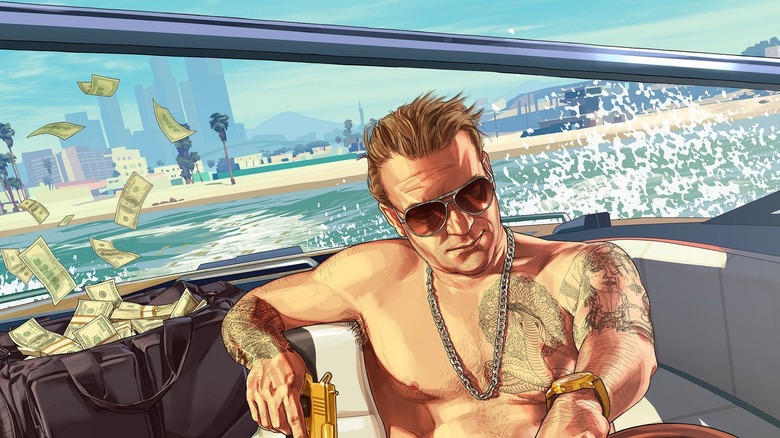 Rockstar Games
After years of silence, Rockstar Games finally announced in a press release "that active development for the next entry in the 'Grand Theft Auto' series is well underway." It has shared little else about the game, though it did state that it aimed "to significantly move beyond what we have previously delivered." "GTA 6" will mark the first new title the company has released since co-founder Dan Houser left in 2020. Houser served as a writer and/or producer on the bulk of Rockstar's previous games. His brother and co-founder, Sam Houser, continues to serve as the studio's president.
"Grand Theft Auto" has long been Rockstar's bread and butter, with the fifth numbered entry distinguishing itself as the second best-selling game to ever hit the market. The company also has several other well-known franchises in its stable, including the Western action-adventures of "Red Dead" and the stealth-focused "Manhunt." Rockstar consists of several subsidiary studios, with Scotland's Rockstar North traditionally handling development for "GTA."
What is the plot of GTA 6?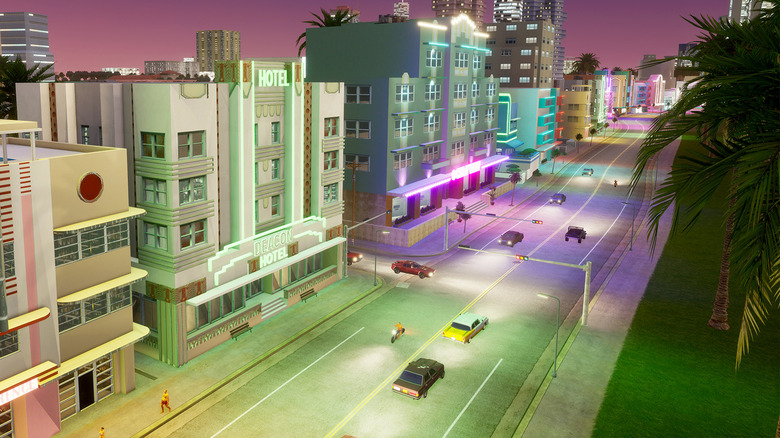 Rockstar Games
Much of what the community has unearthed about "GTA 6" stemmed from a massive leak in September 2022. Rockstar confirmed that the leak showed "early development footage for the next 'Grand Theft Auto'" in a tweet. The material included a host of videos and screenshots, some of which seemed to confirm details of the setting and plot, at least as they existed in that preliminary form.
It looks like the sequel will return players to Vice City, the setting of the fourth mainline installment in the "GTA" series. The leaked footage suggests that Rockstar has left the '80s behind in favor of a modern setting. In fact, the game's place in the timeline may fall after what transpired in "GTA 5."
Similar to its predecessor, the follow-up could also include multiple protagonists. The leak showed the player switching between two figures: Jason and Lucia. If Rockstar retained this detail, it would also confirm long-recurring speculation that "GTA 6" will feature a female main character (via Bloomberg).
How long has GTA 6 been in development?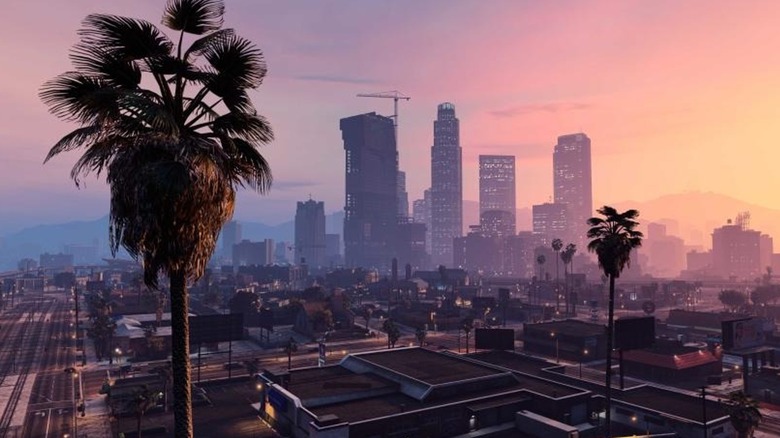 Rockstar Games
There's no way to guarantee that a particular game is going to be good. Massively successful AAA studios sometimes drop terrible releases, and indie developers have been known to release groundbreaking games. Pre-judging a game's quality is a fool's errand, but if we were going to be fools, there's one metric that might be helpful: development time.
Of course, some games get stuck in development hell and endure extremely long development times for no good reason, but games that are being actively developed over an extended period of time do have a tendency to turn out pretty great. "The Legend of Zelda: Tears of the Kingdom" famously had an extra year added to its development cycle, and almost everyone agrees that the game is a masterpiece. A ton of money and a extra-sized team can work wonders on a game, but there's really no substitute for time.
And with that metric in mind, "GTA 6" is already looking good. The 2022 Rockstar leak revealed how far along "GTA 6" is (to an extent), and excited fans did some extra sleuthing to piece together how long the developers have been working on the game. By digging through a LinkedIn profile for a former Rockstar team member, fans were able to figure out that "GTA 6" development likely began in 2015. Putting nearly a decade of dedicated effort into a single game is bound to pay off in one way or another, and gamers can't wait to see how Rockstar spent its time.
Will GTA 6 get delayed?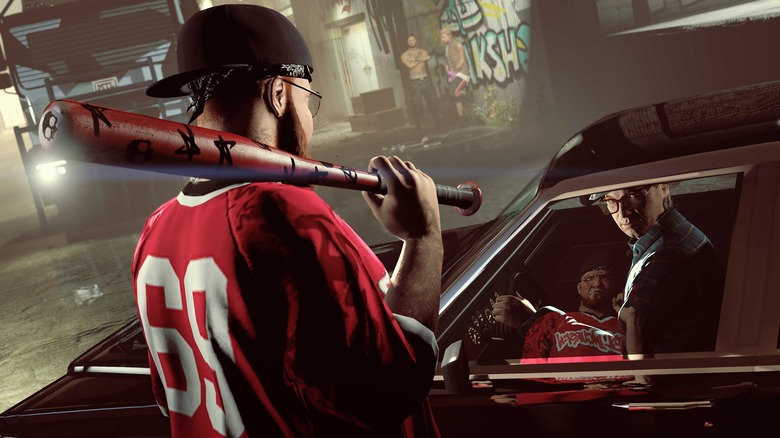 Rockstar Games
Given the amount of leaked footage and information, players may wonder if "GTA 6" will get hit with a delay to allow the developers to change aspects of the title. Rockstar Games made its feelings about the leak, which stemmed from an illegal "network intrusion," quite clear. "We are extremely disappointed to have any details of our next game shared with you all in this way," it expressed in its Twitter statement. However, it also emphasized that "work on the next 'Grand Theft Auto' game will continue as planned," indicating the event wouldn't have a lasting effect on its strategies.
Rockstar may be confident about its launch plans, but Tom Henderson has expressed some doubt. In an early 2023 tweet, he suggested that "GTA 6" would receive a 2024 launch target before getting pushed into 2025. Rather than focusing on the fallout of the leak, he suggested that the delay would stem from the state of the "current-gen console market," and that Take-Two might prefer to release the sequel in 2025 to give it the best chance for high sales numbers.
What will the gameplay be like in GTA 6?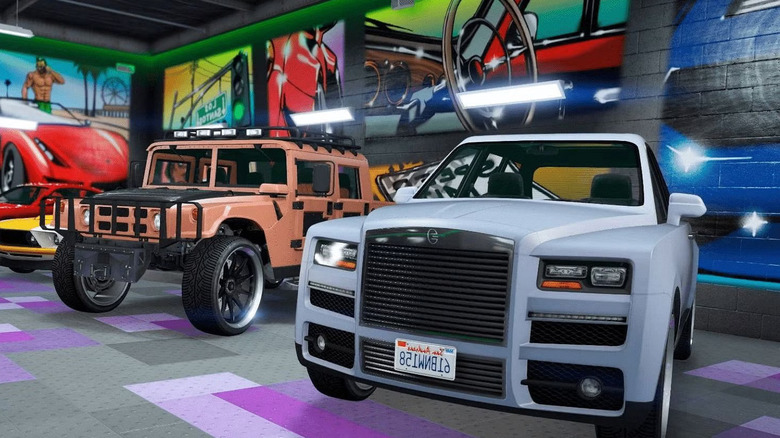 Rockstar Games
Based on the leak, players can expect a similar experience to "GTA 5" interspersed with some fresh mechanics and systems. The footage included some new stealth gameplay, including the option to crawl around while prone. Jason and Lucia, the presumed protagonist duo, take hostages in a diner and later steal a car to evade the police. In another scene, Jason surveys a convenience store using a targeting skill reminiscent of Deadeye from "Red Dead Redemption."
It appears that players will have the option to move around town using the Vice City Metro. Locations from "GTA 3" like Malibu Club and Little Haiti seem slated to make a comeback. Rockstar also could offer a much larger map to play in this time around, with points of interest appearing outside of the city limits. As they navigate these areas, the game will seemingly switch player control between the two main characters, with AI taking over for the unused party member.
How big will the GTA 6 map be?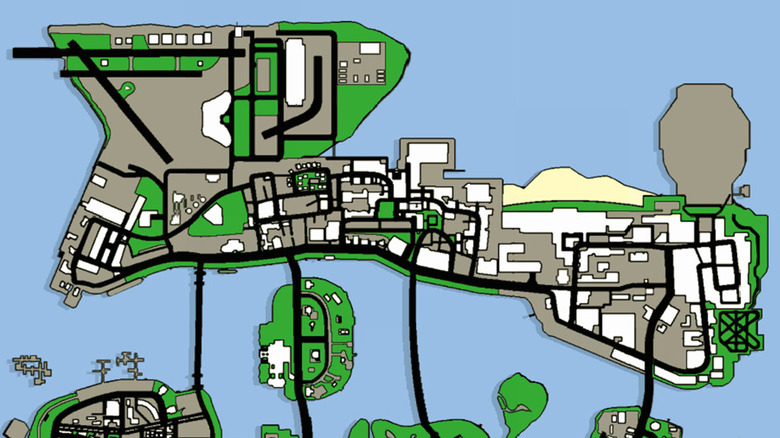 Games keep getting bigger. It's not just that developers are finding ways to fill their virtual worlds with more NPCs, more missions, and more exciting discoveries for players to stumble into; the maps are literally growing as the years go by. You can see this trend playing out in games like "Elden Ring" and "Diablo 4," and "GTA 6" is absolutely going to follow that same trend.
Rumors about the "GTA 6" map have been swirling for a long time. In early 2022, some analysts were predicting that the game would entirely break from the series tradition and allow players to explore multiple cities in multiple continents. As exciting as that might be, leaving the states in a "GTA" game sounds a little far-fetched, and the big footage leak later that year seemed to put some cold water on that particular rumor.
These "GTA 6" leaks all but confirmed that the game is going to be set primarily in Vice City, but it won't exactly be the version of that fictional city with which fans are already familiar. "GTA 5" offered gamers the biggest map in the entire series, but fans who really dug through the 2022 leaks discovered that "GTA 6" may its predecessor's map out of the water. Vice City will take up a sizable portion of that map, but fans can expect to be spending plenty of time exploring the surrounding environs. "GTA 6" will really be a game you can lose yourself in.
I lined up the GTA V coordinates with the GTA VI coordinates found in the leak
by
u/ChurchofGTA in
GTA6
Will GTA 6 be online?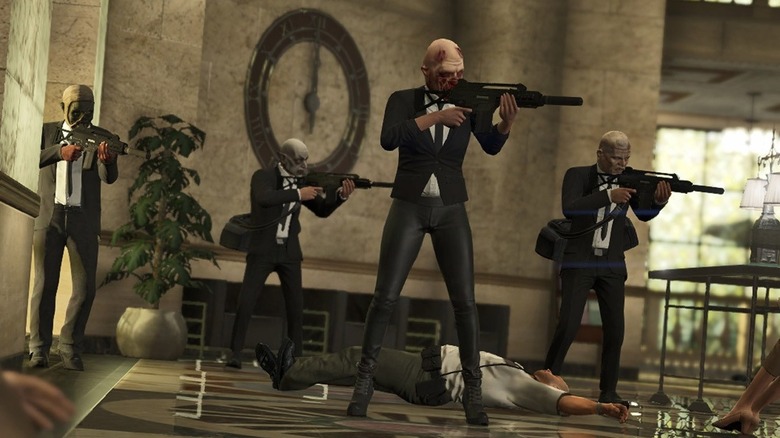 Rockstar Games
Developing a game is all about marrying new ideas to elements that have proven successful in the past. When Rockstar looks back at various "GTA" games, it might pay special attention to elements that were particularly celebrated by critics, or moments in games that had a big cultural impact. And most likely of all, the devs will look at the innovation that helped sell over 180 million copies. As of 2023, "GTA 5" accounted for nearly half of all game sales for the entire "GTA" series, and there's no doubt that the game's online features had a big role to play in those sales.
With that in mind, there's not much of a question of whether or not "GTA 6" will have an online component. Instead, we need to ask how "GTA 6" will implement its online features, and there's at least one sign that the game is going to do something entirely new for the series. In September 2022, Rockstar filed a patent called "System And Method For Virtual Navigation In A Gaming Environment," which might hint at "GTA 6" being always online.
Rockstar's new system is aimed at improving NPC pathfinding. Essentially, the goal is to make a virtual city feel alive by filling it with NPCs that behave realistically. The patent proposes having cloud servers do all the calculations for NPC paths, rather than asking a player's console or PC to do the heavy lifting. It's possible "GTA 6" will require a constant internet connection, but it's also likely that it will have the most realistic-feeling city gamers have ever explored.
Who will star in GTA 6?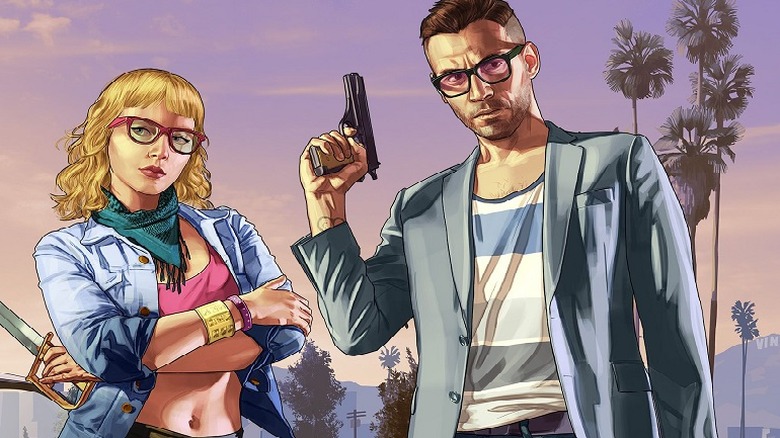 The "GTA" series is as much about gameplay as it is about characters. The games might be known for letting fans hijack cars and wreak havoc on an unsuspecting city, but there's always a surprisingly deep story told alongside all the shenanigans. Well-written characters need talented voice actors to bring them to life, and fans have started to figure out who might be portraying some of the characters we'll see in "GTA 6." We may already know two of them.
Back in 2020, one "GTA 6" voice actor broke his silence after fans took notice of some changes in his work history. Jorge Consejo quietly updated his resume to include "GTA 6," but he probably didn't expect fans to jump on the change quite so quickly. Consejo, who listed a character called "The Mexican" on his work history, seemingly addressed the issue in a post on Twitter: "While I read every message from you, please know that because of contract stipulations sometimes I'm unable to comment on certain projects." Nothing to see here, right?
In May 2023, another rumored "GTA 6" actor's Instagram post sent the internet into a frenzy. Bryan Zampella posted a picture that would seem innocuous to anyone who didn't follow the Rockstar leaks in 2022. The photo — which Zampella later took down — shows him standing on a beach wearing a white tank top and a backwards red baseball cap. That just so happens to be the exact outfit fans saw Jason, one of the supposed "GTA 6" protagonists, wearing in the leaked game footage.
The rumored actor for Jason in GTA 6 cosplaying as his character on Instagram.

Rockstar reveal the game!! 😭 pic.twitter.com/vlDfbVPW8F

— Gaming Detective (@that1detectiv3) May 20, 2023
Where to play previous GTA games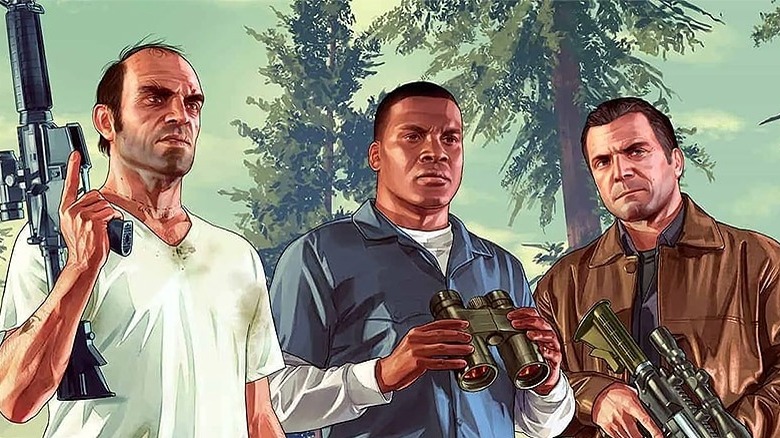 Rockstar Games
The "GTA" series has received seven mainline entries over the years that span multiple generations of systems. Those who haven't already experienced the smash hit that is "Grand Theft Auto 5" have a few options for getting in on the action. Players still rocking last-gen consoles can purchase a physical or digital copy for PS4, Xbox One, or PC. Anyone who has upgraded to PS5 or Xbox Series X|S can pick up the "Expanded and Enhanced" version, which features improvements designed to take advantage of the power of the new systems.
Rockstar released remasters of three of the older "GTA" installments in 2021 as a bundle dubbed "Grand Theft Auto: The Trilogy – The Definitive Edition." The set comes with "GTA 3," "Vice City," and "San Andreas," and can be purchased for current and last-gen consoles, PC, Switch, Android, and iOS. The trio quickly became the lowest-rated release of its year on Metacritic due to a host of issues and glitches. However, for those without access to early PlayStation, Xbox, or PC models, it's likely the best (maybe even only) way to experience the three games firsthand. With "GTA 6" likely returning to Vice City, players may desire to familiarize themselves with the original version of the setting.