$69 Billion Microsoft Deal Signals Major Shakeups At Activision Blizzard
The merger between Activision Blizzard and Microsoft is finally complete, and some fans truly believed they'd never see the day. The deal has been under siege ever since it was announced almost two years ago. Multiple parties attempted to block Microsoft's purchase of Activision Blizzard over concerns that such a partnership would create unfair monopolies within the gaming industry. The final regulating body holding up the deal, the UK's Competition and Markets Authority (or CMA), has finally allowed a revised version of the original deal to move forward, clearing the way for Microsoft to finalize its $69 billion purchase.
Advertisement
In a statement released today, CMA Chief Executive Sarah Cardell said, "The CMA is resolute in its determination to prevent mergers that harm competition and deliver bad outcomes for consumers and businesses." The regulator is now confident that it has accomplished its mission with Microsoft's new deal. However, Cardell added that the CMA is still unhappy with the moves Microsoft made throughout the negotiation process: "businesses and their advisors should be in no doubt that the tactics employed by Microsoft are no way to engage with the CMA."
Almost immediately, things have begun to change in a huge way for both Microsoft and the newly-acquired Activision Blizzard. Not only does it sound like Xbox is fast-tracking AB titles for its wildly successful Game Pass subscription service, but Activision's embattled CEO is also stepping down from his position after more than three decades with the company.
Advertisement
Phil Spencer updates Game Pass fans and Bobby Kotick steps down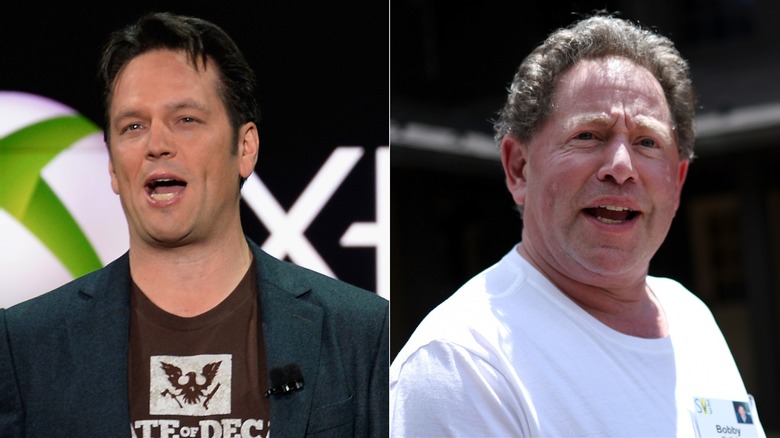 Kevork Djansezian & Kevin Dietsch/Getty
Phil Spencer, CEO of Microsoft Gaming, took to the Xbox Wire blog to tell fans how excited he is for the merger. In the process, he teased some of the upcoming developments that gamers should be looking out for: "Today we start the work to bring beloved Activision, Blizzard, and King franchises to Game Pass and other platforms. We'll share more about when you can expect to play in the coming months." It's unclear if this means "Modern Warfare 3" will be on Xbox Game Pass after all, but this blog post has certainly given some fans a bit more hope in that regard.
Advertisement
Meanwhile, Activision CEO Bobby Kotick has announced he will be leaving the company at the end of 2023. Kotick has come under fire over the last few years for allegedly ignoring multiple sexual harassment cases at Activision Blizzard during his tenure as CEO, leading to many calling for his resignation prior to this announcement. In an email sent to Activision Blizzard employees (via IGN), Kotick revealed that the time has finally come for him to say goodbye to the company: "Phil [Spencer] has asked me to stay on as CEO of ABK, reporting to him, and we have agreed that I will do that through the end of 2023." It remains to be seen who will take Kotick's place, but 2024 will officially mark the beginning of a new era for the gaming giant.
Advertisement