Markiplier Breaks His Silence About The Five Nights At Freddy's Movie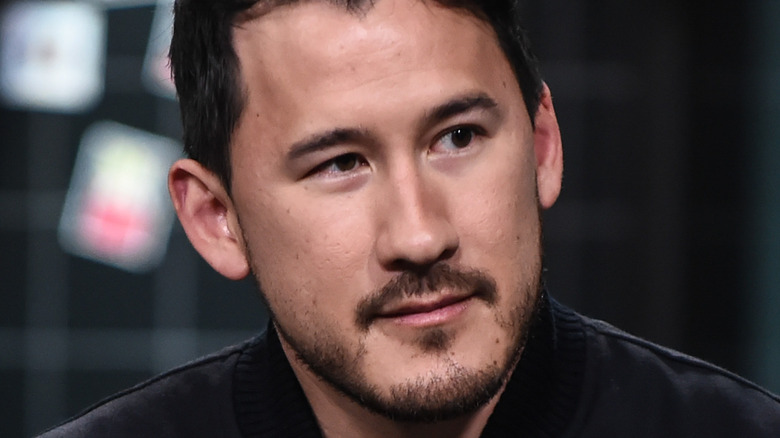 Daniel Zuchnik/Getty Images
Markiplier is a pretty spooky guy, all things considered. Though probably best known for his sense of humor and his growing talents as a filmmaker, many of the content creator's subscribers first became aware of him through his "let's play" videos surrounding horror games. The "Five Night's At Freddy's" franchise has become a particular fan favorite in Markiplier's community, with the YouTuber screaming his way through a number of installments in the series. For his efforts, fans have even taken to calling Markiplier "the King of FNAF." Because of this, and because of his own acting chops, many of Markiplier's devoted viewers have held out hope that the YouTuber might make an appearance in the upcoming "Five Nights At Freddy's" movie. Up until now, Markiplier has remained pretty tight-lipped where that motion picture is concerned.
Advertisement
It wouldn't be too far-fetched for Markiplier to turn up in the movie. After all, fellow YouTuber CoryxKenshin has been prominently featured in trailers for Blumhouse's highly anticipated video game adaptation. The production of the movie is clearly paying tribute to the creators who have brought the games to a wider audience, so what about Markiplier? Earlier this year, the YouTuber cast some doubt on a cameo appearance during an interview with Variety, saying, "Everyone wants to know, there was a lot of confusion. Yeah, I can't say anything particular about that. There was a lot of scheduling conflict." Since then, he's mostly avoided the topic entirely. Even so, fans continued to hold out hope for a Markiplier cameo in the movie. Now, with the movie's October 27 release date quickly approaching, Markiplier has definitively revealed if he's going to be in the film. His answer is probably not what fans wanted to hear, but there is a silver lining.
Advertisement
Markiplier talks FNAF and Iron Lung
Markiplier recently went live on his YouTube channel to catch fans up on his life and stream a bit of a popular fan-made game, "Fazbear Nights." During the stream, he hyped his upcoming film adaptation of indie horror sensation "Iron Lung" — which he wrote, directed, and starred in — and explained why he unfortunately had to step away from the "Five Nights At Freddy's" movie. A few minutes into the stream, Markiplier smiled sadly and said, "I wanna say unequivocally, that unfortunately, I am not [in the 'FNAF' movie]."
Advertisement
Despite his earlier comments to Variety, there were still plans for him to make an appearance in the film at one point, but it ultimately did not fit into his exceedingly busy schedule. "Five Nights At Freddy's" was originally on track to begin filming in 2021, but issues with the script led to the Emma Tammi-directed picture being delayed by a couple of years. When filming finally started in February 2023, the shooting schedule for the frightful flick overlapped with Markiplier's own schedule for "Iron Lung."
"I was supposed to be out there for two days ... but unfortunately, it was one of those things where I needed every second that I had to make my movie what it needed to be. And unfortunately, even though the timing was, like, maybe going to line up, It was one of those things where I had to make a call," Markiplier said. "Because I wouldn't expect them to compromise the quality of their project for me, and just in the same way ... I would hope that they wouldn't expect me to compromise a project of my movie for them."
Advertisement
There's still hope for FNAF and more horror in Markiplier's future
Markiplier reassured his fans watching the chat that there was no bad blood between himself and the team behind "Five Nights At Freddy's." He reiterated that he really wanted to be in the movie, even remarking that he'd have appeared in the flick for free, but it simply didn't work out timing-wise. Markiplier also explained that he had been evasive about discussing the movie in the past because he also held out hope that he could squeeze into the final cut of the movie before it released. As it stands, "FNAF" will make its cinematic debut without Markiplier in tow. 
Advertisement
On the plus side, fans won't have to wait long to see Markiplier in a spooky video-game-inspired film. Based on the post-apocalyptic game of the same name, "Iron Lung" is already attracting attention among genre fans for possibly breaking a record for most blood in a horror film. Markiplier recently released the first live-action teaser trailer for the movie, which already features more blood than some people use in entire franchises. The game follows an explorer trapped in a submarine in an ocean of blood, so that should give you an idea of the kind of cosmic horror that Markiplier is cooking up. Though longtime fans are certainly bummed to hear that Markiplier won't be in "Five Nights At Freddy's," many are beyond excited to see that he's still going all-in on another scary adaptation.
Advertisement
It's also worth mentioning that fans might get to see Markiplier interact with demonic animatronics in the future, as "FNAF" creator Scott Cawthon has expressed interest in having Markiplier appear in a possible sequel to the movie. Hopefully the YouTuber's schedule will allow for such a crossover.
Scott Cawthon would like Markiplier to star in a future 'FIVE NIGHTS AT FREDDY'S' movie if another film happens!

This comment was made after Mark confirmed scheduling conflicts with his own upcoming film, 'IRON LUNG', withheld his planned appearance in the official FNaF Movie,... pic.twitter.com/htp8fEivJ3

— JonnyBlox (@JonnyBlox) October 16, 2023