Xbox Game Pass And Sling TV Team Up For A $1 Deal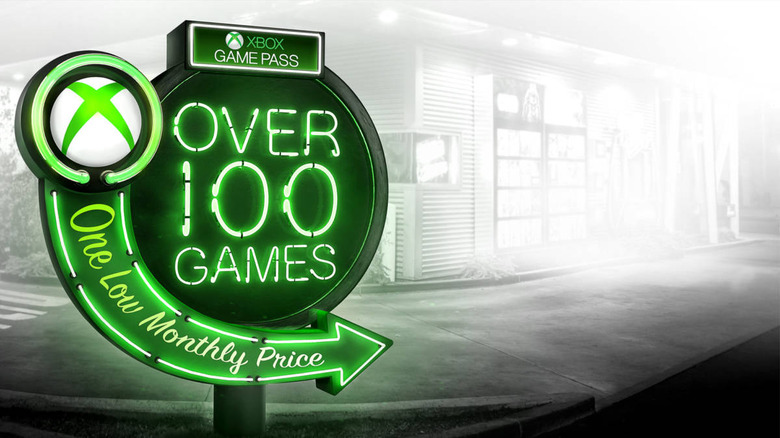 If you're not an Xbox Game Pass subscriber yet, today is your lucky day. Microsoft is partnering with Sling TV to offer a promo subscription bundle for both Game Pass and Sling TV. And it'll cost you just $1 for the first month.
There's a whole lot to like about Game Pass. The service, which typically costs $10 a month, is home to all of Microsoft's first-party exclusives and a bunch of third-party titles. That means you can play games like Halo 5: Guardians, Forza Horizon 4, Sea of Thieves, and more as part of the subscription. Now that Microsoft went on a tear acquiring new studios, you can expect their new titles to wind up there, too, just as Hellblade: Senua's Sacrifice and We Happy Few did. And, of course, games like Crackdown 3 and Gears 5 will enter Game Pass the day they hit stores.
Sling TV is also a pretty well-regarded service, but for over-the-top internet TV. There are different packages you can choose from, depending on which channels you want access to. There are cloud DVR add-ons that don't require you to rent a box from the cable company. And you can leave the house and still have access to every single channel you're paying for on your phone or tablet. That's not always something cable providers like Comcast or Verizon will let you do.
As you probably imagined, there is a Sling TV app available for the Xbox One, which means you won't have to travel too far from your games to watch some TV. Just search the Microsoft Store for it on the Xbox One.
According to Microsoft, the deal for Game Pass and Sling TV starts today and ends on Jan. 30. So if you're looking to gain access to a bunch of new games (100+) and try out the Sling TV service, you might not find a better deal than the $1 offer Microsoft has at the moment.