Five Nights At Freddy's YouTuber Cameos Explained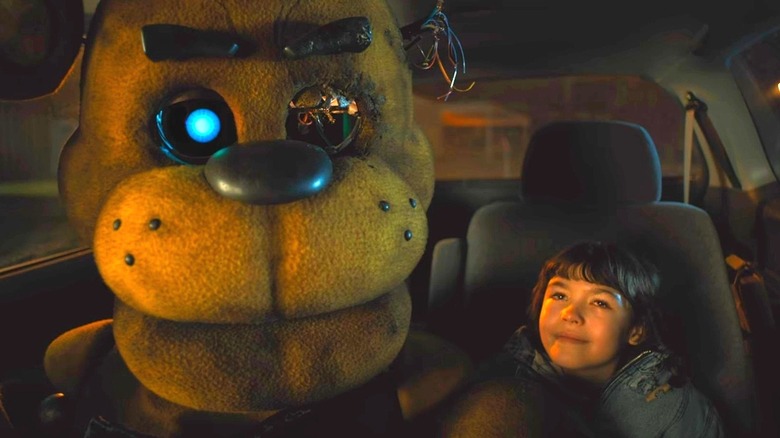 Universal Pictures
Contains spoilers for "Five Nights At Freddy's"
The long-awaited feature film adaptation of "Five Night's At Freddy's" currently has the box office in a stranglehold. The animatronic fright flick opened to a staggering worldwide total of $130 million in its first weekend in theaters, blowing away all initial predictions. A huge factor in this success is the movie's controversial PG-13 rating, which opened it up to a wider audience, but the movie wouldn't be nearly as much of an event without the franchise's enormous fanbase, which turned out to see the movie in droves. Many of these fans have been playing the games since the first entry arrived in 2014, but the game series arguably took off when it was picked up by YouTubers and streamers, who have spent hours braving every jumpscare and untangling the franchise's lore for their adoring viewers. 
Advertisement
The powers behind the "Five Nights At Freddy's" movie certainly recognized this fact and decided to pay a number of YouTubers back by featuring them in the film. Fans have spent their first few viewings of the film picking out the various cameos, some of which are so quick that you might miss them if you look away for a moment (or cover your eyes in fright). For instance, a brief shot of an "employees of the month" display at Freddy Fazbear's Pizza is actually full of headshots of YouTubers who have contributed to the franchise's popularity: Dawko, 8-Bit Ryan, Baz, Razzbowski, and FusionZGamer.
This is the Employees of the Month board from the FNaF movie. As you see Dawko is pointing to himself. The person in the Top Left by Dawko's head kinda looks like Razzbowski. Do you think Dawko and Razzbowski will be in the movie??
by
u/jxwzz-is-twizzy in
fivenightsatfreddys
Advertisement
However, those aren't the only recognizable content creators to pop up in Freddy's debut film. Two other big cameos really stuck out to fans.
MatPat
Matthew "MatPat" Patrick is best known for creating The Game Theorists and its related channels on YouTube, and he's spent a good bit of time on his primary channel discussing the complicated lore in "Five Nights At Freddy's." The games are notorious for employing dream logic and ambiguity in their storytelling, which has made some of its finer points a bit harder to nail down. As the name would imply, The Game Theorists channel has become a great source of info and debate for the "FNAF" fandom, with MatPat's catchphrase turning into almost a rallying cry for lore fanatics: "That's just a theory. A Game Theory." 
Advertisement
MatPat's role in "FNAF" history is referenced directly in his cameo appearance. While Mike Schmidt (Josh Hutcherson)'s scheming Aunt Jane (Mary Stuart Masterson) meets with her cohorts in a diner, MatPat sidles up to the table as an oddly eager waiter. Upon being told that they're not hungry, he tells them that "lunch is the most important meal of the day." When he's told that this old saying actually applies to breakfast, MatPat fires back, "Some people say that, but you know ... it's just a theory."
Since the movie's premiere, MatPat has explained that he learned on set that Markiplier was originally supposed to appear in the film as a doomed security guard, but his schedule unfortunately prevented him from filming his part. However, there is one other YouTuber in the film — and this one gets to have a spooky run-in with Freddy himself.
Advertisement
CoryXKenshin
Cory "CoryXKenshin" Williams is another YouTuber who exploded in popularity when he began diving into scary games on his channel. Fans have come to love his trademark sense of humor in the face of horror, particularly during playthroughs of the "FNAF" series. It makes perfect sense that he'd also make an appearance in the movie.
Advertisement
CoryXKenshin arguably has a slightly more substantial role in the movie. He not only facilitates the dramatic final act of the movie, but he also appears in a surprising mid-credits scene. In the first of his scenes, Cory picks up Mike's little sister, Abby, who has just been abducted by the gnarled-up Golden Freddy animatronic. Cory earns one of the biggest laughs in the movie as he tilts his rearview mirror and sees Freddy in the backseat, which causes the YouTuber-turned-cabbie to nearly hop out of his skin. He reluctantly agrees to take Abby and Freddy to their destination, remarking, "Why do I always get the weirdos?"
Though it'd be easy to assume that Freddy dealt with this cabbie off-screen, Cory's character reappears partway through the movie's end credits. While napping in his taxi, Cory hears a knock on his passenger side window. He tells them to go away because he's on break, but the knocking persists. When Cory looks up to give this would-be passenger a piece of his mind, he's instead greeted with another jumpscare: Staring him down from the passenger seat is none other than the possessed animatronic Balloon Boy, who appears in the movie as a tiny figurine. It's unclear if this scene is just put into the film for a laugh, or if Balloon Boy will play a bigger part in the sequel. Who knows? Maybe the next movie will start with CoryXKenshin dropping Balloon Boy off in another location.
Advertisement