Five Nights At Freddy's Mid-Credits Scene And Secret Message Explained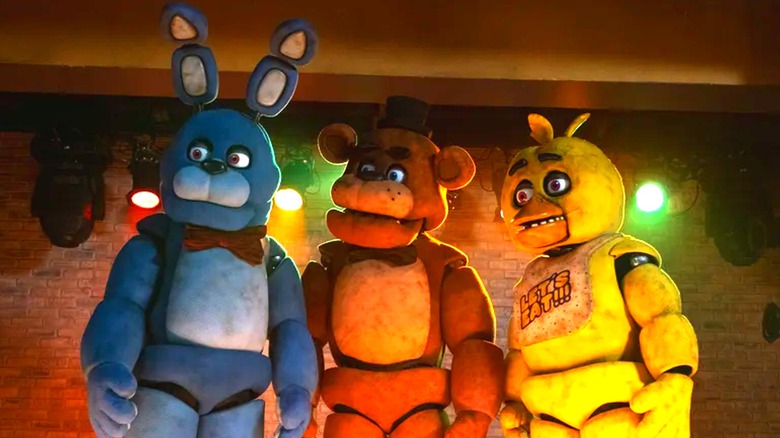 Universal Pictures
Contains spoilers for "Five Nights At Freddy's"
"Five Nights At Freddy's" is having a spectacular run in movie theaters, despite mixed reviews from critics and non-fans. Gamers who have followed the series' twisted lore are finding a lot to enjoy about the PG-13 horror flick, even with all of the changes that have been made to the source material. With such a strong box office performance, it seems like only a matter of time before Blumhouse and Universal Pictures announce a sequel. Adding to the hype for a continuation is the fact that the movie contains some interesting hints about where the series could go next. In addition to some plot threads that are left dangling by the time the credits roll, the new film also contains some teases in the actual credits.
Advertisement
The first of these takes the form of a traditional mid-credits scene, which has become pretty standard for most franchise fare these days. The second is a bit more difficult to discern, and the exact meaning of this secret message has led to some debate among fans. Let's dig into them.
A mid-credits jump scare from Balloon Boy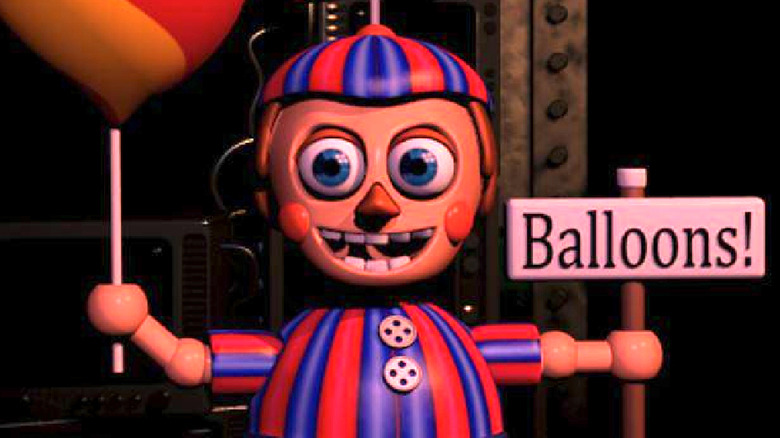 Scottgames
The first scene during the credits is pretty straightforward, but will most likely leave newcomers to the franchise feeling like they missed something. At a couple of points during the movie, Mike spots a figurine of the eerie Balloon Boy animatronic at the pizzeria. The teeny little toy is first seen when security guard Mike Schmidt (Josh Hutcherson) opens up his locker on his first day work, then later on as Mike gathers things from a supply closet. It's unknown if this diminutive bobblehead version of Balloon Boy corresponds with a full-size animatronic lurking elsewhere in the pizzeria. Whatever the case, the Balloon Boy figurine's appearance is a funny easter egg for fans of the series — or so it seems.
Advertisement
Partway through the film's end credits, viewers learn that there may be much more to the figurine than it seems. As the cabbie from earlier in the movie (played by YouTuber CoryXKenshin) chills in his cab, he's startled awake by the sudden appearance of the Balloon Boy toy. This figurine can seemingly move of its own accord when nobody is looking, making its earlier appearances feel even more unsettling in retrospect. As in most of the games, this version of the character also doesn't seem to be outwardly violent, though he's known to sabotage tech and make life a living hell for anyone who encounters him. The scene cuts to black before we find out where the cabbie is supposed to be taking Balloon Boy — perhaps to a certain "Sister Location?"
Advertisement
An eerie end credits message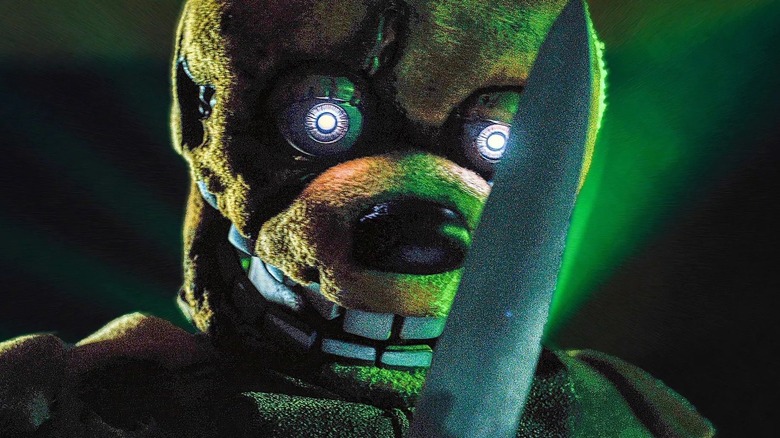 Universal Pictures
"Five Nights At Freddy's" offers one more mystery to viewers at the very tail end of the credits. Rather than showing another brief scene, an eerie voice offers an audio clue for those listening closely. Speaking one letter at a time, the animatronic voice spells out "C-O-M-E F-I-N-D M-E." Whether this is a command or a plea is still up for interpretation. Fans certainly have their theories, some of which point towards a future movie adapting the events of 2014's "Five Nights At Freddy's 2."
Advertisement
As pointed out by a few viewers, the robotic voice sounds remarkably similar to the one that spells out "SAVE THEM" in a series of minigames from "Five Nights At Freddy's 2," which depicts William Afton's brutal murders at the pizzeria. This could imply that the voice belongs to Afton (Matthew Lillard), who has finally become a ghostly animatronic himself following the brutal attack in the film's climax. Other fans have theorized that this could be the spirit of Mike's little brother Garrett, who was killed by Afton prior to the movie's events. It's possible that Garrett could also be inhabiting one of the animatronics, with one theory holding that Garrett may reappear in the sequel as the terrifying Puppet — the main antagonist of "Five Nights At Freddy's 2."
Advertisement
C O M E F I N D M E#FNAF #FNAFMOVIE pic.twitter.com/mx4m6Wl1lg

— WillyWill (@willyboiiiiiii) October 29, 2023
Fans will no doubt continue to debate the meaning behind these sequel teases until the filmmakers weigh in on them. Until that happens, it'll fun trying to connect all of the spooky dots.