The Real Reason We'll Never See A GTA Movie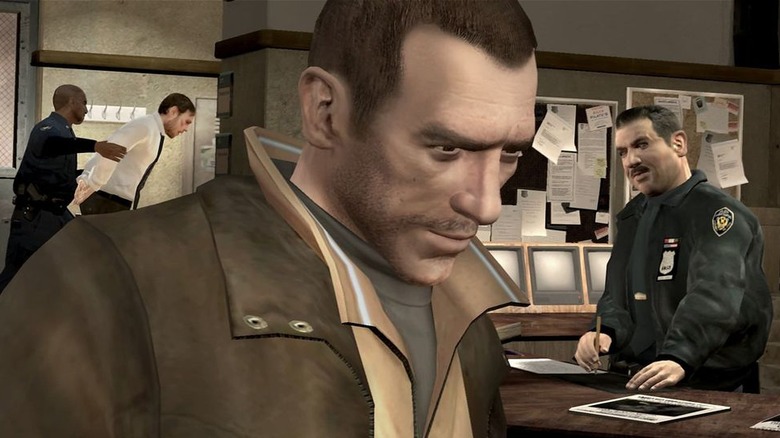 Rockstar Games
"Grand Theft Auto" is an unstoppable juggernaut of a game franchise. Even after a decade on the market, the popularity enjoyed by "Grand Theft Auto 5" and "GTA Online" shows no signs of decreasing in the near future, and that fan loyalty will no doubt continue when "GTA 6" finally releases. With that in mind, and with Hollywood adaptations of popular video games on the rise in recent years, many fans have wondered when the "Grand Theft Auto" franchise might get the chance to shine in a film of its own.
Advertisement
It certainly seems like a no-brainer to try and make a "GTA" movie, right? With "The Super Mario Bros. Movie" smashing box office records and creating return business for younger gaming fans, shouldn't older fans have a flick they can flock to? As it turns out, a few motion picture studios have indeed shown interest in making Rockstar Games' crown jewel into a full-fledged multimedia franchise, but the developer/publisher has always turned these offers down. Read on to learn why "Grand Theft Auto: The Movie" hasn't happened yet.
Why hasn't a Grand Theft Auto movie happened yet?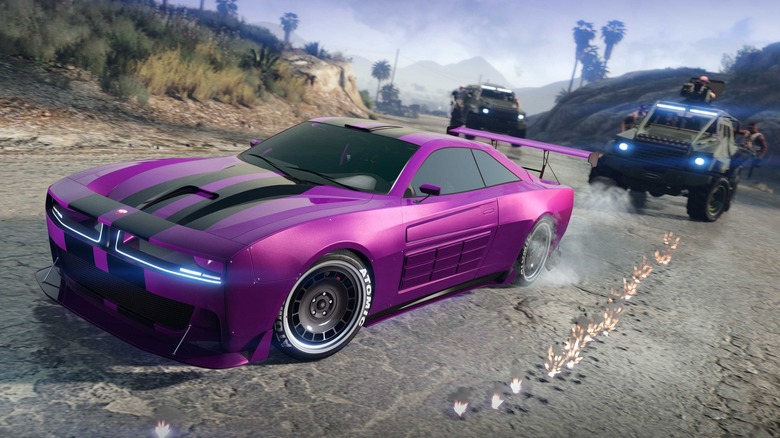 Rockstar Games
A few of the heavy-hitters behind Rockstar Games have spoken on the subject of a potential "Grand Theft Auto" movie over the years, and they haven't left much hope for the project at this point in time. For instance, Strauss Zelnick — CEO of Rockstar parent company Take-Two Interactive — has argued that Rockstar needs total creative control for any "GTA" film project, which is one reason why it hasn't happened yet. "You have the most valuable intellectual property ever created by mankind: 'Grand Theft Auto.' We wholly own and control it," Zelnick told The Wrap in 2019. "Are we really going to let go of that and hope that someone — no matter how talented they are — will do a really good job with it?" It seems the answer remains a firm "no."
Advertisement
That hasn't stopped the topic from coming up time and time again, however. During a call with investors in November 2023 (via PC Gamer), Zelnick argued that there's a much higher risk of failure for a "GTA" film than there is for a new game. "[Films are] super challenging. They're not what we do," Zelnick explained. "We'd much prefer the risk/reward profile of the business we're in." On top of that, Zelnick argued that Rockstar stands to make more money by putting out new games, rather than making do with accepting a licensing fee for a film adaptation that might flop. Ultimately, Rockstar is just much happier staying in its lane and making hit AAA games. 
Rockstar's co-founder weighs in on a GTA movie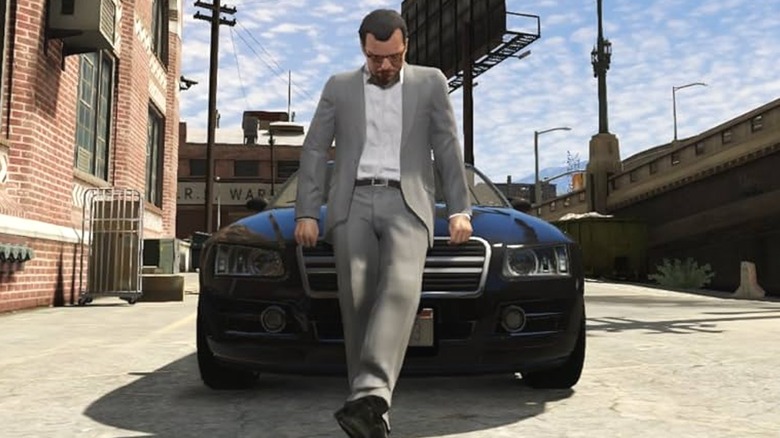 Rockstar Games
Speaking with The Guardian in 2013, Rockstar co-founder Dan Houser explained that the developer is wary of dealing with the movie-making studio machine. "We've been offered, many times, and it's never appealed. The money's never been close to be worth risking one's crown jewels. Our small dabblings with Hollywood have always left us running back to games." According to Houser, one of the major drawbacks to working within the Hollywood studio system is that any "GTA" project would likely get noted to death over the course of script meetings and test screenings.
Advertisement
However, it's not just a fear of watering the material down that makes Houser and company not want to deal with the stress of making a movie. Houser has also argued that a film or TV adaptation would functionally strip away everything that makes the games appealing: "We've got this big open-world experience that's 100 hours long, and that gives players control over what they do ... How do you condense that into a two-hour or 12-hour experience where you take away the main things: player agency and freedom?" Due to this belief, Houser and co. have turned down pitches backed by serious talent, including a version that could have been directed by Tony Scott and starred Eminem.
Similarly to Zelnick, explained to The Hollywood Reporter in 2011 that Rockstar would want full creative control over an adaptation if one came to pass, but that the developer is in no hurry to leave gaming behind just yet. However, it's worth noting that Houser has since left the company — so what if the powers-that-be at Rockstar changed their minds about a movie?
Advertisement
What could be explored in a GTA movie?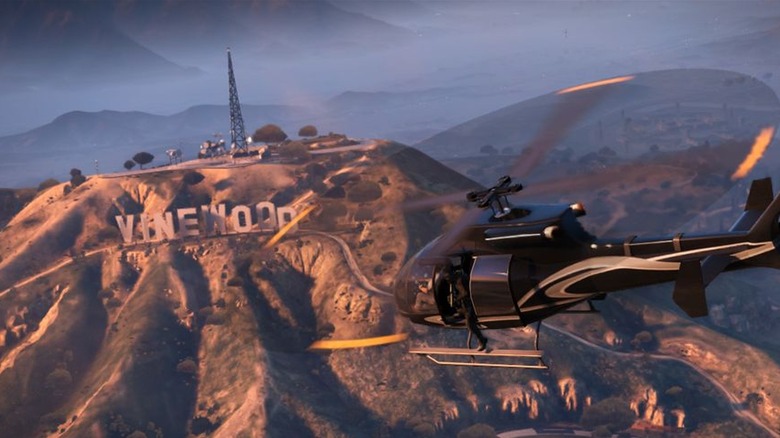 Rockstar Games
One of the fun things about "Grand Theft Auto" as a series is that it rarely repeats itself in any major way between installments. While some characters may carry over in cameo roles between entries, each "Grand Theft Auto" game tells a standalone story that doesn't require prior knowledge of the universe. In that sense, it might make sense for "GTA: The Movie" to follow suit and tell its own original story of crime and carnage. However, if the filmmakers wanted to adapt a specific game for the silver screen, there's no shortage of possibilities.
Advertisement
"Grand Theft Auto 4" is often seen as the pinnacle of the series, and could offer the perfect template for a movie adaptation. Niko Bellic is one of the series' most compelling and layered protagonists, while his struggle to leave behind his life of crime and live the American dream might sincerely resonate with filmgoing audiences. However, considering the fact that "Grand Theft Auto 5" is one of the best-selling and most widely recognizable video games in history, it's likely that a movie would take its story cues from the more recent game. Plus, "GTA 5" notably spends a great deal of time satirizing Hollywood and action entertainment tropes, making it even more ripe for a rollicking big-budget movie adaptation. Unsurprisingly, Rockstar has never weighed in on which specific game would be more likely to get the adaptation treatment.
Advertisement
Who would star in a Grand Theft Auto movie?
Another element that could help in bringing "Grand Theft Auto" to the big screen is the fact that the games have already featured a ton of Hollywood voice talent. If filmmakers decided to directly adapt one of the games, it would make sense for the production to approach some of the established actors who have worked on the series in the past, such as Samuel L. Jackson, Steven Ogg, and Danny Trejo.
Advertisement
Beyond them, one other notable actor has expressed interest in a "Grand Theft Auto" movie: "The Lord of the Rings" star Elijah Wood. As he explained during a "Hot Ones" interview from 2021, "The universe of 'GTA' lends itself beautifully to a screen adaptation or a TV show. I mean, I think, 'Vice City' could be amazing ... But 'GTA 5,' I mean, the kinds of characters that are present within the context of that game very much lends itself, either to a film or a TV series, that would be amazing." The actor stopped short of saying whether he'd want to be in the film or produce it, but the fact that he's clearly so passionate about the series might be of interest to potential filmmakers — if Rockstar ever allows another studio anywhere near its baby.
Advertisement
This is the closest we've come to a GTA movie
Despite the fact that "Grand Theft Auto" still hasn't been made into a movie, another film was produced in the last decade that tells part of the "GTA" story. How well it does that is still up for debate, however. Released in 2015 as a made-for-TV movie, "The Gamechangers" stars Daniel Radcliffe as Rockstar co-founder Sam Houser (brother to Dan) and Bill Paxton as Florida lawyer Jack Thompson and chronicles Rockstar's battles against attempts to ban the "GTA" games. Critics were unimpressed with the telefilm, with most critiques being aimed at its screenplay for not going deep enough into Rockstar's history or the game development process, although it's worth noting that the acting was roundly praised.
Advertisement
Rockstar also made no bones about its displeasure with the film, posting on Twitter (now X) that its story was comprised of "random, made up bollocks" and suing the BBC for trademark infringement. In a statement issued to IGN, Rockstar said, "While holders of the trademarks referenced in the film title and its promotion, Rockstar Games has had no involvement with this project ... It is our obligation to protect our intellectual property and unfortunately in this case litigation was necessary." It's no wonder why the team behind "GTA" is still so protective of its IP, not to mention wary of future Hollywood projects.