Smite Now Supports Cross-Play And Cross-Progression, But Not On PS4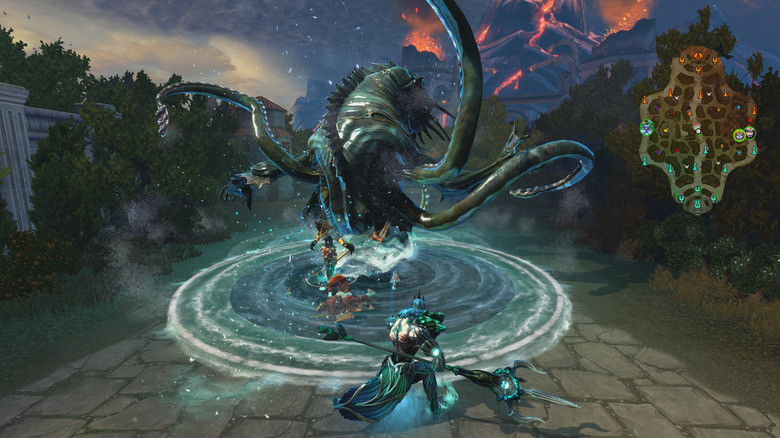 Hi-Rez Studios has stayed true to its word. According to VG247, the company has officially dropped its 6.1 update for Smite, enabling cross-platform play and cross-progression on PC, Xbox One, and Nintendo Switch.
Advertisement
In other words, multiplayer matches can now contain players from any of these platforms. And if you happen to play at home on your PC and on the go with a Switch, the progress you make (and the goodies you unlock) will follow you everywhere.
Unfortunately, these newer cross-play and cross-progression features do not extend to those on the PlayStation 4. And we're absolutely baffled as to why.
We've written previously about Hi-Rez and its desire to get all of its games – Smite, Realm Royale, and Paladins — working with cross-play and cross-progression on the PS4. But the company has taken issue with what it sees as favoritism from Sony, which has only allowed Fortnite and Rocket League into its cross-play beta thus far. In a recent interview, Sony's Shawn Layden had a response for that criticism, saying that all developers had to do was contact Sony to get cross-play rolling.
Advertisement
The problem? Some say they have, and got a big fat "no" as a result. That includes Hi-Rez Studios as well as Chucklefish, the studio behind the recent hit Wargroove.
"We made many requests for cross-play (both through our account manager and directly with higher ups) all the way up until release month," said Finn Brice, Chucklefish's CEO. "We were told in no uncertain terms that it was not going to happen."
This is not a great look for Sony, or for Shawn Layden, whose interview was already full of some not-so-great takes on things like the relevance of E3. If cross-play is a go for anyone who wants it, he needs to get that message down to the lower levels of the company, where some appear to be acting as road blocks.
In the meantime, hat tip to Hi-Rez for adding yet another cross-play, cross-progression-compatible game to the world. Being able to play with friends regardless of the platform they're on — and having progress carry from system to system, as well — makes the company's games much more appealing.