Super Mario Bros. 2, Kirby's Adventure Now On Switch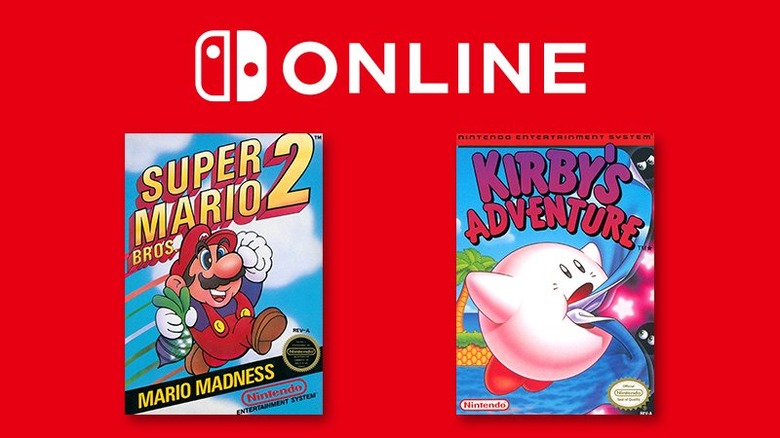 Finally, finally, finally. We've complained at least two months in a row about Nintendo's neglect of a certain NES classic. That ends today. Super Mario Bros. 2 is now playable on the Nintendo Switch, along with another retro NES title, Kirby's Adventure.
Advertisement
These two oldies join a small collection of other NES games available to those who subscribe to Nintendo Switch Online. That service, which costs $3.99 a month or $19.99 a year, is required for those who wish to play Nintendo Switch titles online. Aside from enabling online multiplayer, though, Nintendo Switch Online also provides access to a special Nintendo Entertainment System app containing the NES games announced above, plus many more.
Let's just say it: with the addition of Super Mario Bros. 2, Nintendo has righted a wrong.
Before today, the Nintendo Switch was home to four different Super Mario platformers: Super Mario Bros.; Super Mario Bros. 3; Super Mario Odyssey; and New Super Mario Bros. U Deluxe. The system had two NES Super Mario games, one new original Switch title, and a port from Nintendo's Wii U. And somehow, Nintendo skipped right over this one specific game, as though the company was picking a kickball team and was doing everything humanly possible not to wind up with the quirky Super Mario Bros. 2 on its squad.
Advertisement
"Oh, we need one more? Is 6 Golden Coins around? What about Super Mario Run? That's just for smartphones? Fine. We pick Super Mario Bros. 2."
Don't let Nintendo's apparent disdain for this 1988 release fool you. It's nothing like most of the Super Mario games you've played, but that's what makes it special. Plus, it gave us Birdo.
And don't sleep on Kirby's Adventure, either. It marked Kirby's debut on the NES, and was arguably one of the best games available for that platform. It's received plenty of love over the years, and definitely holds up a bit better than some of the other games in the Switch's NES lineup. We'll definitely be jumping into this one — but not before we pick a few plants in Super Mario Bros. 2.
You can play both of these titles via Nintendo Switch Online right now.