Hellblade: Senua's Sacrifice Comes To Nintendo Switch April 11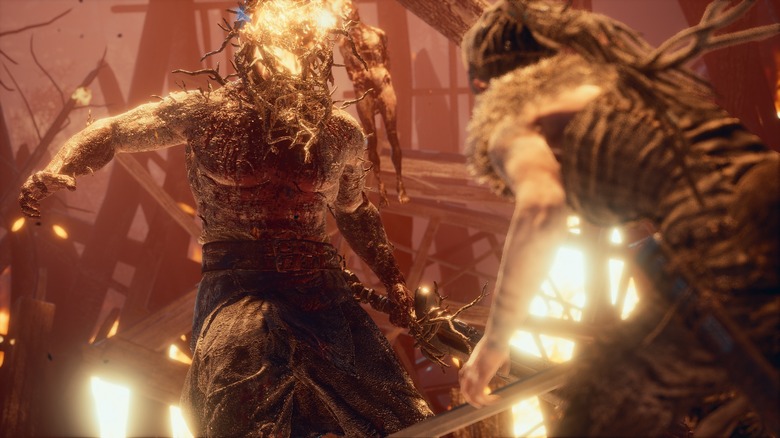 Nintendo Switch owners are just nine days away from experiencing one of 2017's best titles. According to the Ninja Theory website, the Switch port of Hellblade: Senua's Sacrifice will arrive on April 11, and will be downloadable from the Nintendo eShop for the price of $29.99.
Will the game translate well to the Switch's underpowered hardware? That we can't say for sure. If it can get close to replicating the experience on PC, PS4, or Xbox One, though, Nintendo Switch fans are in for a real treat.
Hellblade: Senua's Sacrifice puts players into the role of Senua, a Celtic warrior who sets out to retrieve her lover's soul from Hell. Throughout your journey, you'll experience Senua's psychosis right along with her, hearing whispers and conversations happening around you and without you, and watching the game's world shift between what's really there and what isn't. Senua is tormented by her condition, and Ninja Theory did an amazing job capturing that feeling and forcing you to share it.
In fact, the studio actually worked with neuroscientists and those diagnosed with psychosis to ensure the experience was as accurate as possible. The game is stirring to put it mildly, and for that reason, it might not be the best choice for the younger crowd, or those who don't like games with a lot of scary things happening.
If you're willing to take it on, however, Hellblade is worth it. IGN scored the game with a 9, saying this: "An incredible atmospheric story reinforces Hellblade's serious subject matter in this vivid tale of harrowing darkness." Well said.
You might remember Hellblade: Senua's Sacrifice being announced as part of February's Nintendo Direct. The game didn't have a release date then, and as of now, some of the other bigger titles from that Direct don't either. 
Super Mario Maker 2, for instance, was given a release window of June 2019. We're now into the beginning of April, and Nintendo still hasn't given us something more solid for that title. Dragon Quest 11 was another big name to come out of February's Direct. We only have a broad Fall 2019 window for that one, and we've actually not heard much about it at all since the stream. And the remake of The Legend of Zelda: Link's Awakening remains a mystery, as we only know to expect it sometime this year. We don't know more than that.
There's a chance Nintendo could have another Direct sometime in the near future, or could save some news for E3 in June. Until then, we'll keep our eyes peeled.