Monster Hunter: World, Prey, And More Coming To Xbox Game Pass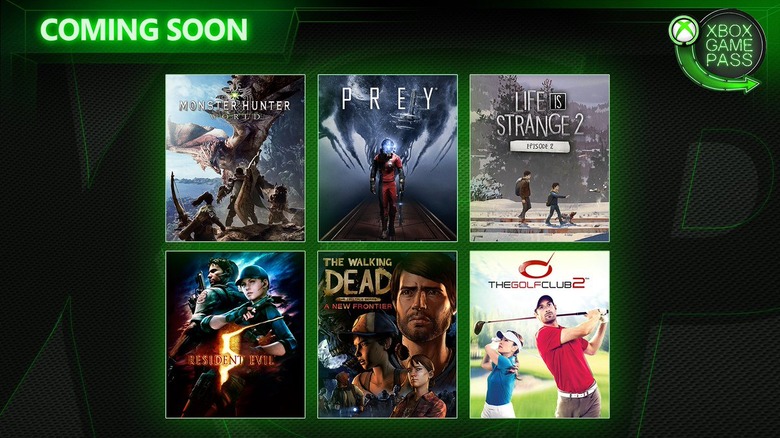 Microsoft teased more games for Xbox Game Pass yesterday, and this morning, the company spilled the beans on what's coming. Monster Hunter: World leads the charge for the month of April, along with Prey, the second episode of Life is Strange 2, and several more titles that'll drop in the coming weeks.
Prey is first up chronologically, and if you're like some of us, it's likely one of those titles you've been meaning to check out but haven't pulled the trigger on. The game reviewed in the "good" range on most websites, but you might remember, its launch didn't come without a whole fiasco around it. Around the time of Prey's release, Bethesda was working under a policy that no longer provided early review copies of games to critics — a policy that probably hurt Prey more than it helped. Many still feel that Prey didn't get as much praise as it deserved, but now that it's joining Game Pass, maybe that'll change. You can look forward to downloading Prey on April 11.
The Golf Club 2 is one of the few remaining simulation golf titles around, these days. EA stopped putting out officially licensed PGA games, and the makers of The Golf Club 2 have actually been carrying the baton since, releasing The Golf Club 2019 Featuring PGA Tour last year. These games aren't quite as revered as the stuff EA was making, but they still get a lot right. So if you can't hit the links in real life, The Golf Club 2 is a fine substitute. This one also hits Game Pass on April 11.
There's no other way to put it – Monster Hunter: World is a huge get. In a rock-solid 2018, Monster Hunter: World still managed to stand out, thanks to it being one of the more approachable Monster Hunter games in recent history, and because the game is so darn replayable. Capcom has done right by it, adding content for players and hosting special crossover events like the Witcher one we covered yesterday. It's safe to say this one is going to see a lot of downloads when it comes to Game Pass on April 18.
The Walking Dead: A New Frontier is in a weird place. On one hand, it's more of Telltale's The Walking Dead franchise, which automatically makes it worth a look. On the other hand, though, its plot largely focuses on other characters and not Clementine. If you can put aside the fact that Clementine plays a supporting role in The New Frontier, you might actually find that the game has an interesting story to tell. If you stopped at The Walking Dead: Season 2 and haven't played The Final Season yet, it's a nice filler before you're ready to begin Clementine's final adventure. The Walking Dead: A New Frontier joins Game Pass on April 18.
Life is Strange 2: Episode 2 arrives courtesy of a deal Microsoft stuck with the series. Each new episode of Life is Strange 2 comes to Game Pass approximately three months after its release, so if you don't mind being three months behind, the entire game will eventually be playable on Game Pass in its entirety. Episode 1 is already there, so you can play it along with this one and look forward to seeing Episode 3 sometime in August. Life is Strange 2: Episode 2 will be available on April 24.
And finally, Resident Evil 5 is coming to Xbox Game Pass. Originally released in 2009, RE5 is one of the many, many Resident Evil titles that Capcom has managed to remaster and re-release over the years. And to the game's credit, it reviewed pretty well the first time it came out. This 2016 version includes the base title and all of its DLC, so if you've recently wrapped up the Resident Evil 2 remake and need more Resident Evil in your life, you can mark April 25 on your calendar.
We'll keep you in the know should Microsoft add more titles to Game Pass later in the month.